Catholic Families Flock to Appaloosa Music Festival: 'An Encounter With God'
This year the event drew a record 9,000 attendees from states across the nation.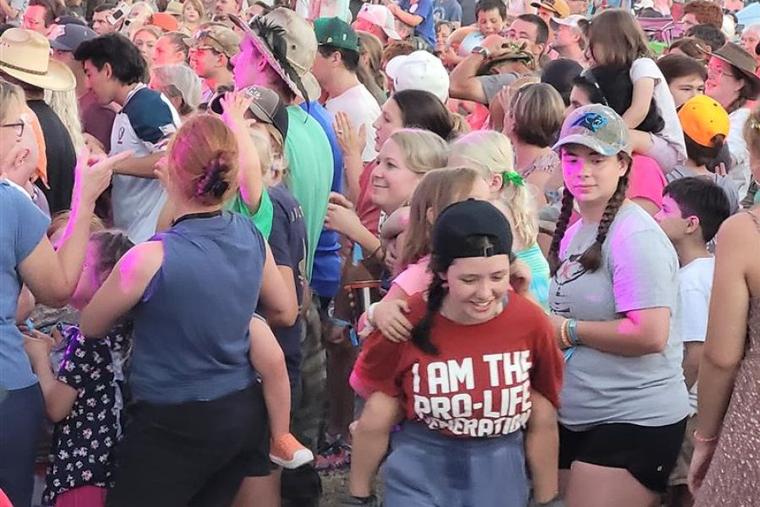 Appaloosa Music Festival, a folk music festival in the Appalachian Mountains of Northern Virginia, offers Catholics a unique weekend of music, community and the Eucharist.
This year Appaloosa, which took place Labor Day weekend, drew a record 9,000 attendees from states across the nation.
In the words of one attendee from the Diocese of Allentown, Pennsylvania, Father Alex Brown, 26, the two-day experience is something of "an encounter with God."
Though not explicitly a Catholic festival, Appaloosa is organized by the Irish folk band Scythian, which is headlined by Catholic brothers Dan and Alex Fedoryka.
The festival boasts multiple stages with a mix of folk, country, bluegrass and Irish performances, as well as food trucks, local vendors, and even a kids' play zone.
Since starting in 2015, the festival has become known by attendees and musicians alike for its wholesome, family-friendly and joyful atmosphere.
"There's something different happening here," Dan Fedoryka told CNA. "It's contributing to a culture of life, but in the most organic way that I've experienced a culture of life."
Catholics, especially young Catholic families, flock to the festival in Front Royal, Virginia, every Labor Day Weekend. Despite high temperatures, this year was no exception.
Attendees posted up in lawn chairs and tents or sat under large awnings, enjoying the performances with the stunning Appalachian Mountains as a backdrop. In the evenings, warm campfires dotted campsites and families socialized with one another underneath the Virginia stars.
While many music festivals are known for drug use and sexual immorality, Appaloosa focuses on music and bringing people together to enjoy the arts in God's beautiful creation.
At the heart of the whole festival, Fedoryka said, is a genuine love of God.
He called the Mass, which is held outdoors on Sunday morning and is heavily attended by festivalgoers, the festival's real "headliner."
This year, well over 700 people attended the Mass, which had a string band and choir leading the worship. The Mass was celebrated by Father Brown and another young priest, Father Andrew Clark, 32, from the Diocese of Arlington, Virginia.
In his homily, Father Brown said the music experienced by the festivalgoers during the weekend calls them into the deeper joy of God.
"There's something divine in music, something that reflects the great musician, God himself," Father Brown said. "And that's what we're encountering this weekend."
"It may be bold but not wrong to say that Appaloosa itself is an encounter with God, a glimpse into his sanctuary," Father Brown added.
A Front Royal native, Father Clark said one of the root causes of society's ills, such as record-high depression and suicide rates, is a general loss of identity and community rooted in God.
The reason Appaloosa is growing and resounding with so many people, Father Clark explained, is that it helps people truly experience the joy of being in a community built around God.
"One of the things that the world hungers for is what it means to live in a community where Christ is King," Father Clark said.
"Sin alienates us," he said. "We feel like we don't belong."
"Yet the experience of Christ, when he becomes our brother, our Savior, our King, he tells us, 'You belong, you belong to me, and you belong to my family,'" he went on. "Having that experience of belonging here at Appaloosa is why families love it so much."
Twenty-eight different bands and performers performed during the festival.
Though the performances were not explicitly Christian, the event still helps to build something one performer, Ben-David Warner, called "Catholic culture."
A North Virginia-based musician, Warner is the director of sacred liturgy and music at St. Charles Borromeo parish in Arlington, Virginia. He also leads the folk-acoustic group the Ben-David Warner Band.
Warner said that in America "we don't have a Catholic culture" but instead "we have a very secular culture."
For many Catholics, Warner pointed out, the only time they spend with other Catholics is once a week during Mass.
"It's good to have events like this because it's an opportunity for a lot of Catholics to come together and have something outside the liturgy," Warner said.
Maura Butler, a Catholic mother who was attending her fifth Appaloosa Festival, told CNA that she loves taking her family to the festival because it allows her and her husband to explore their passion for music in a safe and family-friendly environment.
"When we were dating, and even when we didn't know each other, we loved music," Butler, who is from Virginia, said. "Our kids love it, and we love to bring them up loving music."
"Our children can see and admire and think musicians are cool and then see them at Mass, and that makes a good impact," Butler said, adding that "you can't really do that with kids very easily anywhere else."
According to Fedoryka, music is crucial to culture, and it can be used for good or for evil.
"You just read Karl Marx — communists knew how to control the masses," he said. "Music is the No. 1 way to get ideologies in there because it bypasses your intellect."
This is further evidenced by today's mainstream music industry, which Fedoryka believes is dominated by a culture of use and disregard for human dignity.
"You can really see how people are affected," Fedoryka said, pointing to how many artists feel disillusioned and empty from their careers in mainstream music.
Through Appaloosa and his band, Scythian, Fedoryka is working to build something different.
Fedoryka and Appaloosa's other organizers place a significant emphasis on developing the musical skills of children and young artists.
One of the festival's staple acts is a band called Pickin' Thistles that is made up of three Catholic siblings: Hayden, 17, Josephine, 15, and Rosemary, 13.
Though still very young, the siblings have been performing at Appaloosa for years. It's something they said motivates them and that they look forward to every year.
Fedoryka said he has a special connection to the young Catholic artists. He believes Pickin' Thistles and many of the other young musicians performing and attending Appaloosa will go on to make a "big impact."
But he doesn't want them to seek success the way that the mainstream music industry defines it. He wants them to be artists that create music for others.
"My mom always said that music is for others; it's a gift," he said. "Just focus on the people, and that you're bringing them joy; then you start to forget about yourself. And I think that is the antidote for depression."
"Depression and suicide are at an all-time high. But my mom had the secret," Fedoryka said. "If you're depressed or you're suicidal, start giving yourself to other people; and, after a while, you start to forget about yourself because you start encountering other souls."