Azerbaijan Unleashes Military Strikes Against Armenian Christians in Nagorno-Karabakh
The attacks appeared to escalate on Tuesday with the Azeri military unleashing artillery and mortar strikes on both military and civilian positions.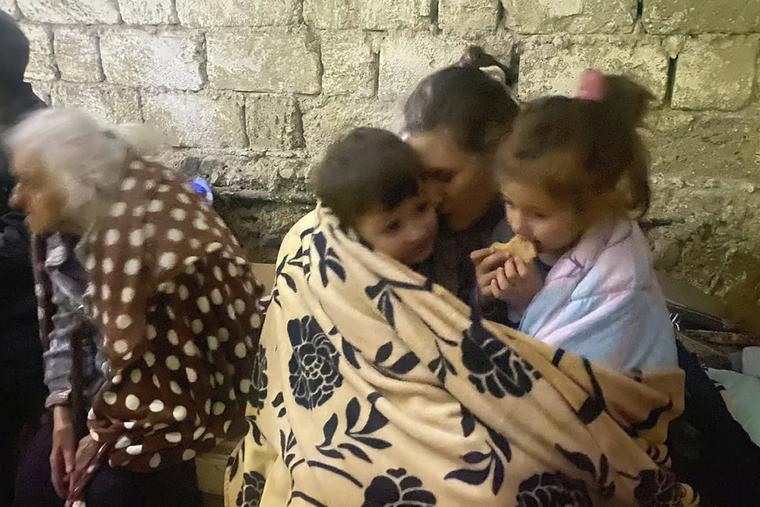 Azerbaijan unleashed military strikes against an enclave of about 120,000 Armenian Christians in the disputed Nagorno-Karabakh region on Tuesday, shelling buildings and firing on Armenian military and civilian positions.
The Azeri government on Tuesday called their strikes "anti-terror measures" against "illegal Armenian military formations." Azerbaijan said the attacks will not stop until the ethnic Armenians' total surrender.
Armenia and Azerbaijan have been fighting over Nagorno-Karabakh since 1988. Today the region is internationally recognized as part of Azerbaijan, though it is made up almost entirely of Armenian Christians. The ethnic Armenians in Nagorno-Karabakh deny Azeri control of the region and claim self-sovereignty under the auspices of the "Republic of Artsakh."
The breakaway state's "Artsakh Defense Forces" have been reporting Azeri small-arms attacks on ethnic Armenian military and civilians for months.
The attacks appeared to escalate on Tuesday with the Azeri military unleashing artillery and mortar strikes on both military and civilian positions.
Shelling continued through Tuesday, resulting in 23 civilian injuries and two deaths, including one child, according to the Artsakh Defense Forces.
Artsakh foreign minister Sergey Ghazaryan decried Azerbaijan's advances, saying in a Tuesday X statement: "We are witnessing how Azerbaijan, in order to implement its policy of genocide, is moving towards the physical destruction of the civilian population and the destruction of civilian objects of Artsakh."
Eastern European news source Visegrád 24 reported on Tuesday that "large-scale fighting has just started in Nagorno-Karabakh" and that "artillery and suicide drones are in action by both sides."
According to Visegrád 24, it is "possible that another war between Azerbaijan and Armenia is starting in front of our eyes."
Why Are They Fighting?
Though some see the conflict as strictly over borders, experts have emphasized that religion also plays a central part in the war between Christian Armenia and Muslim Azerbaijan.
According to Sam Brownback, former U.S. ambassador-at-large for international religious freedom, Armenia wants to retain its influence in Artsakh, while Azerbaijan wants to expel the Armenian Christian population to solidify its hold on the region.
In 2020, with the backing of Turkey, Azerbaijan reignited the long-simmering conflict by invading Nagorno-Karabakh. A six-week conflict ended in Azerbaijan seizing control of Nagorno-Karabakh.
The war killed 6,800 combatants, displaced 90,000 people, and left approximately 120,000 Armenian Christians cut off from the rest of Armenia. A narrow road less than four miles long, called the Lachin Corridor, connects Armenia and Nagorno-Karabakh and is the only way to get food and supplies to the Armenians living there.
In December 2022 pro-government Azerbaijanis, ostensibly protesting Armenian environmental violations, began blockading the Lachin Corridor, cutting off all access to aid. In April, the protests ended after Azerbaijani troops, defying warnings from the international community, established a military checkpoint on the road, continuing the blockade.
Since December the Christian Armenians have been trapped, without food or medicine, behind the Lachin Corridor blockade.
What is the Latest?
This week's escalation shows the first indications of large-scale outright military conflict in Nagorno-Karabakh since 2020.
According to multiple sources on the ground, including the Ministry of Foreign Affairs of the Republic of Artsakh, Nagorno-Karabakh's capital city of Stepanekert has taken heavy shelling.
The Artsakh Ministry of Foreign Affairs reported on Tuesday: "Azerbaijan launched a large-scale military offensive against the Republic of Artsakh. At this moment the capital Stepanakert and other cities and villages are under heavy shelling."
Robert Nicholson, president of the human rights group the Philos Project, said on Tuesday that "Azerbaijan has finally launched the war intended to erase Armenians from #NagornoKarabakh — and with Russian and Turkish permission."
Brownback said: "I denounce in the strongest possible terms this unprovoked attack by Azerbaijan on the peaceful Armenian Christians of Nagorno-Karabakh (Artsakh)! This is wrong. It is an attack on civilians and it must cease immediately."
Azerbaijan Justifies Actions as 'Anti-Terrorist Operations'
For its part, Azerbaijan has denied targeting civilians and has labeled its activity in Nagorno-Karabakh "anti-terrorist operations."
In a Tuesday press release, the Azerbaijan Ministry of Defense said: "Local anti-terrorist activities carried out by the Armed Forces of Azerbaijan in the Karabakh region of Azerbaijan are ongoing."
"As part of the activities," the release went on, "only legitimate military installations and infrastructure are targeted and incapacitated using high-precision weapons."
Azerbaijan accused Armenia of deploying armed forces to help ethnic Armenians in Nagorno-Karabakh and warned civilians to not interfere.
"Considering the deployment of firepower by Armenia's armed forces formations near residential areas, we urge the civilian population to stay away from military facilities and not support the formations of Armenia's armed forces," the Azeri release said.
The Azeri Defense Ministry also said that it is encouraging Nagorno-Karabakh residents to evacuate danger zones and relocate to "reception stations" they have established in the Lachin Corridor.
"Humanitarian corridors and reception stations have been created on the Lachin road and in other directions to ensure the evacuation of the population from the danger zone," the release said.
Christian Solidarity International (CSI), a humanitarian aid group, called this a tactic to cleanse Nagorno-Karabakh of Armenian Christians.
"As it bombs civilian areas," CSI said, "Azerbaijan is texting people in Nagorno-Karabakh, telling them to leave through the Lachin Corridor. The same road they've been blocking for nine months to starve the population, they've now opened for people to leave through. The goal is the same: to empty Karabakh of Armenians."
How Has Armenia Responded?
Armenian Prime Minister Nikol Pashinyan has denied Armenian military involvement and despite the ongoing Azeri attacks has refused to respond militarily.
Open Caucasus Media (OC Media), reported Pashinyan saying on Tuesday: "I want to go on record that the Republic of Armenia is not involved in military operations, and I want to go on the record once again that the Republic of Armenia does not have an army in Nagorno-Karabakh."
"At this moment, we should not carry out any unplanned, drastic action, any adventurous action," Pashinyan added, according to OC Media.
The Armenian prime minister's refusal to become involved has caused significant unrest among the Armenian populace.
Video taken outside Armenia's capitol building shows outraged Armenian citizens attempting to storm the capitol building.
Pashinyan reportedly had a phone conversation with French President Emmanuel Macron and U.S. Secretary of State Antony Blinken on Tuesday.
According to OC Media, Macron informed Pashinyan that France called for an emergency U.N. Security Council meeting to discuss the military escalation in Nagorno-Karabakh.
The U.S. Senate Foreign Relations Committee released a statement on X that said: "Azerbaijan's brazen assault on Nagorno-Karabakh further proves [Azeri President Ilham] Aliyev's malicious intention to wipe out the Armenian population there. The U.S. and international community must act."