Sting: 'The Church's Music and Liturgy Fed This Artistic Soul'
The former lead singer of 'The Police' tells the Register he is grateful for his Catholicism, shares his love for Latin and sacred music, and says he hasn't ruled out one day coming back to the Sacraments.
Despite reaching the lofty heights of fame and success in the entertainment industry, the English singer, songwriter and actor Sting has never forgotten his Catholic roots and says he remains "grateful" for his Catholicism which is "linked" to his music. 
Speaking to the Register in Rome July 28, the former lead singer of the rock band 'The Police' reveals his particular love for sacred music, saying "there's something in the cadences and in the rhythm of the music in Latin that is very special," and that the Church's "music and the liturgy fed this artistic soul."
Sting recently composed a Dies Irae, the ancient hymn describing the Last Judgement, for Giudizio Universale — Michelangelo and the Secrets of the Sistine Chapel, a one-hour, multimedia spectacle that he calls a "wonderful educational tool" for learning about the Sistine Chapel. The show was produced in consultation with the Vatican Museums and is currently showing at the Auditorium Conciliazione in Rome. 
Born Gordon Matthew Thomas Sumner in Newcastle-upon-Tyne in 1951, Sting rose to fame with 'The Police' from 1977 to 1986, before launching a solo career in 1985. Both led him to becoming one of the world's most successful music artists, selling over 100 million records. 
Although not currently practicing the faith, he says he may seek out the sacraments at the end of his life. He also discusses his views of Pope Francis, and shares his opinion on Latin and the Traditional Latin Mass. 
Sting spoke to the Register ahead of performing with Jamaican reggae singer Shaggy at the city's Parco Auditorium della Musica. The Sting & Shaggy 44/876 Tour comes to the U.S. from September. 
You composed the Dies Irae for the 'Giudizio Universale' show. What is your view of the show in general? 
I think it's a wonderful educational tool. It would be great for people to go and see before they go and see the Sistine Chapel. You see the complexity and genius of [Michelangelo's] vision. And you know, when you go to the Sistine Chapel, it's so far away and there's so much of it, so it really explains why it was commissioned and what he went through to do it. It's kind of fascinating and I'm pleased that I could contribute something, although I was a little surprised [the Dies Irae] was actually the grand finale of the whole thing, but of course the Last Judgment would be. 
You've said in interviews about your contribution to the show that you were immersed and well-schooled in the music of the Church. What particular influences — musical and religious — were important to you in making the composition?
I was an altar boy and I learned the Latin Mass but I loved plainsong, I loved Gregorian chant, the Sung Mass. I still think I carry some of those cadences in my composition when I compose. So I'm grateful for that. [The Dies Irae] is normally done in a very minor key, a very doom-laden key, and I lifted it to a major key so it would be hopeful. I excised a lot of the very dark verses about Muslims being burnt in hell, and I thought it should be much more ecumenical. And then I love what Pope Francis said about God: he said "God is mercy," and I thought that was a profound and simple statement that people had kind of forgotten over the years. So with the Last Judgement, if God is mercy, then there's no judgment at all, just forgiveness. I don't know if that's heresy or not, but it works for me. So at the end of it, I put Deus Misericordiae [God's mercy]. It's not in the original text, I just added it and took liberties. I was surprised that the authorities seemed to like it and let it go. But I was happy last night to hear it and see it in that context, because it is an educational tool. 
How much of a role does your faith play in your music, today and in the past? 
It was both positive and also a little frightening. I was a very serious child so I used to get cosmic vertigo, ontological vertigo. The concept of eternity for me was really troubling, not only eternal damnation but eternal heaven — it just seemed like Mass that would never end. I thought: I don't want either [laughs]. Eternity still horrifies me but at the same time being put into that conundrum — philosophical conundrum — was perfect to forge an artistic angst, an artistic struggle. Plus the history of the Church, you know blood and death and torture and all the rest of it, the Last Things. And the music and the liturgy fed this artistic soul. I've benefited from it, but I've also suffered from it. 
If I could take you back to 1983. You did an interview then with Bianca Jagger and Andy Warhol. Do you remember it?
God knows what I said!
It was a round table interview, you were all Catholics and you all agreed that you preferred the Mass in Latin. You said it was because it had mystery in it. Would you like to see a return to Latin in the Church's liturgy because of that? 
I can see why it was changed in the 1960s to the vernacular. I don't think they should go back to the Latin Mass, but I think of it as something you can choose to do, or choose to hear if you like that. It's rather lovely. The music of that language is important to me. 
Your Dies Irae composition is all in Latin.
Yeah, it's all in Latin. My wife is an Anglican and I sometimes go to Anglican services with her. She's High Anglican, and the liturgy is exactly the same. But it's the music of the Latin I'm talking about. I'm not sure mystery is the right word. It's easy to find out what you're saying [in Latin] but there's something in the cadences and in the rhythm of the music in Latin that is very special, but I can see politically why it's a problem. 
It's often said that a loss of the mystery of the Mass is partly through losing Latin, and it's led to a kind of trivialization of the Mass and a loss of the sacred. What do you say to that?
Well you have two arguments: people would say it's too obscurantist, it was all done behind a screen and nobody ever saw what was going on, and then the Protestant ethic was to say, basically: here's a table and here's whatever we're doing. I'm not sure I can take a position. I'm not sure I want to. I think for me religion is an act of imagination. I think it's one of our greatest creations. We actually create God in our likeness, it's not the other way around. The Catechism says God created us in His likeness, I say we create God in our likeness. So if you're kind and generous and forgiving, that's the God you'll create. If you're the opposite, it's the God you create, too. So I think we have a huge responsibility to create a God that is compassionate because it's very troublesome when we don't. History and the present day would tell us that's true. 
Do you sometimes think there's a loss of the sense of the transcendent, that society is becoming too "horizontal," too world-centered rather than God centered, that it has made us forget God in a sense? That we need to recover that sense of mystery and transcendence? 
You just have to look at the sky at night to feel a sense of wonder, and we just simply don't know, we're not smart enough to know, the reality of why we're here. We don't know it. So I find it very arrogant when people say: "This is it." Really? How do you know that? I just have a sense of wonder about it, and the humility about it that I think is somehow lacking in religious people. "I know this is the truth," well I have to doubt it, that the truth is immutable, you know. 
You said in that 1983 interview that your Catholic education was too strict and that now you're a "devout musician." 
[Laughs] Well that's partly a joke but music is my spiritual path, it's my connection to something bigger than myself, it's my study, it makes me happy. But the more you find out about music, the more you realize you haven't a clue. It's endless. It's linked to my Catholicism but I find my favorite music is actually sacred music. I listen to a lot of Bach, I love his Mass. 
Were you influenced at all by Arvo Pärt? 
Yes, I like him, too. I love the minimalism, there's a mystery to it that I work to which is fascinating. But you know we live in a strange, plastic world, and it's not doing us any good. I'm not irreligious, I'm not anti-religion, I'm just anti the idea that we know. 
But might you be returning to being a devout Catholic again? 
I'm not going to say no, I'm making Pascal's wager [laughs]. I'd probably seek out the sacraments at the end of my life. 
It's said, "Once a Catholic always a Catholic" — in fact Bianca Jagger said it in that interview.
Is that what she said? I'm going to meet the Pope next week. My wife is gaga about him. He says some interesting things and, you know, it's a difficult job he's taken on, but that comment that God is forgiveness, and also "Who am I to judge?" — he said that about gay marriage or something. I thought that was very...
He actually said: "A gay person who is seeking God, who is of good will" — in other words, having said goodbye to that sin — "who am I to judge that person?" It's been taken out of context. 
Hmm, okay. All right. Anyway, I liked it. But I think he's a breath of fresh air. Of course, the Church is compromised in a number of fields but I think he's doing a good job. I would support him. 
Does he make you want to come back to the Church, to practicing the faith?
I have my own church and I'm grateful for my Catholicism but also – I don't know, I'm not ready yet, like St. Augustine [laughs]. 
Will you be composing any more works for the Church, a Mass for example? 
That would seem like taking on brain surgery. I don't know, I'm not ready. For me it's all religious. I just wrote a play called The Last Ship which is full of religious imagery, mainly of my Catholicism. So I'm in the field, but I don't want to be so upfront about it. I think art survives in a veiled way. It's mysterious.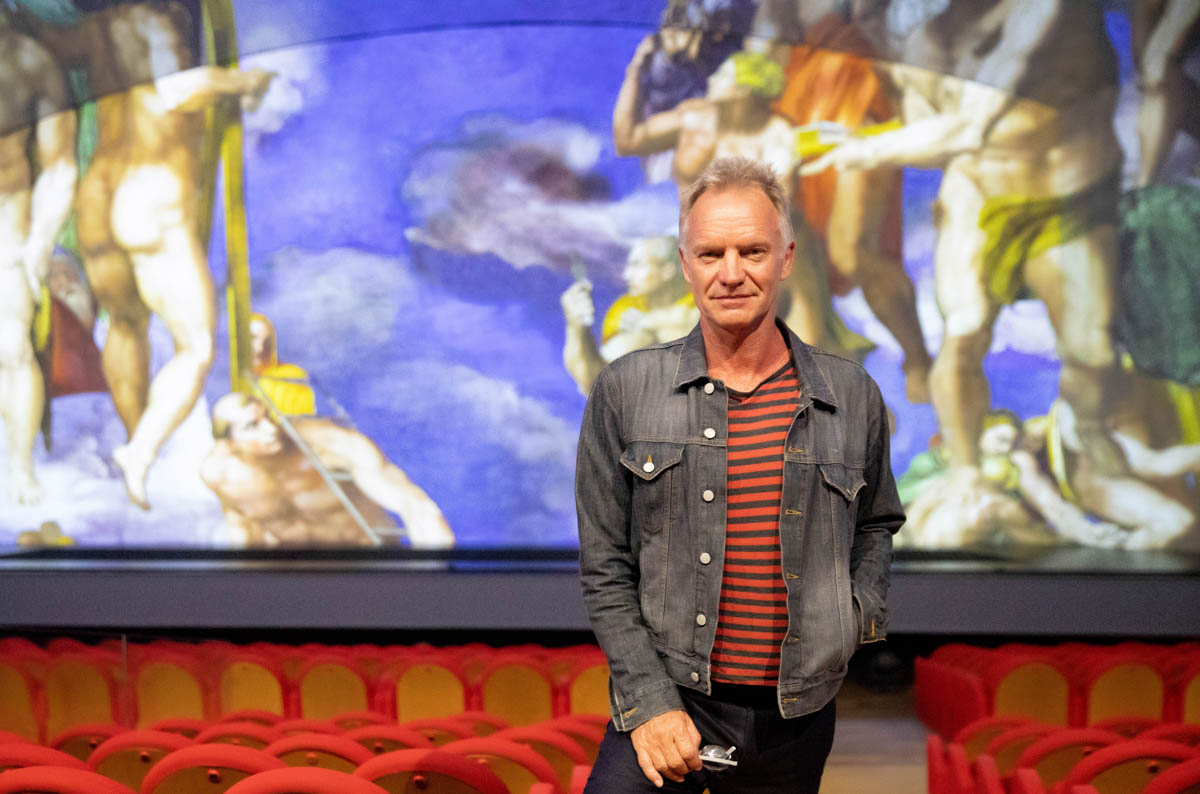 Sting at the Last Judgment show, Rome, July 27, 2018. Photo: Photo Studio Giusto_Carabella