Signs of the Cross in Romania: Christianity Thrives in Post-communist Country
BUCHAREST, Romania — In some European countries, public expressions of Christianity still dignify daily life.
Standing near an Orthodox church in downtown Bucharest, people, old and young, make the sign of the cross as they pass this sacred site.
Even people tumbling from a public bus manage to cross themselves, recognizing God in the church.
In important ways, Christianity is thriving in post-Communist Romania.
Leaders of the Roman Catholic and Greek Catholic Churches (representing about 8% of the population according to the 2011 census) say participation has exploded when measured by baptisms, weddings, Sunday attendance, and vocations.
Church properties once shuttered have been renovated; families only recently afraid to enter church, produce priests. Religion is taught in schools.
The Orthodox Church represents about 81% of the 20 million-strong country, yet it collaborates regularly with smaller Christian faiths.
An ecumenical spirit was cemented when St. Pope John Paul II visited in 1999, his first visit to an Orthodox country. For three straight days, the saint traveled with his friend, Patriarch Teoctist, by his side.   
In 2007, the Orthodox, Roman Catholic, and Evangelical Church of Romania together published an 800-page book Martyrs for Christ in Romania During the Communist Era with biographies of over 240  people killed because of their faith (mostly bishops, priests, monks and sisters, business people and workers). Listed alphabetically, the martyrs are not divided by Church: the book is a physical emblem of Christian unity.
Roman Catholic Archbishop Ion Robu recalls Orthodox Church support in his fight against an illegal skyscraper build some 25 feet from the Cathedral of St. Joseph's unreinforced outside wall — in a zone of high seismic risk.
"The people and the churches have been united in many things," the Archbishop told the Register. "It's the political class that disrespects us."
And indeed, for the last 10 years, Romania suffered at the hands of a highly corrupt, selfish regime that explored legalizing prostitution, blowing up mountains to pan for gold, and threatening historical properties.
Until now.
Miraculously, six months ago, Romania elected a new president, a Lutheran from Romania's long-suffering German community who walks the walk — and foregoes the talk — when it comes to faith and public life.
The unexpected election of Klaus Iohannis, mayor of the medieval Transylvanian town of Sibiu since 2000, is extraordinary for two reasons. First, it marks a break with the immediate political past in style and substance. Second, it shows a citizenry unbiased by religion or ethnicity — a Christian clarity about what matters.
Exceedingly calm, Iohannis refused to respond to attacks or slander. He staked out positions, and explained what he thought. He ignored rumors, innuendo, and suggestions that he was not "Romanian enough" to be president.
Iohannis' demeanor during televised election debates represented a breathtaking change in manners. He spoke with precision, using minimal rhetorical.
Romania's last president, Traian Basescu, who held office from 2004-2014, practiced a style of public belligerence designed to humiliate and shame opponents.
Iohannis' campaign theme centered on building a country in which things are "well made," (lucrul bine făcut) or, "done correctly" based on transparency, honesty, and hard work.  
In one statement he explained, "My mission as President of Romania, is to build, together with all Romanians, a country of doing the right thing."
"I don't believe in the myth that Romanians are accustomed to evil," he continued. "A Romania 'well made' means rebuilding trust and respect between us, between institutions and citizens, between elected and electors."
The theme also played on Sibiu's reputation as one of the best-run cities in the country, and the German community's positive reputation as honest, efficient people.   
The second reason why President Iohannis' ascent is so extraordinary, is that he represents a tiny ethnic and religious minority.
Two distinct German communities in Romania — the Saxon community in Transylvania, which settled there 800 years ago, and Swabian community in Banat, around the city of Timisoara — has suffered a tragic history over the last 70 years.  
As World War II concluded, Soviet troops overran democratic Romania.
Among its first moves, in January 1945, the Soviets arrested and deported 75,000 German civilians (women and men between the ages of 17 and 45) to labor camps in the Soviet Union — including President Iohannis' grandparents.   
Hundreds of thousands of Germans were displaced by the communist dictatorship (whic
h seized private property including prosperous farms developed for generations). Entire villages and towns became ghost places.
In the 1970s and 1980s, looking for new sources of hard currency, dictator Nicolae Ceausescu sold ethnic Germans to the German government for between $1,000 (a farmer) and $8,000 (an educated professional), eventually making about 500 million Euro.
Before World War II, almost 800,000 Germans lived in Romania; today, the number is less than 70,000 — a 90% loss in population. Herta Müller, the 2009 Nobel Prize winner in literature writes about the experience of being a German in Communist Romania; she left in 1987.
President Iohannis parents and sister left Romania in 1992. The president stayed in his country of birth and married Carmen, a Romanian Catholic.
Mrs. Carmen Iohannis, an English teacher, occasionally posts overtly Christian messages on her Facebook page, such as "If you believe there is God and he does not exist, you have nothing to lose, but if you don't believe in Him and God exists, you have a lot to lose" on April 10, Good Friday for Orthodox Romanians. (She got over 3,000 "likes.")  Then she posted the message "Happy Easter to All," on Holy Saturday of the Orthodox calendar (pictured).
In January, when she posted a picture of her husband praying in a church, she was criticized by a few but thousands "liked" it.
The Iohannis' often attend Sib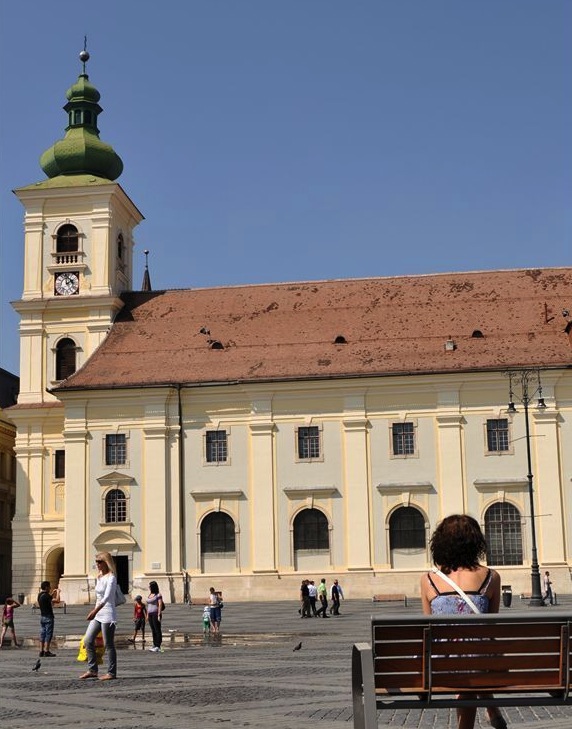 iu's Holy Trinity Roman Catholic Church — where Mass is said each Sunday in Romanian, Hungarian, and German — built in the 1730s by a Jesuit community during the Austro-Hungarian period. They attended Easter vigil Mass there last month.
On May 15, President Iohannis and his wife will travel to the Vatican to visit Pope Francis. The Holy Father will probably recognize in this couple, people after his own heart.