Rahm Emanuel: "Cardinal Cupich and I Get Along Great"
Mayor of Chicago praises his city's new cardinal, says he and Cupich are not "just friendly, we're friends".
Rahm Emanuel, the mayor of Chicago, was in Rome at the weekend to accompany Cardinal Blase Cupich on his elevation to the College of Cardinals.
In brief comments to the Register Nov. 19, Emanuel, who was President Barack Obama's chief of staff during his first term, shared his joy at witnessing his city's archbishop given a red hat.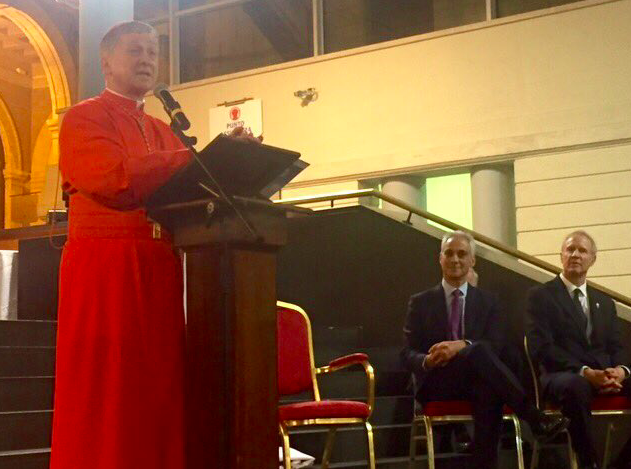 The Jewish Democrat politician, despite having strong positions in support of abortion and same-sex rights, spoke about his high regard for the cardinal, how much he expects to collaborate with him in the future, and that he considers the archbishop of Chicago and himself to be "not just friendly, we're friends."  
Emanuel, who travelled with a large delegation from the Windy City, also served as a senior advisor to President Bill Clinton from 1993 to 1998.
What's your reaction to having your archbishop now as cardinal?
It's a special thing obviously for him, a special thing for the Church, and a really special thing for the city. It's all very special, it's a milestone. It's the first appointment the Pope made in North America. It's the first time he's made [such] an appointment of cardinals, he also now picked Cardinal Cupich and I think it speaks volumes about the character of our cardinal.
What does he offer the city itself as a whole – you're not Catholic yourself are you?
I'm Jewish. I would just add that his message, well obviously he's speaking first and foremost to Catholic followers, has a universal value to it, one of tolerance and one of inclusion.
People often talk about the homicides in Chicago and the social problems you have there.
Well every city has its own challenges today. That said, we're a city of 140 languages, okay? So we have a lot of immigrants. His message of tolerance and inclusion is especially important.
Going forward, will you be collaborating a lot with him?
We already have and we already will. Our collaboration will change.
So will there always be freedom for the Church in Chicago?
Well you know, I don't know all the history, but during my tenure and also the tenure I'm familiar with preceding, there's always been a close working relationship. Then you have the personalities. The cardinal and I get along great, we're good friends. We're not just friendly, we're friends. 

Photo: @ChicagosMayor (Twitter)