Pilgrim Re-enacts Medieval Pilgrimage, Reaching Canterbury on Becket's Feast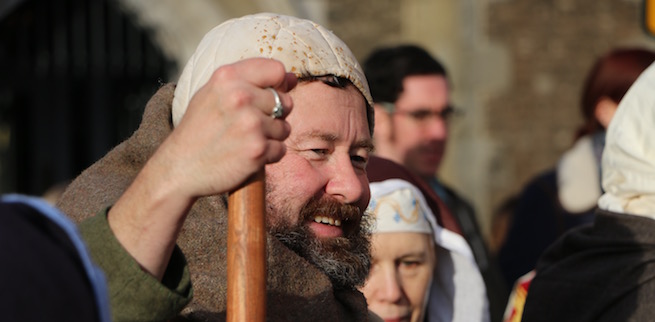 On the feast of St. Thomas Becket a former teacher has arrived in Canterbury, England, after re-enacting a remarkable 200-mile pilgrimage dressed only in medieval clothes, hauling a sack for his belongings and carrying a staff.
Steven Payne, who made the period-style clothing himself using authentic medieval materials and techniques, spent just over two weeks walking from Southampton to Canterbury, following the historic Pilgrims' Way.
"It consistently rained," he told the Register on arrival in Canterbury today. "I was sleeping rough in bushes and trees, washing with medieval soap that I made myself, using medieval deodorant that I made myself, all from original recipes. I was washing in streams and cattle troughs. I've done it in the good old fashioned way, but I'm probably not very nice to sit next to!"
Supporters greeted him with loud applause as he arrived in the city at around midday. Many of them were members of reenactment groups, dressed in medieval style clothing, as well as a couple of falcons.
Payne, 52, from Petersfield in southern England, was following in the footsteps of Carluccio de Carrera, an Italian teacher at the University of Florence who came to England in 1365 and like many pilgrims at that time, walked the Pilgrims' Way to visit the shrine of St. Thomas Becket in Canterbury, also arriving on the saint's feast day, December 29. "Geoffrey Chaucer wrote the Canterbury Tales during the period when Carrera made his pilgrimage," said Payne. 
He said he was "trying to emulate those ideals of Christian charity" but noted that "the massive pilgrimage infrastructure" that used to support pilgrims back then "has largely gone now because of Henry VIII." Among the destruction wrought by the 16th century king was St. Thomas Becket's shrine in Canterbury Cathedral.
Before embarking on the walk, Payne received a letter from Pope Francis wishing him well on his journey. "He doesn't write to me that often so I was quite surprised," he joked. Although he was aware it was probably from a Vatican official with a photostat signature, he was delighted to receive it and thought it might come in handy to show to any bishops to help with accommodation.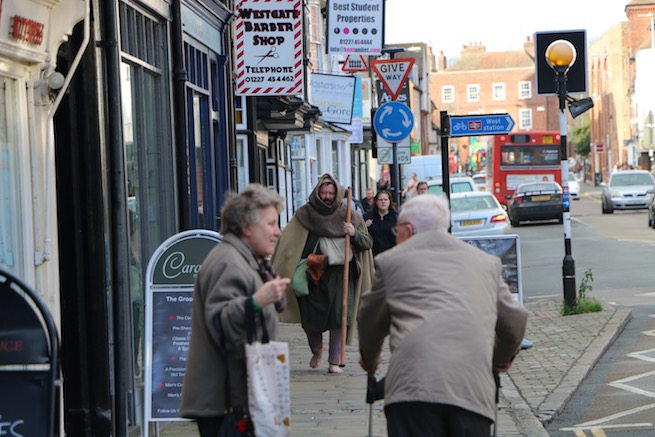 In the end, Payne was the recipient of many acts of charity along the route — so much so that he didn't have to buy any food for the duration of the pilgrimage. "I've had pub landlords say, 'Sleep in front of my fire in the pub. I've no idea who you are, but when you leave the pub, lock the door and post the keys through the door.'"
"I've had people say: 'Are you hungry? Would you like some food?' To the extent that I can't carry it. I've not bought any food since I left Southampton." He spent Christmas Day in Rochester, Kent, and had to make do with a small lunch that included bread and wine, but a day or two later he was invited to stay in a medieval barn. "There was Christmas dinner waiting for me," he said, adding that the owner had cooked it and let him spend the night there.
Payne said what struck him most was the kindness of those who had practically nothing themselves. He befriended a homeless man called Chris from Winchester who, despite only having £3.50 ($5) to his name, offered him a pasty and shared with him advice on staying warm in the cold. "What I've been doing along the way is talking to people about the medieval ways of charity, which is not what we do today," Payne said. "Today we give a pound coin and move on. It's very quick, it's simple, it's very impersonal. It's very worthy but at the end of the day you don't see the end result. You don't know how much of that pound goes to the person on the ground.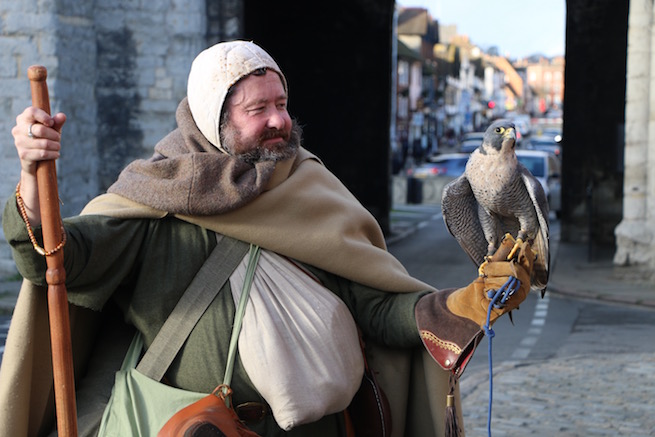 "So I've been saying to people: 'Why not think about the medieval way of doing it? Why not see someone on the street or a little old lady who's lost her husband and doesn't have anybody to talk to and knock on her door and say, 'Do you fancy a cup of tea?' And sit down for five minutes and chat. Do anything to make them feel they are part of society, part of the local area, to know they're included, someone knows their name, someone cares whether they're there or not."
He said Chris had told him the "worst part" of being homeless "is not the 'lack of food, it's not the wet, it's not the cold, it's the fact that nobody makes eye contact, everyone walks past and nobody knows I am here except to walk around me as an obstacle.' He said he had lived in the city for 20 years but didn't feel a part of it: 'I wish people would come up and say: Chris, how are you? It was a cold night last night, are you all right?' And then he feels like somebody, somewhere, who knows his name."
Payne, whose reenacted walk generated enormous interest with his Facebook page, Pilgrims Progress, attracting almost 5,000 likes, said he attended a Mass, went to Rochester Cathedral on Christmas Day, and visited many churches along the way. He is not religious himself but is "searching."
He said the pilgrimage showed him the essence of empathy and compassion, not only for the homeless but also refugees. "They've walked across a continent, I've walked across a small section of the country, but it's given me an understanding," he said. "And when you understand, everything else follows from there, because it's when you don't understand, that is when you get prejudices and preconceptions. You understand because you've been there and you're in a much better position to support them."
"That's the overriding message of what I've done," he said. "You have to walk a mile in someone else's shoes. Do it, be it, and then you can say: 'I've been there.'"
Payne now plans to write a book on his experiences and perhaps make a pilgrimage to Santiago de Compostela.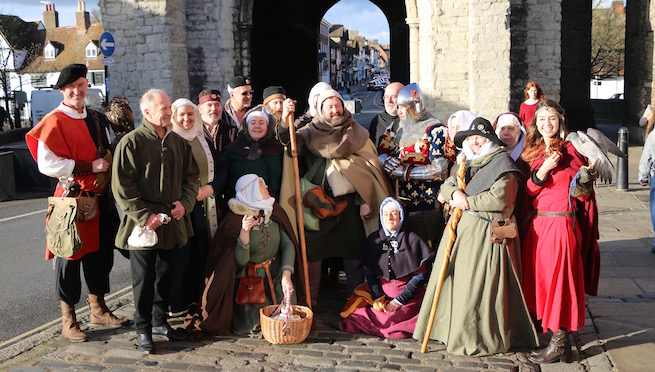 ---
To mark the Feast of St. Thomas Becket, a large number of faithful from across the area attended Vespers in the crypt of Canterbury Cathedral this evening.
Photographs of the final blessing and veneration of a relic of St. Thomas at the presumed site of his martyrdom: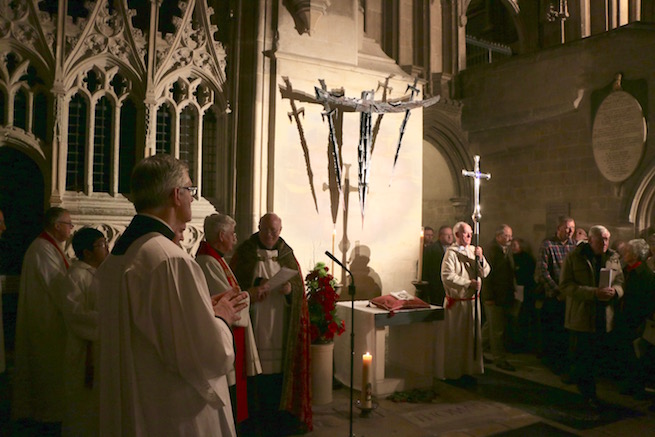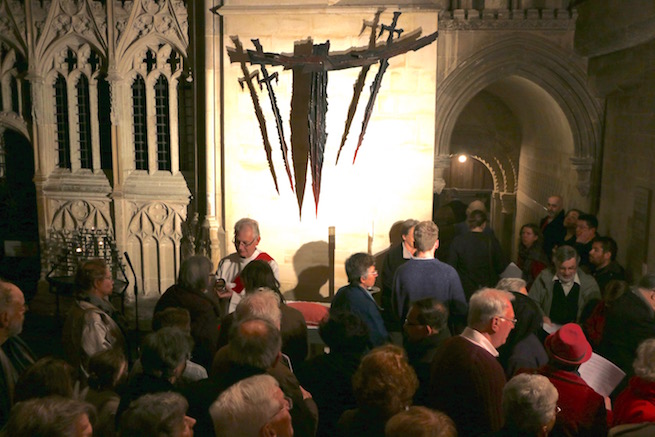 Photos: Edward Pentin/NCRegister.com