Philly Readies for Likely Papal Visit, World Meeting of Families' Registration Opens
The Pope's presence is still in limbo for the World Meeting of Families (WMOF) in Philadelphia next September, but the Philly Archdiocese is geared up to welcome 8,000 to 12,000 people from around the world for the weeklong event and more than a million for the likely papal visit over the weekend.
"We are not likely to get an announcement of the Holy Father's visit until after the turn of the year, but we've received many hopeful signs that he does intend to come," Archbishop Charles Chaput told the U.S. bishops gathered in Baltimore Nov. 10-11 for their annual fall meeting.
The World Meeting of Families will be held in Philadelphia Sept. 22-27. Keynote and breakout sessions will touch on "a wide range of family issues where our faith is both needed and tested," said the archbishop.
"We want to focus next year not just on the neuralgic sexual issues that seem to dominate the American media, but on things like the family and poverty, the family and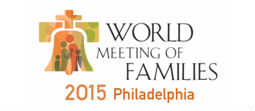 addiction, the family and children with disabilities, the loss of a spouse, the effect of divorce and co-parenting, health and wellness as building blocks to preserving the family, creating real intimacy between husband and wife, the challenges of raising children, the role of grandparents, the parish as a support community for families and similar themes."
Confirmed keynote speakers for the event include Cardinal Sean O'Malley of Boston, George Mason law professor Helen Alvare, Catholic evangelist Father Robert Barron, Cardinal Luis Antonio Tagle of Manila and Cardinal Robert Sarah, president of the Pontifical Council Cor Unum. There will also be family entertainment every evening of the event.
During his report, the archbishop announced the opening of WMOF's registration via the website: WorldMeeting2015.org. The Philadelphia Archdiocese has printed a catechism for families to prepare for the World Meeting of Families.
Archbishop Chaput emphasized that the gathering is intended to be for the "whole community," and there will be Jewish, Protestant and Muslim participants. The keynote presentation will be in various languages, including: Spanish, French, Portuguese and Italian. There are also scholarships available to defray costs for attendee families.
While the cost of the event is "very heavy," Archbishop Chaput acknowledged, more than half of the cost has been raised already, and there has been "wonderful cooperation from city, state and federal authorities," as well as the local business community.
"So we've made good progress, but we still have a long way to go," the archbishop said, adding that financial data will be published next year.
Archbishop Chaput closed his remarks talking about the great fruits he saw in Denver after Pope John Paul II's visit there for World Youth Day in 1993.
"If we give our hearts to this effort, and put our trust in the God who loves us, the World Meeting of Families next year can do the same – not just for the Church in Philadelphia and not just for the Church in our country."