Maite Roche Is a Treasure
Back before Easter, I planned to review a lovely little book that came to our house: My First Pictures of Easter by Maite Roche (Ignatius Press).
Better late than never! This book is a treasure. With simple, carefully chosen words and phrases describing the events of Holy Week, it is a springboard for parents to tell their kids the story of the Passion, death, and resurrection of Jesus, giving as much or as little detail as they would like. My kids have absconded with the Easter book, but I do have in front of me another of Roche's books: My First Prayers with Mary.  
It's a sturdy little board book with rounded edges. It includes several short, simple prayers to Mary, with large, bright pictures of Mary, Jesus, and Joseph, accompanied by smaller pictures of modern children on the facing pages. The prayers are things like:
"Mary, listen to us:
welcome as a mother
all those who come to you;
give courage to the sick,
console those who cry,
protect little ones,
and lead us to Jesus,
our Savior. 

Amen.
But it's the pictures I can't get enough of. I had seen Roche's books advertised in the Ignatius catalogue, and they looked pleasant enough, but nothing more than that. But what appeared merely pleasant in the thumbnail version are actually small icons -- rich, glowing, windows into a inviting world of love. They are a wonderful combination of sweetness and simplicity, dotted with details that little ones like to point out -- flower! Butterfly! Bird!  -- and depth.
Best of all are the faces. As a writer with children, I receive lots and lots of Catholic children's books, and nearly every time, I regretfully decline to review them, because I cannot deal with the way Mary and Jesus' faces are drawn. The best of them are blank and insipid, giving the impression that the Holy Family was dabbled in narcotics; and the worst are goony and pandering. Take it from me: transferring Spongebob's features onto a human body and slapping a halo on his head is not, in fact, the best way to attract little children to the Faith.
Here is one of my favorite illustrations from the book: Mary teaching toddler Jesus how to walk. Note that He has his eye on a guiding dove, while she has her eyes on Him: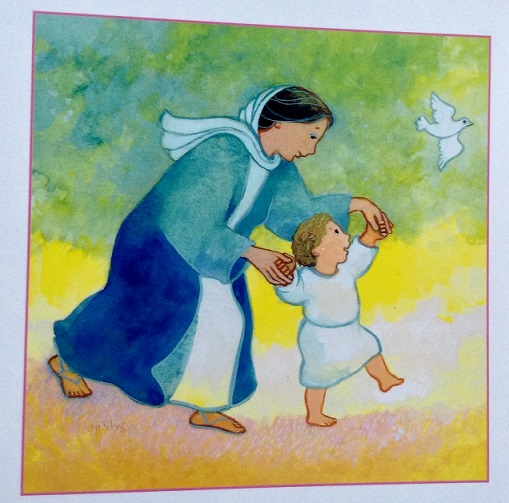 (illustration used with permission, but supplied via my amateur digital camera! Photo quality should not reflect on Ignatius)
I also very much appreciate how Joseph appears happy in these pictures. The Holy Family portrait, without being overtly unconventional, manages to convey that they are a real family with real relationships, that they are comfortable with each other, and enjoy being together: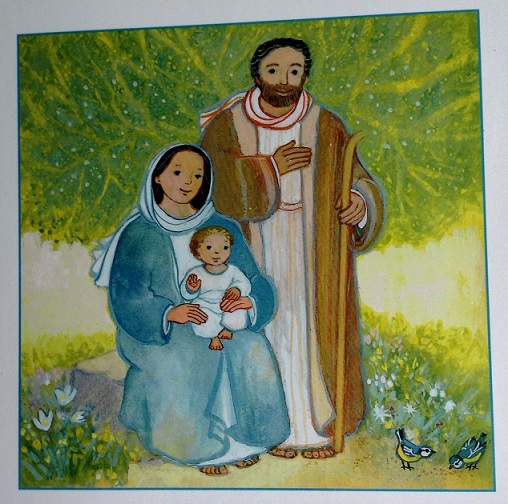 Children (and adults!) learn so much through illustrations. Give them the works of Maite Roche (there are dozens!) and you can't go wrong.