Is God telling us fictions about the past?
Wouldn't it be great if scientists invented a device that enabled us to have a clear window into the past--so that we wouldn't just have to read about the past in books?
Instead, with the new device--let's call it a Time Window--we could actually see events occurring in the past in real time, with our own eyes?
That would be wicked awesome, wouldn't it?
The exciting news is that scientists have invented this device!
That's right! The Time Window is real!
What's more, they invented it just over 400 years ago, so they've had the chance to mature the technology to the point that now it's really, really good.
For comparison, imagine how good an iPhone would be today if Steve Jobs had invented the first one 400 years ago.
The only problem is that they missed a great marketing opportunity.
Instead of calling it the Time Window (tm) they gave it a much more boring name . . . the telescope.
How the Time Window Works
The reason that the Time Window--er, telescope--lets us look into the past and see it with our own eyes is that it takes time for light to reach our eyes. The speed of light is not infinite.
Technically, this means that any time you see anything, you are technically witnessing something that happened in the past.
Since light travels so fast, however, if you see someone across the room pick up an iPhone, that happened only the tiniest fraction of a second ago. In fact, you started seeing it while it was still happening. That's not long enough ago to make it an exciting glimpse into history.
But things get more interesting when you take a telescope at point it at something really distant.
By Jove!
For example, back in 1609, Galileo Galilei pointed his telescope at the planet Jove--er, Jupiter--and discovered that by it there were several moons.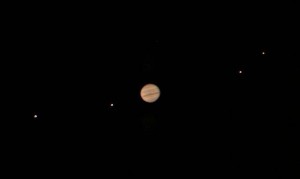 Now the thing is, depending on where Earth and Jupiter are in their orbits, Jupiter is between 33 and 54 light minutes away from Earth.
Let's just say it's an average of 44 light minutes away for the sake of simplicity.
That means, it takes 44 minutes for the light from Jupiter to reach an astronomer on Earth.
So when Galileo looked at Jupiter through his telescopes and saw its moons, he was seeing where those moons were 44 minutes ago.
He was viewing actual history that occurred 44 minutes in the past!
Woo-hoo!
Party Like It's 1879!
The same thing keeps happening when you look further out.
Back in 2008, scientists used one of their spiffy modern telescopes to capture the light in this image . . .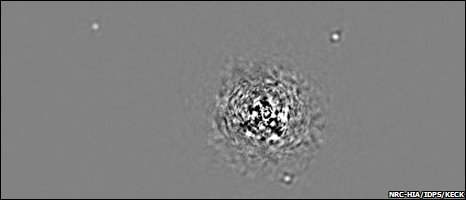 This is an image of the solar system HR 8799.
It's got a single star in the middle, and we can see that it has at least three planets orbiting it.
What's more, it's 129 light years away from Earth.
That means that this image, which was taken in 2008, is of events taking place in 1879.
This is an image of where those planets were in the year that the apparition at Knock, Ireland took place, that the California Constitution was ratified, and that Thomas Edison unveiled incandescent light to the public.
It's an image of things happening in that year.
Now let's look really far into the past . . .
An Earth-Shattering Ka-Boom
Also in 2008, astronomers captured an image of a supernova known as SN 2008D.
Here's a time-lapse image of the supernova happening, both in x-rays and visible light. Take a moment and watch it: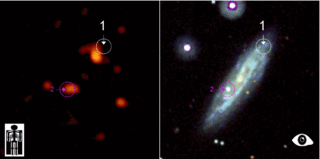 Hoo-eee! It blowed up real good! (Particularly in x-rays.)
Now here's the thing: SD 2008D is in the galaxy NGC 2770, which is in the constellation Lynx.
It's also 88,000,000 (88 million) light years away.
That means that when you're watching the supernova explode in the images above, You Are Watching an Event That Took Place 88 Million Years in the Past.
That's right. Dinosaurs were roaming the earth when this event took place. It was the middle of the Cretaceous Era.
So What's This Have to Do with God? 
Historically, many people have thought that the universe was only a few thousand years old, based on the most common understanding of Genesis.
Modern science has suggested that it is much, much older.
If the above picture reveals an event that took place 88,000,000 years ago, then the view that the universe is only a few thousand years old can't be right.
So what alternatives does we have in resolving this situation?
Here are three . . .
Option 1: We're Really, Really Wrong
One option would be to say that we are really--desperately--wrong in our understanding of science today.
Either light doesn't travel at the speed we think it does or SN 2008D isn't as far away as we think it is--or something.
This cannot be ruled out on theoretical grounds. The best scientific thought of the day has turned out to be really, really wrong before.
But how likely is this?
At this point we seem to have very, very good evidence about the age and dimensions of the cosmos, about how fast light travels and how far away things like supernovas are.
Option 2: God Is Showing Us Fictions
Another option would be to say that, when the world began a few thousand years ago, God created light already en route from what appeared to be more distant galaxies.
If that's the case, then any event we see that appears to be happening more than a few thousand light years away is a fiction.
Beyond a certain point, we're watching God's Imaginary Astronomy Show.
Mixed in with God's Real Astronomy Show that's taking place closer to home.
Hmmm.
That doesn't seem consistent with God's Truthfulness.
At a minimum, an advocate of this view would need to provide an explanation for why God would do this, why it wouldn't be inconsistent with his Truthfulness.
Some have tried to mount such an explanation by saying that God created the world with an "appearance of age," the same way that he created Adam and Eve as full-grown adults rather than babies.
That is the way Genesis seems to depict the creation of our first parents, since they are both apparently created on Day 6 of the creation week in Genesis 1, and since they are married as soon as Eve is created in the second creation narrative in Genesis 2.
If you think that God used evolution to make the bodies of the first humans (of course, he made their souls directly and immediately) then this issue doesn't arise--at least not in the same way.
But what if you think that God literally created an adult Adam out of earth and an adult Eve out of Adam's side? Does that provide much support for the "appearance of age" explanation of distant astronomical events?
I have never thought so.
It's always seemed to me that, if God were to directly create the first humans as adults, there would be a very good reason for that--namely: Babies Cannot Take Care of Themselves.
Without the presence of other humans--or near-humans--to take care of our first parents, they would need to be adults (or at least teens). Either that, or God would have to run his own, direct daycare service, and Genesis doesn't suggest that he did.
So I can see a reason why God would make the first humans as adults. That's because of the incapacity to care for themselves that human infants have.
But that doesn't give us any reason why God would need to plant false dinosaur bones in the ground or false astronomical images in the sky, let alone mix them up with real ones.
He could have just let God's Real Astronomy Show play in the sky each night.
The sky wouldn't have had quite as much stuff in it each night, but it would all have been true stuff.
Option 3: God's Word in the Heavens and in the Bible Is True
The best approach would seem to be the classic one of saying that God's word in nature and God's word in the Bible are both true.
They have to be understood in harmony with each other.
Thus if we have good evidence from God's word in nature that the universe is quite old then that helps shed light on the meaning of God's word in the Scriptures.
This is the approach taken by the Catholic Church.
Concerning the creation narrative in Genesis 1, John Paul II stated:
Above all, this text has a religious and theological importance. It doesn't contain significant elements from the point of view of the natural sciences. Research on the origin and development of the individual species in nature does not find in this description any definitive norm or positive contributions of substantial interest [General Audience, Jan. 29, 1986].
And the Catechism of the Catholic Church states:
283 The question about the origins of the world and of man has been the object of many scientific studies which have splendidly enriched our knowledge of the age and dimensions of the cosmos, the development of life-forms and the appearance of man.
These discoveries invite us to even greater admiration for the greatness of the Creator, prompting us to give him thanks for all his works and for the understanding and wisdom he gives to scholars and researchers.
With Solomon they can say: "It is he who gave me unerring knowledge of what exists, to know the structure of the world and the activity of the elements. . . for wisdom, the fashioner of all things, taught me.
And:
337 God himself created the visible world in all its richness, diversity and order. Scripture presents the work of the Creator symbolically as a succession of six days of divine "work", concluded by the "rest" of the seventh day.
On the subject of creation, the sacred text teaches the truths revealed by God for our salvation, permitting us to "recognize the inner nature, the value and the ordering of the whole of creation to the praise of God."
Having said that, I'm looking forward to seeing more events from distant history--with my own eyes--through the amazing Time Window! (Er, telescope.)
What Now?
If you like the information I've presented here, you should join my Secret Information Club.
If you're not familiar with it, the Secret Information Club is a free service that I operate by email.
I send out information on a variety of fascinating topics connected with the Catholic faith.
In fact, the very first thing you'll get if you sign up is information about what Pope Benedict said about the book of Revelation.
He has a lot of interesting things to say!
If you'd like to find out what they are, just sign up at www.SecretInfoClub.com or use this handy sign-up form:
Just email me at [email protected] if you have any difficulty.
In the meantime, what do you think?