Icon for the World Meeting of Families Depicts Jesus' "Extended Family"
Neilson Carlin is an award-winning artist, and his icon of "The Holy Family" has become the symbol for the World Meeting of Families.
But when the Register caught up with him, he was busy being a dad—packing water and snacks for his three young children, and gearing up to drive to the World Meeting of Families. There, he and his family will have reserved seats for two Masses in Philadelphia's Cathedral Basilica of Sts. Peter and Paul, where his icon hangs on a pilaster to the left of the cathedra, the bishop's chair.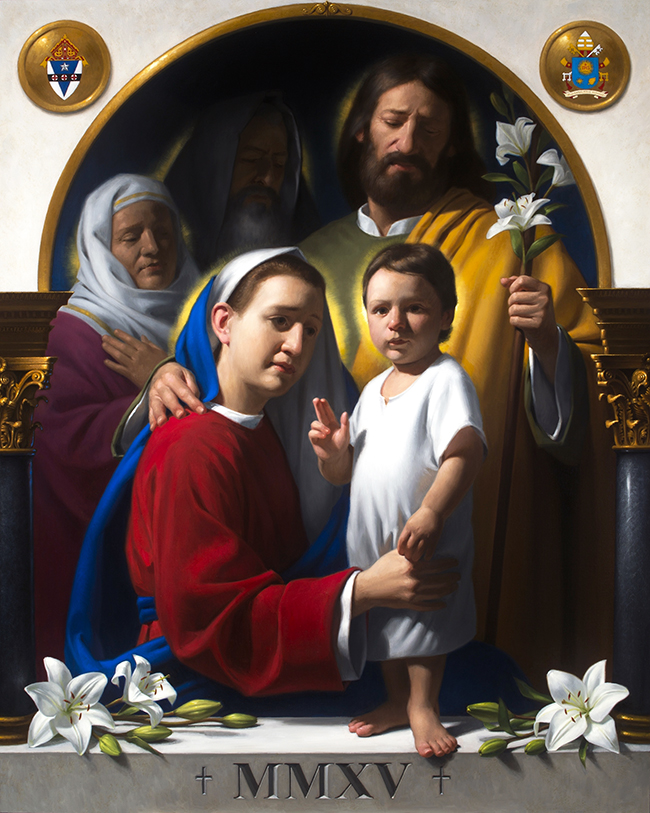 "Hopefully, it won't rain," said Carlin, anticipating the 1.7-mile walk from their hotel to the cathedral. The family—Carlin, his wife and their children, ages 9, 7 and 5—will spend Friday night in Philadelphia and attend the Pope's Mass on Saturday, then they'll return to the Cathedral for Mass on Sunday.
The Icon
"The Holy Family" is a 40" by 60" oil on canvas and includes Jesus' extended family—Mary and Joseph, along with his grandparents Anna and Joachim. Carlin created the image not in the angular style common in Eastern icons, but as a Western-style painting. Jesus is clothed in white and is portrayed as a toddler, perhaps two years old. His hand, raised in a blessing, is the focal point at the center of the painting.
In creating the icon, Carlin employed what he describes as a "frame within a frame." The work mimics architectural details from the Cathedral, such as the arched baldacchino and marble columns. A medallion at the top left bears the coat of arms of the Archdiocese of Philadelphia; at the top right is the coat of arms of Pope Francis. The artist explained that he hopes people who see the work in ten years or fifty years will recognize familiar images from the cathedral, and will realize that the work was painted at the direction of the Archdiocese of Philadelphia.
Carlin's icon appears on the website and printed materials for the World Meeting of Families. Last year in Rome, a print of the icon was presented to the Holy Father by Philadelphia's Archbishop Charles Chaput; and Carlin reports that the print now hangs in the offices of the Pontifical Council for the Family.
The Artist's Other Projects
A convert to Catholicism in 2000, from that time Carlin focused his attention on religious art. Carlin's other work includes a large project at the Shrine of Our Lady of Guadalupe in La Crosse, Wisconsin. There, over fourteen months, he executed paintings of St. Gianna Molla and Blessed Father Miguel Pro, St. Thérèse of Lisieux and St. Peregrine Laziosi.
He's just completing a life-sized image of the Divine Mercy, which was commissioned by the Church of Saint Mary in Schwenksville, Pennsylvania. Then he'll begin work on two commissioned paintings for Sacred Heart parish in Royersford: a painting of St. Margaret Mary Alacoque with the Sacred Heart of Jesus, and another which he describes as a "multi-figure painting of Christ with four Mary's around it." The four images of Mary will be Our Lady of Fatima, Our Lady of Lourdes, Our Lady of La Sallette, and the Immaculate Heart of Mary, as she's depicted on the Miraculous Medal. "The idea of that painting," Carlin explained, "is that Mary calls us back to Christ."
The artist offers a personal perspective on his work here: