Franciscans at the Holy Land
Francis first visited the Holy Land in the early 13th century. Like Pope Francis today, St. Francis went to the strife filled land with a message of peace and a plea for nonviolence.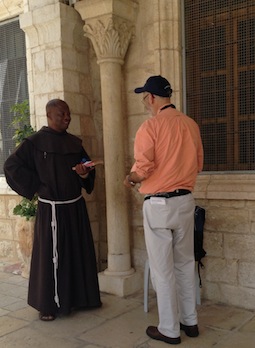 Ever since then, Franciscans have been present, looking after holy places, welcoming pilgrims and ministering to Christians, in the land where Jesus walked. The province of the Order of Friars Minor in the region is known as the Custos of the Holy Land.
Church of the Wedding
One of the churches under the care of these Franciscans is the Church of the Wedding at Cana, which marks the place where Jesus performed his first miracle, turning water into wine.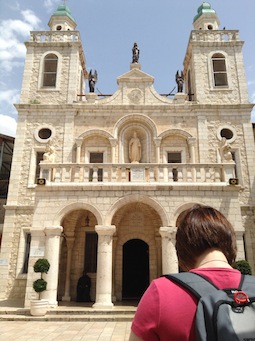 At this site, there's 19th century Church that shelters beneath it the remains of Jewish buildings from the 3rd to 4th centuries.
Also at near the Church of Wedding, is a chapel in honor of St. Bartholomew (Nathanael), who was from the town of Cana. 
Register writers Marge Fenelon and Peter Smith (who supplied the photographs) are were in Cana as a part of their Holy Land coverage. At the Church of the Wedding at Cana they benefitted from the Franciscans' hospitality and witnessed the renewal of wedding vows of two older couples.