Francis, Benedict, and John Paul II: Kids' Saints Books That You'll Enjoy Reading, Too
Lent's a good time to revisit saints' books, and they make great gifts for the First Communicant, godchild, or other young person in your life. This set of three books, all from different publishers and authors, share a few characteristics: they're beautifully crafted with words and illustrations to make them each a treasure that you'll enjoy reading as much as the child beside you will.
Adventures in Assisi: On the Path with St. Francis, by Amy Welborn, illustrated by Ann Kissane Engelhart (Franciscan Media)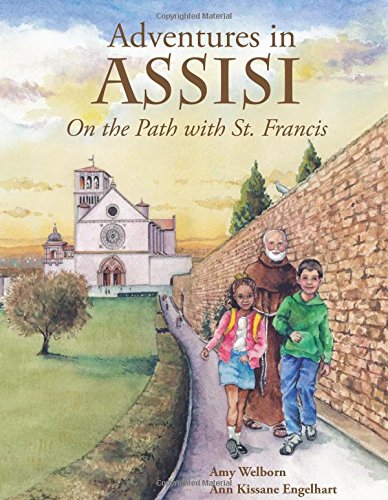 Whether you dream of going to Assisi or not, this book will give you a glimpse of it. The story deserves more than mention, but I want to just bring up the illustrations for a minute, because I have seen how they can engage my kids (and myself too!) in books that are truly well-done. And this is one such book.
Cousins Lorenzo and Gianna are grumpy and stuck with an old uncle, who happens to be a Franciscan brother. He turns a walk through Assisi into an adventure where they learn about Saint Francis.
We're a map-loving family, and the fact that the inside of the book has a map of the walk through Assisi only adds to the appeal. Sprinkled throughout are quotes from Saint Francis — not as part of the story, but as supplements.
The journey through Assisi isn't just beautiful, it's also a bit of a guessing game. Brother Antonio, the uncle who serves as guide, engages both his two young companions and those of us reading along by always asking for input before sharing the story. The way the story is written with questions, you can't help but find yourself looking closer at the pictures and thinking about Saint Francis more deeply.
Overall, a great book to share.
The Life of Saint Benedict, by John McKenzie, O.S.B, illustrated by Mark Brown (Ignatius Press)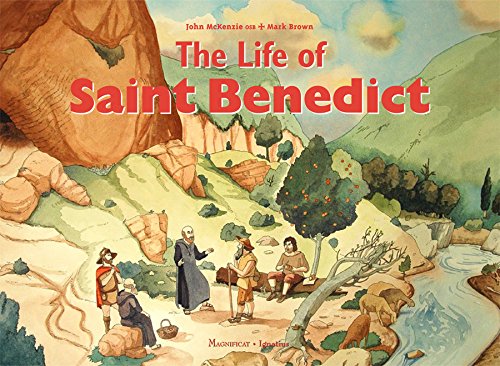 This book is a straightforward approach to the life of Saint Benedict. Each illustration is explained, and the major points of Saint Benedict's life are explained.
At first, I felt like this was a book for adults disguised with nice illustrations. After another journey through it, though, I could appreciate that maybe I'm not the only person who finds history a hard subject to study. I think this book is more suited for my ten-year-old than my four-year-old, though my four-year-old will definitely be interested in the adventures of Benedict's life.
Older children will find this a lighter history, one that breaks up the facts with illustrations that support and supplement the words. Younger children will be interested in the activity and adventures Benedict faced.
Adults who find themselves in the middle, reading this out loud, may find themselves struck by how busy a man could be in the days before electricity.
This is a book for the whole family, I think, and one that will last the years and be worth revisiting later, as the younger kids get older.
A Boy Who Became Pope: The Story of Saint John Paul II, written and illustrated by Fabiola Garza (Pauline Books & Media)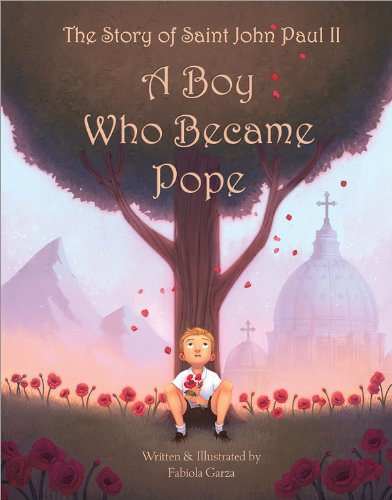 John Paul II was such a giant of a man to many of us that it's hard to picture him as a little boy, vulnerable and scared. However, that's just how this book starts, and the humanity behind the great scholar and saint is revealed in the rather whimsical illustrations and the very down-to-earth writing.
As I read this out loud to my four-year-old, I found myself getting a little choked up more than once. I was struck by how very tangible this modern saint's life was, by how approachable "Lolek" was. No longer was he the amazing man I had read repeatedly and admired, but suddenly a boy not much bigger than the one beside me. No longer was he the stunning intellectual, but rather a young man doing what he knew to be right. No longer was he a distant figure, comfortable in heaven, but instead a man who had struggled and suffered immensely.
This book touches the heart of readers, young and old. In its simplicity of story, it parses the complications that we so often face when we look at the lives of great saints. I'm glad to have the excuse to not only read it, but to reread it and share it with others.