Walking, Biking Pilgrimage to Our Lady of Guadalupe Draws 60,000
The sacred journey covered more than 185 miles from Querétaro state to Mexico City.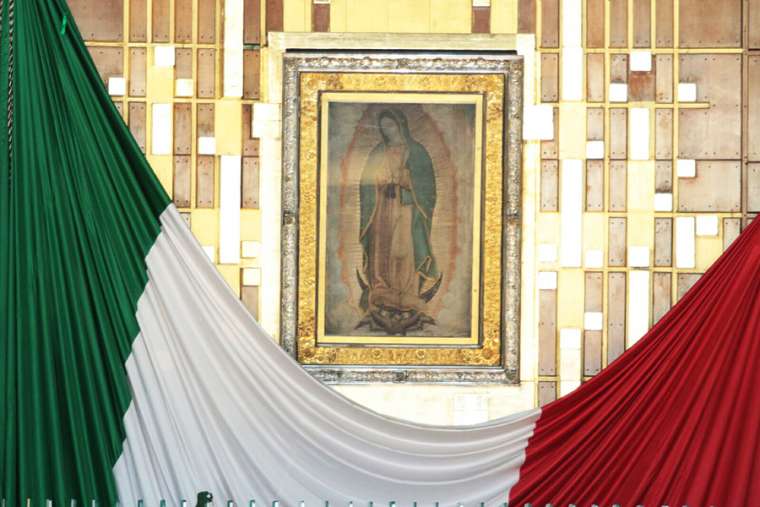 MEXICO CITY — By foot and by bicycle, some 60,000 people arrived at the Guadalupe Basilica in Mexico City July 22 for a pilgrimage that covered more than 185 miles from Querétaro state.
The pilgrims came in three groups, arriving at the basilica after 17 days of travel. The first to arrive, at around 6am on Sunday, were 300 cyclists, followed by 23,000 women at noon, and then 34,600 men, known as "Soldiers of Our Lady of Guadalupe."
Bishop Faustino Armendáriz Jiménez of Querétaro accompanied the faithful for the pilgrimage.
In the first of three Masses he celebrated with the pilgrims, Bishop Armendáriz Jiménez encouraged them to not be afraid "to give our time to Christ."
"Let's not be afraid to spend our free time with Jesus and to have a time shared with him! Yes, let us open up our time to Christ, so he can illuminate and direct it," he said.
At the Mass he celebrated for the women who made the pilgrimage, the bishop stressed that only by resting with Jesus "can you find true and complete peace, the fruit of reconciliation within yourself, in all your relationships: with God, with others and with the world."
To the men's pilgrimage that arrived shortly afterward, the bishop lamented that "many of our adolescents and young adults go about like sheep without a shepherd." However, he cautioned that "if we don't have our hearts renewed in Christ and on fire with the Spirit, it will be impossible to feel compassion for them, and, sadly, we will thus be unable to do anything."
"Let's not say that it's harder today; it's different. But let's learn from the saints, who have preceded us and faced their own difficulties in their times," he encouraged.
In a video posted on the Facebook page of the Diocese of Querétaro after the pilgrimage was over, Bishop Armendáriz Jiménez highlighted that it was "an extraordinary experience of faith that certainly strengthens us." 
He said that accompanying people on the pilgrimage allowed him to "interact and, especially, to get to know [them] better and more personally."
"Knowing our people makes us love them more," he emphasized.
Bishop Armendáriz Jiménez congratulated the Diocese of Querétaro "for this treasure that we have" and assured the faithful that God will continue blessing this community "with many spiritual fruits."