Ukrainian Catholics Experiencing 'Total Persecution' in Crimea
Priests in Crimea have been accused of being 'Vatican agents' and of serving in the 'SS Army' by supporters of unity with Russia.
KIEV, Ukraine — As the Russian president signed a bill to annex Crimea Tuesday, the Ukrainian Greek Catholic Church in the peninsula has been experiencing what a Church official calls "total persecution."
"At this moment all Ukrainian Greek Catholic life in Crimea is paralyzed," Father Volodymyr Zhdan, chancellor of the Stryi eparchy in western Ukraine, told CNA March 18.  
From 2006 to 2010, Father Zhdan served as chancellor of the Odessa-Krym Exarchate, which encompassed both the mainland port city of Odessa and the Crimean Peninsula.
Since late February, the peninsula has seen the emergence of pro-Russian troops, who have taken control of its airports, parliament and telecommunication centers.
Referring to the kidnapping of three Ukrainian Greek Catholic priests in Crimea by pro-Russian forces over the weekend, Father Zhdan stressed that one such case could be called a mistake, but that "multiple kidnappings are not an accident."
On March 15, Father Mykola Kvych, a naval chaplain stationed in Sevastopol, was detained immediately after celebrating a "parastas," a memorial prayer service for the dead. The following day, Father Bohdan Kosteskiy of Yevpatoria and Father Ihor Gabryliv of Yalta were also reported missing.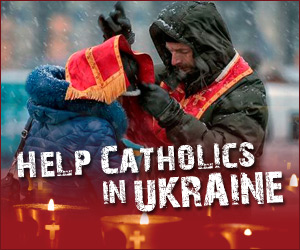 Later that night, all three were said to be alive and safe, with Father Kvych confirming that he had escaped to the mainland of Ukraine with the help of parishioners.
Father Kvych told the Ukrainian Greek Catholic Church's information department that he was held and questioned for eight hours by representatives of the Crimean self-defense force and Russian intelligence officers.
According to Father Kvych, they accused him of "provocations" and of supplying the Ukrainian navy with weapons. Father Kvych maintained that he helped organize the delivery of food to a blockaded naval base and that he gave two bulletproof vests to journalists.
Upon seeing a Ukrainian flag at his home and portraits of Roman Shukhevych and Stepan Bandera — Ukrainian nationalists who fought against both the Nazis and the Soviets in the 1940s and 50s — inside, Father Kvych's captors accused him of being in the "SS Army," a reference to Nazi Germany.
Followers of Bandera are colloquially called "Banderites," a label that has been heavily circulated by Russian authorities and media in recent months and whose reported presence in Ukraine, many analysts say, has been used to justify Russian intervention in the country.
Father Kvych has been charged with "extremism," which in the Russian Federation can carry a sentence of up to 15 years in prison.
Father Kvych does not know how the trial will be conducted, since the national status of Crimea is in dispute.
A referendum was held in the territory March 16 regarding union with Russia. Crimean authorities claim that 97% of voters favor seceding from Ukraine and joining Russia, and on March 18, Russia's Vladimir Putin and Crimean leaders signed a treaty declaring the territory absorbed by Russia.
Western nations and the government in Kiev have condemned both the referendum and the annexation.
Other Problems
In addition to the arrests in Crimea, several other problems at Ukrainian Greek Catholic churches throughout the country have been reported in recent days.
According to the Religious Information Service of Ukraine, an important 130-foot electrical cable was stolen from a small chapel in the Kherson region north of Crimea over the weekend. On March 15, a parish in Kolomyya was vandalized, and another in Dora was burned to the ground, reportedly from arson. Both damaged parishes are in the Ivano-Frankivsk region, which borders Romania in the west of Ukraine.
In Crimea, clergy have received threatening phone calls and messages. At the home of one apprehended priest, a note was left that read this should be "a lesson to all Vatican agents."
"This is not new," Bishop Vasyl Ivasyuk, who served as exarch of Odesa-Krym from 2003 to 2014, told CNA.
"During Soviet times, we were always accused of being 'agents' of the Vatican," Bishop Ivasyuk continued. "Of course not all people in Crimea think we are spies, but there is a very active pro-Russian group there that does."
The Ukrainian Greek Catholic Church was heavily persecuted during the Soviet era; it was considered illegal and operated completely underground until 1989.
"The Church emerged from the underground 25 years ago, having been the largest illegal church in the world for 45 years prior," Bishop Boris Gudziak, eparch of Paris, explained to CNA last month.
"The UGCC was the biggest social body of opposition to the Soviet ideology and totalitarian system. It was completely illegal, but in the catacombs, it was spiritually free because it was not collaborating."
Complicated Relationship
Bishop Ivasyuk confirmed that such freedom is important in Crimea, where the relationship between the Ukrainian Greek Catholic Church and the local government has always been complicated.
"Many Crimeans respect the UGCC for not taking part in elections, for staying out of politics," he said. "Our priests do not run for political office, and this has granted them a kind of moral authority."
Of the five priests normally serving Ukrainian Greek Catholics in the peninsula, two reportedly remain.
When asked their motivation for staying, Bishop Ivasyuk explained that they want to be with the people as long as possible.
"Life is the most important thing, so we shouldn't go looking for the mouth of the lion … but we'll stay with the people wherever they are."
On March 18, the Department of Religious and Ethnic Affairs in Ukraine's Ministry of Culture issued a statement condemning the persecution of clergy in Crimea.
"Recently, in the autonomous republic of Crimea, cases of persecution of the clerics of various denominations have been documented. There has been an unprecedented violation of rights in the field of freedom of conscience and religion," the statement read.
"We demand there be a stop to the practice of terror and for rights and liberties to be respected."
With the signing of the Russia-Crimea treaty, it is unclear what will happen to the Ukrainian Greek Catholic Church in the region. It is estimated there are roughly 5,000 Ukrainian Greek Catholics on the peninsula.
Father Zhdan said: "What we saw this weekend was a disturbing signal of a future political direction."