The Faiths of Donald Trump and Hillary Clinton: Whom Do They Serve?
Clinton and Trump occasionally reference their professed Christian faiths, but both have differed recently with their Protestant denominations on their respective signature issues of abortion and immigration.
WASHINGTON — From time to time, Donald Trump and Hillary Clinton invoke their respective Christian faiths as something that animates them and informs their worldviews.
But unlike Republican and Democratic presidential candidates in the recent past, such as Jimmy Carter or George W. Bush, who were comfortable discussing their religious beliefs, the major party nominees in 2016 have shown an uneasiness when asked about spiritual matters.
Trump, a Presbyterian, and Clinton, a Methodist, have also at times run afoul of their respective denominations for things they have said on the campaign trail and for their positions on issues such as abortion, immigration and same-sex "marriage."
Clinton, who formally accepted her party's nomination at last month's Democratic National Convention in Philadelphia, rarely talks about her faith on the campaign trail.
But occasionally, Clinton, the former first lady, U.S. senator from New York and U.S. secretary of state, offers a glimpse into her spiritual life. Asked about her faith at a Democratic town-hall event a week before the Iowa caucuses in January, Clinton delivered a rather impassioned reply, where she drew from the Bible and reflected on the Sermon on the Mount.
Said Clinton, "I am a person of faith. I am a Christian. I am a Methodist. I have been raised Methodist. I feel very grateful for the instructions and support I received starting in my family, but through my church; and I think that any of us who are Christian have a constantly constant conversation in our own heads about what we are called to do and how we are asked to do it, and I think it is absolutely appropriate for people to have very strong convictions and, also, though, to discuss those with other people of faith. Because different experiences can lead to different conclusions about what is consonant with our faith and how best to exercise it."
Speaking further, Clinton said her study of the Bible and her conversations with people of faith had led her to believe that "the most important commandment is to love the Lord with all your might and to love your neighbor as yourself, and that is what I think we are commanded by Christ to do; and there is so much more in the Bible — about taking care of the poor, visiting the prisoners, taking in the stranger, creating opportunities for others to be lifted up, to find faith themselves — that I think there are many different ways of exercising your faith."
Clinton: Social Action Prioritized
In her 2003 memoir Living History, Clinton said her active involvement in the First United Methodist Church of Park Ridge, Ill., opened her eyes and heart to the needs of others and instilled in her a sense of social responsibility.
A youth minister at her church, Rev. Donald Jones, appeared to have played a pivotal role in changing the worldview of a girl who grew up in a conservative Republican family and who supported Barry Goldwater's 1964 presidential campaign. In Living History, Clinton wrote about how Jones "stressed that a Christian life was 'faith in action.'" The youth minister took Clinton and other youth in the church to hear Rev. Martin Luther King Jr. speak and to visit inner-city Chicago churches.
Throughout her adult life in politics, Clinton has occasionally quoted Scripture and invoked biblical principles. In a 1993 speech at the University of Texas, Clinton called for a "politics of meaning," adding: "We have to summon up what we believe is morally and ethically and spiritually correct and do the best we can with God's guidance."
Early in her husband Bill Clinton's first term as president, she joined a women's prayer group in Washington through the National Prayer Breakfast. She called the women in the group her "prayer partners," from whom she received daily faxed Scripture verses and faith messages, according to Time magazine.
In a 2007 CNN "Faith Forum," during her first campaign for the presidency, Clinton admitted that "advertising" her faith "doesn't come naturally to me." She argued that every vote she had cast as a U.S. senator was a "moral responsibility."
Clinton addressed United Methodist Women in 2014, adding that the Methodist church has inspired her to "advocate for children and families, for women and men around the world who are oppressed and persecuted, denied their human rights and human dignity."
However, Clinton's positions on abortion and same-sex "marriage" conflict with the teachings of the United Methodist Church, which is the second-largest Protestant denomination in the United States behind the Southern Baptist Convention. According to its website, the United Methodist Church prohibits its pastors from performing same-sex "marriage" ceremonies and does not allow churches to host such ceremonies.
The Democratic Party's platform states that it "will always fight to end discrimination" on the basis of religion, and calls it "unacceptable" to target someone on the basis of religion. However, it also states that it supports "a progressive vision of religious freedom that respects pluralism and rejects the misuse of religion to discriminate."
In May, the United Methodist Church voted to repeal its affiliation with the Religious Coalition for Reproductive Choice and its 40-year-old resolution supporting Roe v. Wade. Clinton has long been an ardent supporter of legalized abortion and recently called for the repeal of the Hyde Amendment, a legislative provision that prohibits federal funds being used to pay for abortions.
She has also doubled down in recent months in her long-standing support of Planned Parenthood, in the wake of the undercover videos released by the Center for Medical Progress documenting the abortion provider's participation in the fetal body-parts trade. Addressing the Planned Parenthood Action Fund on June 10, she called Planned Parenthood's president, Cecile Richards, a "courageous leader" who "really is the definition of grace under pressure."
Declared Clinton, "I've been proud to stand with Planned Parenthood for a long time; and as president, I will always have your back."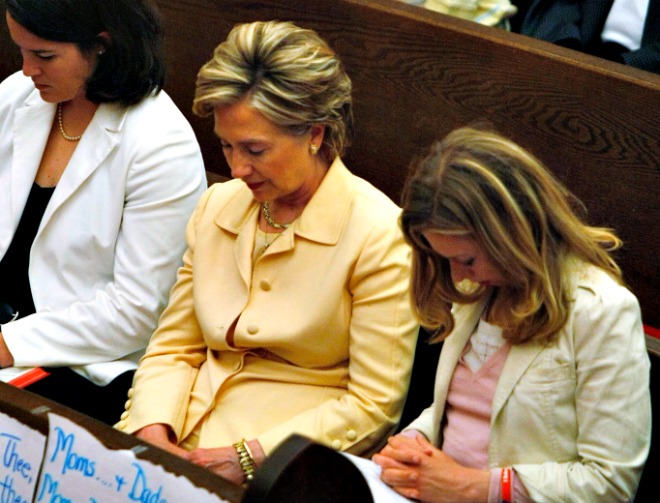 Trump: A Spotty Record of Faith
Clinton's religious faith, despite its contradictions with some of her political positions, is well-documented throughout her nearly 30 years in public life. In comparison, the record on Trump's Presbyterian faith is spottier.
Throughout his campaign, the brash, outspoken and controversial New York real-estate tycoon has focused most of his message on economic matters and immigration. He has occasionally been asked about his religious beliefs, at times showing that he is not as familiar with the language of faith as his Democratic opponent.
Speaking in January at Liberty University, an evangelical school founded by the late Rev. Jerry Falwell, Trump cited "Two Corinthians" as one of his favorite Scripture verses, leading to snickers and laughter in the audience and his then-Republican primary challengers to point out the gaffe on Twitter.
Later asked by a New York radio host what Scripture verse had informed his thinking and character, Trump responded by quoting the Mosaic Law's "eye for an eye" rule of retribution in Exodus 21:24.
Trump went on to say in the same interview, "That's not a particularly nice thing. But you know, if you look at what's happening to our country — I mean, when you see what's going on with our country, how people are taking advantage of us … — we have to be firm and have to be very strong. And we can learn a lot from the Bible, that I can tell you."
Trump said last summer during the Family Leadership Summit, an event organized by socially conservative Christian organizations, that he had never asked God for forgiveness, though he added that he partook in his church's communion services.
Said Trump, "When I drink my little wine — which is about the only wine I drink — and have my little cracker, I guess that is a form of asking for forgiveness, and I do that as often as possible, because I feel cleansed. I think in terms of 'let's go on, and let's make it right.'"
Trump later told CNN that he does not have much to apologize for, adding: "I like to be good. I don't like to have to ask for forgiveness. And I am good. I don't do a lot of things that are bad. I try to do nothing that is bad."
In the same interview, Trump said, "I have a great relationship with God. I have a great relationship with the evangelicals."
Trump was more circumspect when asked about forgiveness in a June interview with Cal Thomas, a syndicated conservative Christian columnist.
"Jesus, to me, is somebody I can think about for security and confidence," Trump said, "somebody I can revere, in terms of bravery and in terms of courage; and, because I consider the Christian religion so important, somebody I can totally rely on in my own mind."
Before a campaign event last August in Iowa, Trump was asked if there was anyone in the Bible whose story he could relate to.
Trump responded, "Nobody that I would compare to. It's a great question. I love the Bible. I love the Bible. I'm a Protestant. I'm a Presbyterian. I went to Sunday school. Dr. Norman Vincent Peale, The Power of Positive Thinking, was my pastor — to this day, one of the greatest speakers I've ever seen. You hated to leave church."
Trump has said he grew up attending Sunday services at First Presbyterian Church in Jamaica, Queens, before his family began attending Marble Collegiate College Church, founded in 1628 and located on Fifth Avenue in Manhattan. Trump told reporters in South Carolina last summer that he attended services at the church, but the congregation later released a statement to CNN saying that Trump was not an active member of the church.
Trump's position on immigration — he has called for mass deportations of immigrants who are in the United States illegally and for the construction of a large wall along the U.S.-Mexican border — also prompted Rev. Gradye Parsons, the stated clerk of the Presbyterian Church USA, to write an open letter to Trump highlighting the denomination's relatively progressive stance on refugees and immigrants.
Trump's Religious-Liberty Promise
Trump is also at odds with his denomination on the issue of same-sex "marriage." The Presbyterian Church USA allows clergy to officiate at same-sex "wedding" ceremonies. Trump has said that he opposes the redefinition of marriage as well as abortion (although he was publicly highly supportive of abortion rights earlier in his life).
And he has promised to appoint pro-life judges and protect religious liberty, even lifting the ban that prohibits churches and other nonprofit groups from politicking.
Addressing an assembly of Christian leaders in June, Trump said: "I think maybe that will be my greatest contribution to Christianity — and other religions — to allow you, when you talk religious liberty, to go and speak openly, and if you like somebody or want somebody to represent you, you should have the right to do it."
He also thanked evangelical leaders in his acceptance speech at the national convention in Cleveland, saying, "You have so much to contribute to our politics, yet our laws prevent you from speaking your minds from your own pulpits."
Register correspondent Brian Fraga writes from Fall River, Massachusetts.