Starter Parishes: The Gospel Alive in America
Although church closings often make the news, new Catholic communities continue to form and grow thanks to lay and priest collaboration.
DENVER — At the start of Mass on Sundays, Father Jason Wunsch looks at his parish and sees a microcosm of the Church: His parishioners come from every ethnic background — Filipino, Polynesian, Mexican, Peruvian, Ghanaian and various European nationalities.
And Father Wunsch also sees in his community a vision for what the Church should be. After the Eucharist, people stay and enjoy each other's company and extend a real welcome to new persons. One African-American woman approached him after Mass and told him she had become emotional because parishioners welcomed and remembered her from her last visit.
The woman told Father Wunsch, "I broke down crying." She had never experienced this kind of embrace in a Catholic church before. "No one's even seen me before."
Father Wunsch is the pastoral administrator of the St. Gianna Molla quasi-parish in the Green Valley Ranch suburb of Denver.
St. Gianna Molla's first Mass was held in the cafeteria of a charter school, and while a church building is what they eventually aim for, Father Wunsch said helping the people become true disciples of Jesus is the first goal. Approximately a third of his parish attends a Bible study.
"Before you build the brick structure, you've got to build up the living stones of the church," he said.
Quasi-parishes, missions and outreaches are all different names given to what are essentially Catholic parish startups — communities of Catholic faith built from the ground up that tend to get overlooked in an era of closing churches.
The process always begins with the approval of the bishop. In a column for the Denver Catholic, Archbishop Samuel Aquila explained that when a community is designated as a "quasi-parish," it has its own patron saint, statutes, pastoral and finance councils, keeps its own sacramental records, and has an established territory.
"Once these quasi-parishes are incorporated and demonstrate that they can sustain themselves, they will be recognized as parishes," he stated.
Jesuit Father Thomas Gaunt, executive director of Georgetown University's Center for Applied Research in the Apostolate (CARA), told the Register that the Catholic Church is seeing new parishes open predominantly in the South and the West. It is an overlooked counterpoint to the story of parish closings that predominate the Northeast and Midwest.
But the trend lines, he said, follow economic patterns: Catholic parishes are opening in North Dakota, thanks to the influx of people working in the oil and gas industry there. And cities like Atlanta and Houston are drawing many young Catholics who once called places like Scranton, Pennsylvania, home, leaving behind an older, settled generation in those pews.
According to CARA's data, in the previous decade, states like New York, Pennsylvania, Massachusetts and Ohio lost approximately 100 parishes, while Georgia, Colorado, Florida and Texas were among states that gained between 11-41 parishes. Father Gaunt said those trends, largely due to Catholic migration, have continued.
He added that while the number of parishes built in the South and West are less than the number of parishes that have closed in the Midwest and Northeast, that is largely due to the fact that the new parishes in the South and West are much larger, with churches that seat at least 1,000 people. "They're not building churches that seat 300 people," he said.
However, he said the data show that building a new Catholic community from the ground up does galvanize Catholic involvement, and the per-household rate of giving is much greater, reflecting how invested people feel in a church they are building, as opposed to a legacy they are inheriting.
Father Wunsch said it has been "amazing" to see people come together, and as a priest, he tries to invest in his lay faithful, who are evangelizing with creativity and initiative.
"To have a thriving parish, everyone has to be contributing, especially at the very beginning," he said.
Have Liturgy, Will Travel
Once a month on Sunday, Father François Beyrouti, the pastor of Holy Cross Melkite Greek Catholic Church in Placentia, California, packs up his car with vestments, sacred books, icons and sacred vessels and heads off to St. Kilian's Catholic Church in Mission Viejo. The California church is a Latin-rite parish that hosts a new Melkite Catholic community that Father Beyrouti also serves.
When he arrives, the faithful help him unpack the car and prepare the church to be set up for the 6:30pm Divine Liturgy, celebrated after St. Kilian's 5pm Mass.
Father Beyrouti told the Register that the Melkite Catholic mission is not in "competition" with the Latin Church, but that, together, they evangelize through their "complementary" spiritual traditions.
The priest said Bishop Nicholas Samra, who was the founding pastor of Holy Cross, has been very committed to evangelization through forming Melkite outreaches. While part of their mission as the Melkite Greek-Catholic community of St. Killian's is to provide a spiritual home to Melkites who immigrated from the Middle East and whose children are growing up American, the other part is to evangelize others who can encounter Christ through the beauty of the Eastern Catholic liturgy, prayer and community.
The Melkite "outreach" began two years ago with six families, and it now sees between 50 and 100 faithful gather once a month for the Divine Liturgy. (They have to either travel down to Holy Cross or go to Mass at a nearby Catholic parish on the other Sundays.) Father Beyrouti works closely with his lay leadership to form them as disciples of Jesus Christ, who can go make other disciples of Jesus and draw them closer to him through the Melkite-Greek Catholic tradition.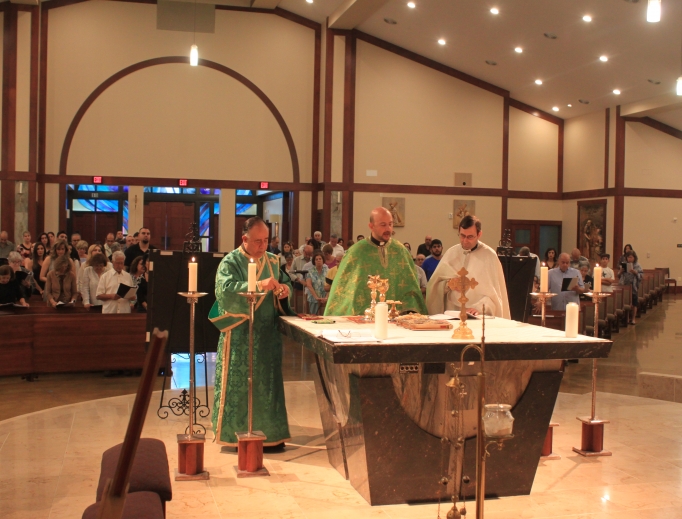 "We can't start with evangelization unless we're becoming disciples immersed in our faith," he said.
Daily Office to Divine Worship
Deep in the Bible Belt, St. George's Catholic community meets in Republic, Missouri, for Mass and parish fellowship every Sunday, with evening prayer, adult catechesis and Bible study offered throughout the week.
The parish community belongs to the Personal Ordinariate of the Chair of St. Peter, one of three special dioceses established as the particular home of the English spiritual patrimony in the Catholic Church.
Shane Schaetzel, a founding parishioner of St. George, told the Register that the community has already outgrown its chapel, at an old Franciscan retreat center called the Little Portion, and has to seat people in the kitchen for Mass. The congregation has grown from a handful of persons, mainly Anglicans who had become Catholic, who started out 10 years ago by gathering together to pray Evening Prayer and enjoy fellowship in the hopes of becoming an ordinariate community in southern Missouri, to a few dozen faithful.
Now, with their pastor, Father Chori Seraiah, offering Mass regularly since 2016, they have grown to 35 people.
Schaetzel said St. George's community is a partner in evangelization with the Diocese of Springfield-Cape Girardeau, Missouri, which has been "very generous with us" and supportive of their efforts.
"We focus extremely on missionary work," he said, "and it is to local non-Catholics here, who are primarily Baptist," he said.
The Anglicanorum Coetibus Society, of which Schaetzel serves as a board member, is seeing different groups form that want to start a Catholic community of believers nourished by the English spiritual patrimony. Some are former Anglicans, Episcopalians and Methodists, and some are Catholics spiritually fed by this restored English-Catholic patrimony who want to gather around prayer and fellowship — but, ultimately, whether they succeed depends on God's grace, their own efforts to evangelize and official approval by the ordinariate's bishop, Steven Lopes, to start a parish mission.
If the ordinariate approves a group to start the official process of becoming a parish, the ordinariate will send a priest to nourish and strengthen their community with Divine Worship and the sacraments.
"I think this is how the early Church did it," Schaetzel said.
Mission to Church
Each new starter parish has its own journey, and the length of time it takes to establish itself from the day a bishop authorizes the formation of a community to it becoming a full canonical parish may take years or decades.
St. Bridget of Ireland Church in Berryville, Virginia, underwent a nearly five-decade journey from mission to parish — including 35 years of Catholic parishioners worshipping (with permission) inside Grace Episcopal Church. The past 15 years saw St. Bridget's build its own church, hall, religious education and rectory, which was confirmed as a Catholic parish this year by Bishop Michael Burbidge of Arlington.
The parish exists because the lay faithful in Berryville have been actively engaged in building their community, according to their pastor. Father Stanley Krempa said that really has shaped the parish culture.
"There was a lot of lay involvement in the parish, because there was no other choice," he said.
Priests from nearby Sacred Heart parish in Winchester would come to offer an afternoon Sunday Mass, but they could not stay long and talk because they had to get back to their regular parish duties. So laypeople took up the responsibility, forming adult groups, taking Holy Communion to the homebound, and holding activities for the young people.
"The priest always knew what was going on, but it was the laypeople carrying the load," Father Krempa said of the parish's development.
The community is seeing continued growth. This year it will celebrate the Triduum for the first time, as well as Vacation Bible School. But Father Krempa says the parish is a true legacy of its faithful.
"They left all of this as an expression of something they funded and supported."
Peter Jesserer Smith is a Register staff reporter.
This story was updated March 7.