Sooner Saint? Oklahomans Spread Hometown Martyr's Cause
Killed in Guatemala in 1981, Father Stanley Rother died in hatred of the faith, a Vatican commission has determined.
Daniel Mueggenborg had been thinking about the priesthood for several years growing up. Then he went off to college.
He said of being in a secular university as a college freshman, "certainly there were a lot of different ways to convince God he didn't want me."
But during the spring semester, his aunt and uncle were celebrating their 40th wedding anniversary and asked if Mueggenborg would be an altar server. So back home to Okarche, Okla., he went.
On a spring day in 1981, Mueggenborg found himself standing in the sacristy of his home parish, Holy Trinity. And then his life was transformed.
"I distinctly remember the moment when I became aware something had changed about that sacristy," said Mueggenborg. He turned and saw that the priest who was to celebrate the Mass had entered and was standing behind him.
"I didn't know his name, didn't know what his assignment was, only knew he had a presence — a sense of peace, a sense of love. I was drawn to that," said Mueggenborg.
"It was during that Mass I began to reconsider priesthood as a possibility."
Later, Mueggenborg asked his parents about the priest and learned that he was Father Stanley Rother, the son of friends of theirs (and another Okarche native). Mueggenborg's parents said Father Rother had been working in a mission in Guatemala but had returned home.
It was a short stay, as it turned out. Father Rother returned to Guatemala, and, on July 28, 1981 — not long after that anniversary Mass in Okarche — he was killed in his rectory.
On June 23, 2015, a theological commission of the Congregation of the Causes of Saints recognized the martyrdom of Father Rother.
"From the time of his martyrdom, I continued to think about his witness and to be inspired by it," said Msgr. Mueggenborg, now pastor of Christ the King in Tulsa, Okla.
A Martyr Confirmed
Msgr. Mueggenborg has not been alone in his conviction. Shortly after Father Rother's death, then-Bishop Eusebius Beltran of Tulsa (now the retired archbishop of Oklahoma City) discussed the possibility of Father Rother's canonization with the archbishop of Oklahoma City and the bishop of Solala (the Guatemalan diocese where Father Rother had been serving).
Archbishop Beltran had known Father Rother since becoming bishop of Tulsa, as that diocese and the Archdiocese of Oklahoma City were co-sponsoring the priest's mission in Guatemala.
"It was a horrific experience to have one of our priests killed as — the Vatican has now agreed with us — a martyr," said Archbishop Beltran. "He died as a martyr."
Archbishop Beltran opened the cause for canonization in 2007, after obtaining the approval of the Episcopal Conference of Guatemala and then Rome's approval to do so. (Protocol dictated that the diocese in which he died should have opened the cause.)
The priest was just 46 years old when he was shot to death in his rectory in the early morning hours — one of 10 priests killed in Guatemala in 1981. He had known since January that the death squads were targeting him, but nevertheless decided to return to Guatemala after a few months in the United States.
The theological commission's majority vote determined that Father Rother was killed in odium fidei (in hatred of the faith).
"From the time he died, the bishop in Guatemala and the bishop in Oklahoma both used the term 'martyr' when they talked about him," said Sister Marita Rother, of the Adorers of the Blood of Christ, Father Rother's younger sister.
"The surprise was that the Vatican now named him a martyr. We knew how he died and why he died, but calling him a martyr of the Church is rather mind-boggling, in a sense."
Now the wait begins for the announcement of Father Rother's beatification, said Father Price Oswalt, director of the Father Stanley Rother Guild, and then the real work will begin: "to get more people to know him. After beatification, we have to have a lot of people who know him who will be able to use him as an intercessor," Father Oswalt explained.
Many people already seek Father Rother's intercession. Among them is Maria Ruiz Scaperlanda, who prayed for assistance as she wrote the priest's biography (The Shepherd Who Didn't Run, due out in September from Our Sunday Visitor).
"Father Rother continues to be for me an inspiring model of what it means to be a follower of Christ — not just because of his death, but because of how he lived his life," she said.
Ordinary and Extraordinary
There was nothing in Father Rother's childhood to indicate he might be on the road to canonization, said Sister Marita with a chuckle. "I guess we were as normal — whatever normal is — as any other family," she said, recalling a deal that she and her older brother struck together. Born just 14 months apart, they were often in the same class. So they agreed that if one of them got in trouble, the other wouldn't tell their parents about it.
But that very ordinariness is what makes Father Rother special.
"Every one of us needs the witness of holy men and women who remind us that we are all called to holiness, that we can make a difference — and that holy men and women come from ordinary places like Okarche, Okla.," said Scaperlanda, paraphrasing Oklahoma City Archbishop Paul Coakley.
And Father Rother was all too human: In fact, he faltered so greatly in his Latin studies that he was sent home from the seminary.
"If he had taken Latin in high school, like I did, he might not have struggled," Sister Marita quipped.
"He loved farming and doing that kind of thing — he was in the FFA [Future Farmers of America]."
But his bishop told the would-be priest to come see him when he returned home from the seminary. After their meeting, the bishop sent Father Rother to a different seminary, Mount St. Mary's in Emmitsburg, Md., where he completed his priestly formation. He was ordained in 1963.
Years later, in Guatemala, the priest who had flunked Latin not only learned Spanish, but also became fluent in the language of the Tzutuhil people of his parish — eventually completing a translation of the New Testament in that dialect.
"I think there was a special grace there, that he learned the language of the people. Those were his ties for the duration of his life," said Sister Marita.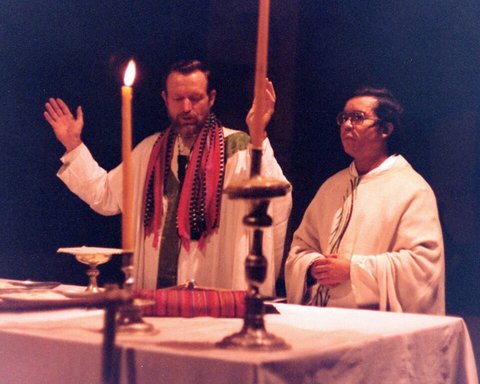 She went on to quote liturgical commentator Father Carroll Stuhlmueller: "We alone must make the decision which decides between martyrdom and perpetual guilt."
"I don't think he [Father Rother] had a choice to decide whether to give his life for his people," she said.
"For him, I keep thinking there was no choice."
For his part, Msgr. Mueggenborg remains devoted to his mentor.
"I have not hesitated in the last 34 years to pray for his intercession. I very much believe that he is a true martyr of the Church."
Register correspondent Elisabeth Deffner writes from Orange, California.
Prayer for the Canonization of Father Rother
Heavenly Father,
source of all holiness,
in every generation you raise up
men and women heroic in love and service.
You have blessed your Church
with the life of Stanley Rother,
priest, missionary and martyr.
Through his prayer, his preaching,
his presence and his pastoral love,
you revealed your love and your presence
with us as Shepherd.
If it be your will,
may he be proclaimed
by the universal Church
as martyr and saint,
living now in your presence
and interceding for us all.
We ask this through Christ our Lord.
Amen.