Pwoje Espwa: Where Education Gives Life in Haiti
A Catholic-run ministry hit hard by Hurricane Matthew is rebounding to build the next generation of Haitian leaders.
LES CAYES, Haiti — The sun casts forth its bright rays over the countryside of Les Cayes, a southern town bounded by the crystal-blue waters of the Caribbean Sea, where the lush, green plain stretches forth to the majestic mountains that rise up to touch the heavens' wide expanse.
Haiti is the poorest country in the Western Hemisphere, but is a Catholic nation in its flesh and bones, where people give thanks for the gifts of God. But here in the countryside, just a 20-minute drive from Les Cayes, Haitians have another reason for joy: the Catholic education ministry known as Pwoje Espwa ("Project Hope" in Haitian Creole).
Pwoje Espwa has become much more than the orphanage founded by Oblate Father Marc Boisvert back in 1998. Today, the ministry at Villaj Espwa (Hope Village) is a center of education, community, medical and dental care, as well as employment.
More than 300 boys and girls live full time at Espwa, in their respective Boys' Village and Girls' Village dormitories, and go to the school, which prepares them to learn a trade or go on to university studies. Espwa has a clinic on site that takes care of the medical and dental needs of its students and subsidizes access for the destitute.
Some of the resident children are orphans whose parents have died from disease, natural disaster or malnutrition from poverty in Haiti, where 62% of the population lives on less than $2 a day.
But the majority of the resident-students attend as a boarding school: Their parents have entrusted them to Espwa so that they will be fed, well taken care of, and receive the education necessary to unlock a bright future.
In all, close to 1,250 students attend Pwoje Espwa and its network of schools. The total number of resident students and daytime students at Espwa itself is 906.
Many students the Register spoke with said they wanted to work in farm science, medicine or engineering.
"I love children, and that's why I want to become a doctor," student Ambaoise Caabhie, who has three brothers and two sisters at home, told the Register.
Teaching Charity
The Espwa education aims to instill in these potential future leaders of Haiti the lesson of solidarity.
"We teach them the love of God expressed in the love of people," Alexis Veilleux, executive director of Espwa's network of schools, told the Register, at a "Day of Joy" event in Camp-Perrin, where Espwa has an affiliate school. Students and local families had come together to pray and thank God for their blessings, watch the children do a skit on sharing, and sing and dance. An Espwa teacher led the students in French, singing, "This is the day, this is the day that the Lord has made, that the Lord has made — let us rejoice, let us rejoice, and be glad in it, and be glad in it."
Wagler Jean-Phillipe, an English teacher, said educating children at Espwa is a special calling. Every day, the teachers begin class by praying and singing a song with the children, and they talk with them about God's love for them and how he destined them for eternal life with him.
"The teachers are Christian: They love God, they go to church, and they help these special children to learn how to love God," Jean-Phillipe told the Register.
Veilleux said the staff see how the school community is developing the future of the children. They saw their generous spirit on display when Hurricane Matthew swept through the area, destroying homes, farms and damaging buildings. Many students lost school supplies, and students who still had books and supplies shared with those who did not.
Espwa's Day of Joy events also provide another opportunity to reinforce the charitable message. The Catholic ministry Cross Catholic Outreach, a major partner with Espwa, brings presents for students called a "Box of Joy" — thousands of boxes assembled by families in the U.S. and filled with school supplies, including paper, pens and colored pencils, basic toiletries, a toy, and a coloring book, written in Creole, on the story of Jesus.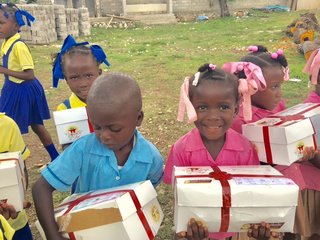 Most of the schoolchildren, due to extreme poverty, have never received a present in their lives. But they treat the presents as gifts to be shared: Many students told the Register they were looking forward to going home and sharing their presents with their siblings and friends. Some students shared what they needed, too: One who already had pencils for school would give them to another who had none.
"We want them to know God loves us, and he wants us who follow him to love each other," Villeux said of the educational philosophy being put into action.
An Economic Center
Espwa also provides a strong center of community in the area of Les Cayes. Approximately 1,900 people took shelter in the school and its buildings when Hurricane Matthew struck, and not one life was lost, despite the damage to a number of the buildings.
A number of the buildings are still under repair due to the hurricane, including many in the Boys' Village, where the roofs were completely ripped off. The Girls' Village, however, has domed roofs and withstood the hurricane.
Frank Irr, a management consultant at Espwa, said he is working with an engineer to design buildings that are hurricane- and earthquake-resistant. The challenge, he said, is that Haitians are very particular about how their houses look, favoring homes with an A-frame roof and painted with bright colors.
"Maybe we can create a dome with a thatched roof on top," he mused aloud with a smile.
Espwa employs more than 200 local personnel, including teachers, medical technicians, construction workers and farm workers. The campus sits on 125 acres of land, 90 acres of which is farmed to provide the food that feeds the students. Espwa also has a 50-50 crop share with local farmers, who use part of the land to feed and water their livestock.
"It feeds the community and gets them involved," explained Cameron Parker, who coordinates the agriculture program at Espwa.
The plain of Les Cayes is not suitable for growing coffee, which requires higher elevations, such as at Camp-Perrin. But Espwa has a cooperative agreement with coffee farmers.
The Espwa guesthouse also provides a forum for local artisans to sell their craftsmanship to guests and support their families. Haitian art involves bright colors that reflect how light and color vibrantly go together in the land, sea and sky — particularly when the sun rises or sets.
Giving Back to the Community
Espwa has also been able to build up the local community through the gift of housing, supported by its partner Cross Catholic Outreach. Before Hurricane Matthew, Espwa was building 20 homes a year, built of concrete with tin roofs and painted a bright green and white, the colors of Espwa. After Matthew, Cross Catholic and Espwa increased that support to 35 houses a year, giving priority to families with elderly members and those with disabilities. Each house costs upwards of $5,500 to build.
Lolia Salomon and Bernard Oliver, a Catholic couple with two children, 2 and 5 years old, were both subsistence farmers who lost everything in the 2016 hurricane. When the storm surged across the plain of Les Cayes, it swept away their house, their furniture and their tools, also drowning their livestock.
Espwa rebuilt their house, and Salomon, who prays often and goes to Mass at Espwa, said it was one of God's many blessings for them.
"Thank you, God — I have a house!" she said. "I don't have a table or a chair, but at least I have a house."
The families who live around Espwa see it as a pillar of hope and life for their community.
"They think with our dignity in mind," said Jislaine Blanc, a Haitian woman who brought some of her seven children to attend a Day of Joy celebration on the main Espwa campus. Her children do not go to Espwa, and she is not employed there, but she said it is "very much, very much important" for their community.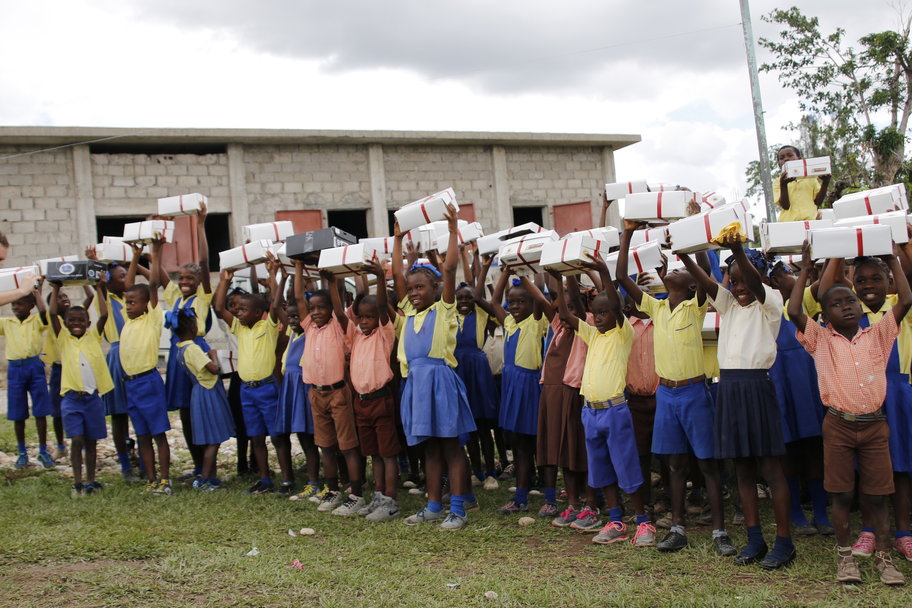 "I would like Pwoje Eswpa to continue to invest in education and the community," she said. "I think every department in Haiti should have an Espwa."
The Haitians have an old Creole proverb that says, "Where there is hope, there is life."
Espwa is giving new life to Haiti.  
Peter Jesserer Smith is a Register staff writer.
He recently returned from a trip to Haiti,
accompanying Cross Catholic Outreach
    on its 'Box of Joy' distributions.