Pope Accepts Resignation of W Va. Bishop as Inquiry Into Abuse Claims Launched
Archbishop William Lori of Baltimore was named apostolic administrator of the diocese.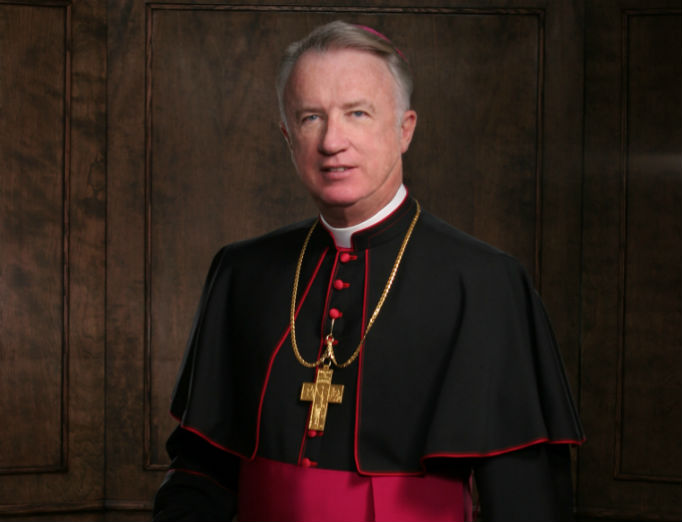 VATICAN CITY — Pope Francis Thursday accepted the resignation of Bishop Michael Bransfield from the pastoral government of the Diocese of Wheeling-Charleston, West Virginia, and asked the archbishop of Baltimore to launch an investigation into allegations of abuse.
Archbishop William Lori was named apostolic administrator of the diocese. He was instructed by the Vatican to investigate allegations of "sexual harassment of adults" against Bishop Bransfield, according to a Sept. 13 statement from the Diocese of Wheeling-Charleston.
Accusations of abuse against Bransfield arose in 2012 during the criminal trial of two priests.
The diocese said the archbishop was asked by the Holy See to announce the forthcoming investigation. Upon its announcement, Archbishop Lori stated that his "primary concern is for the care and support of the priests and people of the Diocese of Wheeling-Charleston at this difficult time."
He pledged to conduct "a thorough investigation" of the allegations against Bishop Bransfield, "in search of the truth," and "to work closely with the clergy, religious and lay leaders of the diocese until the appointment of a new bishop."
Bishop Bransfield's resignation was accepted just eight days after he turned 75, the age at which diocesan bishops are required by canon law to submit a letter of resignation to the pope.
Bishop Bransfield is a Philadelphia native and was ordained a priest of the Archdiocese of Philadelphia in 1971. He served in parish ministry and at Lansdale Catholic High School before he began at the National Shrine of the Immaculate Conception in Washington, D.C., in 1980, eventually becoming its rector.
He was appointed bishop of Wheeling-Charleston in 2004 and was consecrated Feb. 22, 2005.
During the 2012 criminal trial in Philadelphia of Father James Brennan on child sex abuse charges and of Msgr. William Lynn for conspiracy and endangerment, accusations of abuse against Bishop Bransfield arose.
Two witnesses and a prosecutor alleged that Bishop Bransfield "may have known about sexual misconduct by [another priest] or abused minors himself," the Philadelphia Inquirer reported.
The witnesses said they were sexually abused as teens by Father Stanley Gana, who was highlighted in Philadelphia grand jury reports in both 2005 and 2011.
The 2005 report mentioned in passing that Father Gana "demanded and received" oral sex at the rectory and at a beach house "belonging to a friend of Fr. Gana's, Fr. Mike Bransfield."
At the 2012 trial, one witness said that Father Gana would call Father Bransfield after assaulting him in his rectory: "They would be talking, and Stanley Gana would have me get on the phone and talk to Father Bransfield," the man said. "Father Bransfield would jokingly say, 'I'm going to have Stanley put you on the train to come down and see me sometime.'"
The other witness said that once at Father Gana's farmhouse, Father Bransfield pulled up in a car with several teen boys, and that Father Gana later told him, "They're his fair-haired boys. The one in the front seat he is having sex with."
In 2012, a 2007 allegation against Bishop Bransfield of fondling a minor during the 1970s when he was a priest assigned at Lansdale Catholic was reopened in Philadelphia.
Bishop Bransfield denied the allegations made against him.
"To now be unfairly included in that group and to hear the horrific allegations that are being made of me is unbelievable and shocking," he said April 19, 2012. He added that the allegations, "the nature of these statements and the manner in which they were released ... go way beyond any sense of fairness and propriety."
"I have openly been an advocate for the eradication of the abusive behavior of priests in every diocese, and have demonstrated this in the Diocese of Wheeling-Charleston." He said: "I have never sexually abused anyone."
Bishop Bransfield also stated that the witnesses' statements regarding abuse by Father Gana taking place at the beach house he owned in Brigantine, New Jersey, is "misleading" because it fails to mention that he allowed many people to use his home and that he was neither present nor aware of the incident.
Bishop Bransfield said the 2012 trial was "a circus" and that prosecutors were smearing his name "to bolster their persecution of the church."
This story was updated with the Lansdale Catholic allegation after initial posting.