Papal Prayer at Auschwitz: 'Lord, Forgiveness for So Much Cruelty!'
Pope Francis paid a solemn visit to the Auschwitz and Birkenau concentration camps on Friday, where he prayed in silence and then wrote a prayer in the 'Memory Book.'
KRAKOW, Poland — Pope Francis paid a solemn visit to the Auschwitz and Birkenau concentration camps on Friday, where over a million people are believed to have lost their lives.
At the memorials, he gave no speech and prayed in silence.
"Lord have mercy on your people! Lord, forgiveness for so much cruelty!" the Pope wrote in the "Memory Book," shortly after praying in the darkened cell of St. Maximilian Kolbe, a Catholic priest martyred in Auschwitz.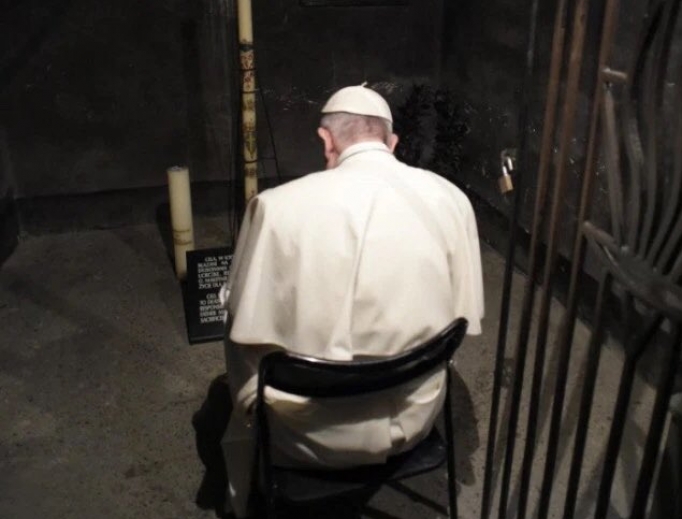 The July 29 papal visit was made to two out of the three main Auschwitz camps, where as many as 1.5 million people are believed to have died under the Nazi regime.
The pontiff's day began with a stop at the original camp (known as "Auschwitz I"), where he prayed for several minutes in silence in the courtyard of the complex.
He was then taken by car to the camp's infamous Block 11 building. There, he was welcomed by Polish Prime Minister Beata Szydlo. He then individually greeted a group of 10 men and women who survived the Holocaust.
The Pope was given a candle which he used to light a bronze lamp at the site. The lamp, which contains images of the Auschwitz fence line, as well as the Heart of Jesus, was his gift to the Auschwitz Museum.
The Pope then entered Block 11 —  a brick building where prisoners were tortured — and briefly visited the various rooms. He stopped for a lengthy period of time to pray in St. Maximilian Kolbe's cell.  
Francis was then taken by car to the Birkenau camp, otherwise known as "Auschwitz II." Little now remains of the camp, which had been the site of the Nazi gas chambers, where hundreds of thousands of prisoners were killed, and the crematoriums, where their bodies where incinerated.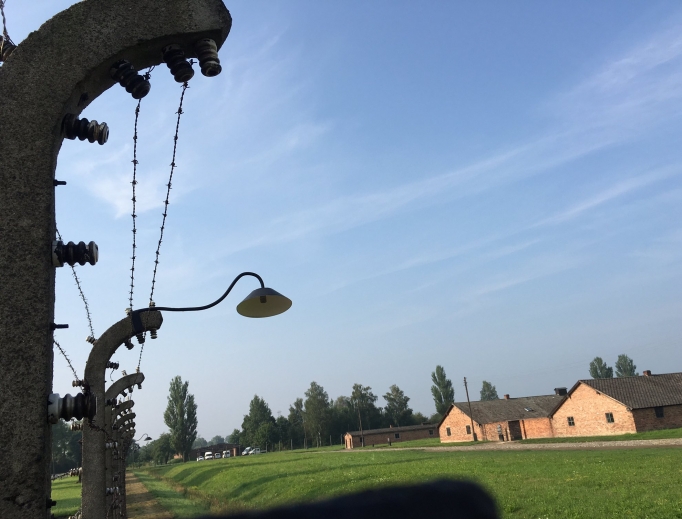 The Pope silently paid homage before the row of commemorative plaques that now mark the site. He walked slowly past each plaque, before lighting a candle and praying for a moment in silence. After this, a man chanted Psalm 130, which reads: "Out of the depths, I cry to you, O Lord."
Finally, following his prayer at the memorial, Francis met with a group of 25 non-Jewish men and women who risked their lives to save Jews from mass extermination at the hands of the Nazis.
Because of their role in helping the Jews during the Holocaust amid World War II, they have been given the honorific title "Righteous Among the Nations" by Israel.
Also present at the ceremony were survivors of the Holocaust, like Lidia, 75, who recounted to journalists how she was brought to Auschwitz at 3 years old. She was stripped naked and tattooed with a number on her arm. It took nearly 20 years for her to be reunited with her mother, following the liberation of the camps by allied forces.