New York Yankees' Scout Finds Strength in Catholic Church
Cancer survivor Joe Caro is empowered by Christ.
As a scout in Major League Baseball, Joe Caro has searched the country — and the world — for talented players. He has traveled thousands of miles looking for strength in hitting, running and throwing. In order to look for spiritual strength, however, Caro has needed to look no further than the nearest Catholic church.
Caro, 57, has a deep appreciation for the Blessed Sacrament and for prayer. His favorite prayer, the Anima Christi, has a special significance for him because of intense cancer treatment he endured eight years ago. Bedridden and unable to swallow for months, the Tampa, Fla., resident drew strength from spiritual Communion.
Joe Caro recently spoke of his Catholic journey with Register correspondent Trent Beattie, in anticipation of the Yankees' opening game of the 2016 regular season, against the Houston Astros on April 5. The Yankees, who have won five World Series titles while Caro has been with the organization, are looking to improve on their 87-75 regular season record and first-round playoff loss in 2015.
What do you expect from the Yankees and from Major League Baseball in general this season?
Our bullpen is our strength. We have a very talented group led by Aroldis Chapman, Andrew Miller and Dellin Betances. Our middle infield has been upgraded with the acquisition of Starlin Castro to play second base. As with all teams, much of our success depends on whether we stay healthy.
With that said, the Kansas City Royals are the prohibitive favorite for the American League at this point. They're the defending champions and have most of their players back this season. In the National League, it's a little more congested on the road to the top. There may be five or six clubs with a legitimate chance of winning the NL.
Most people think of an MLB scout as having it easy: by being paid to watch baseball games. What exactly do scouts do?
There are three basic areas of MLB scouting: amateur, international and professional. Some scouting amateurs concentrate on American high school and college players in preparation for the draft. International scouting is, not surprisingly, focused on players from other countries. Pro scouting is about evaluating other team's major-league and minor-league players for possible future acquisitions. There is also advance scouting, in which the scout acts as an extension of the Major League's on-field staff by trying to procure information to defeat a future opponent.
I've worked in all areas, but have been in pro scouting for the past 10 or so years. I love what I do, and it is true that I get paid to watch games. However, my job goes well beyond the ballpark. I spend around the same amount of time on my computer as I do at the ballpark, in order to do research and write reports. I am part of a process that involves a multitude of Yankees employees that feed information to our general manager, Brian Cashman.
How did you get into scouting?
I had been a head coach for three high-school baseball teams from 1980 until 1993. Sandwiched in between the high-school jobs was a stint in college coaching at Western Kentucky University in 1983-84. In 1989, I began working part time for the Royals as a minor-league pitching coach; and then, in 1991, I went to work part time for the California Angels as a scout.
In 1994, I got my big break by going to work full time with the Yankees as a minor-league pitching coach. I returned to scouting in 1996 as the assistant amateur director, which I did until 1999, when I became a bit of a hybrid, covering all areas of scouting as needed. For the last 10 years, my focus has been on professional scouting.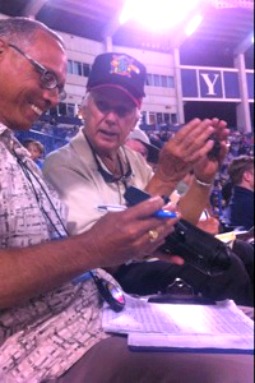 Have you always taken the Catholic faith seriously?
I was born to a Cuban father and Puerto Rican mother in New York City. They separated when I was 8, and I moved to Tampa with my mother. My mother had a falling out with the Church, so we did not attend Mass regularly. As a teenager, I started to attend Mass with a devout Catholic friend. I transferred my senior year to his high school — not because it was Catholic, but because it had the best baseball program in the area. I wanted to be the next Tom Seaver, so Tampa Catholic High School, which had the best program in town, seemed like the best springboard for that.
For the first time, I was exposed to Catholicism on a daily basis by a wonderful theology teacher. I became very intrigued and felt much more fulfilled, the more I learned about the Church. I told the school's chaplain, Father Roger Perrault, that I wanted to become Catholic. He was very delighted to hear that, so I formally entered the Church my senior year in high school.
In college, I attended Mass on Sunday, but let many temptations get to me. One day in church, though, what the priest said really had an impact. It seemed like he was talking directly to me when he explained avoiding the near occasions of sin. We can make resolutions to avoid a bad behavior, but if we don't actually follow them up with avoidance of the places which will encourage that behavior, we're not going to succeed.
That was a real turning point in my life of faith. I've applied what was stated in that Mass over the years. I am much more aware of situations that I need to avoid and do my best to stay away from them.
You were diagnosed with throat cancer in August 2007. Did that experience deepen your relationship with Christ?
Without a doubt, going through surgery, radiation and chemotherapy affected me like no other experience. When healthy, we can get really comfortable with our faith, even to the point we take it for granted and maybe think we can do just fine without it.
Getting hit with cancer changes that. Sometimes the symptoms of the disease itself are jarring, but what I found is that the treatment is the real trial. I asked my oncologist, Dr. Rafael Blanco, how people without strong faith, family and friends survive those treatments. Without hesitation, he stated, "They usually don't."
I was in and out of the hospital receiving and recovering from treatments for nine months. I gained great strength by receiving the anointing of the sick several times throughout that time. The intercession of St. Blase was also beneficial, and now I never miss out on the chance to receive the blessing of the throat on his feast day.
During the treatment, it got to the point that my throat had swollen so much that I was unable to swallow a drop of water. For five months, I had to be fed through a feeding tube and could not receive the Body and Blood of Christ.
I had to relearn how to eat and drink, and it was in June of 2008 when I regained the ability to swallow. I was overwhelmed by receiving the Eucharist for the first time in almost half a year. It was a very powerful experience to do that from any priest, but the one I did receive from was a high-school classmate of mine who was a big help during treatment — Father Tom Morgan — which made it even more special.
I firmly believe that my battle would not have been won without the help of many "guardian angels" who lifted me both literally and figuratively. The group consisted of my family, friends and, in some cases, strangers. One of my friends, who is Jewish, went to a Catholic church and lit a votive candle for me. The power of prayer is one that I cannot deny. There were people all over who prayed for me daily. Many times, when I was at a low, I would feel as though someone was lifting me up. I firmly believe those hands lifting me came from all of the prayers that were said.
Another friend, who is one of the busiest men on earth because he runs three businesses, set up shop in my house for weeks in order to be near me during recovery. That's one great example of how going through a really trying experience can be a blessing. You learn how truly loving and caring people can be.
Were you scared of dying during treatment?
My mother was a certified nursing assistant, so she was around dying people all the time. She even had the task of covering them up with a sheet when they did die. She would share some of these experiences with me, so I realized that death is part of the human cycle and nothing to be afraid of.
However, while I didn't worry about my own death, what did worry me was the possibility of never seeing my wife, Kim, and our children, Dominic and Alexandra, again. That worry didn't last long, though, when it dawned on me that they, too, can get to heaven as well. We all have to die, and we all have the same opportunity for eternal life. Death does not have to be end of the story. I expect to see my relatives, including my mother, who did come back to the Church and often went to Mass with me before her own death this year.
Did you pray more during cancer treatment?
One of the major purposes of prayer is to gain strength and peace, so if you have any sense at all, you'll pray more during cancer treatment. One of my favorite prayers was (and is) the Anima Christi. The part that always gets to me is "Blood of Christ, inebriate me." That's a powerful idea and reality. The Blood of Christ has the potential to flood our souls with grace, to the point that we're spiritually "inebriated" with the love of God. It's not just a conveying of information, but a transmission of supernatural life. I relied on the spiritual Communion in the Anima Christi during the months I could not make a sacramental one.
Something else that helps me to pray better is the daily readings from Mass, which Kim and I cover, along with the saint of the day. Getting in touch with the calendar of the Church gives us a framework for looking at life. It also encourages us to do what's right, especially when the saint of the day is a martyr. Not long ago, we were celebrating the feast of Sts. Perpetua and Felicity, both of whom gave their lives for Christ.
Martyrdom makes cancer easier to bear, because you can see the vibrant faith people had through sufferings that were just as bad, or worse, than your own. I have scars on my neck from surgeries to remove decaying bones — one of the side effects of radiation treatment. When the scars were still fairly fresh and particularly grotesque-looking, my little nephew Joaquin told me it looked like I had gotten in a fight with a shark — and won!
While I don't think my nephew knew the importance of his comments, they were encouraging and amusing at the same time. I think God has a sense of humor, too, in that he will humble us by showing us the things we think are important really aren't. He will allow our little idols — maybe including our own appearance — to go to pieces and see how silly we were to place so much importance in them. Then we can worship him better with the attention that he alone deserves.
Register correspondent Trent Beattie writes from Seattle.
 His book, Fit for Heaven (Beacon, 2015), contains numerous Catholic sports
 interviews, most of which have appeared in the Register.