Lebanon Overwhelmed With Lingering Syrian Refugee Crisis
The Middle Eastern country has the highest per capita refugee population in the world.
BEIRUT — As Lebanon enters its seventh year of hosting Syrian refugees, the country is slipping further into an economic and social crisis.
About two-thirds the size of Connecticut, with a local population of about 4 million, Lebanon has the highest per capita refugee population in the world. Lebanon has absorbed more than 1 million refugees from neighboring Syria, a figure which refers only to those who are registered with the United Nations High Commissioner for Refugees (UNHCR).
United Nations Secretary General Antonio Guterres, when visiting Lebanon in 2015 as then-UNHCR chief, illustrated the impact on the country by way of comparison. "The equivalent of what we have in Lebanon in the U.S. would be more than 80 million refugees coming into the U.S.," Guterres had said.
Unlike Turkey and Jordan, which also have a large Syrian refugee population, Syrian refugees in Lebanon are not in camps. Furthermore, Turkey and Jordan are 24 and eight times the size of Lebanon, respectively.
Although there are refugees living in tented settlements in some areas, particularly in the Bekaa region near the border of Syria, Syrian refugees are scattered all over Lebanon, straining its already frail and inadequate infrastructure. In many towns and villages, Lebanese find themselves a minority.
Meanwhile, Syrian refugees in Lebanon are more vulnerable than ever, with more than half now living in extreme poverty and more than three-quarters living below the poverty line, according to the findings of a recent survey by the UNHCR, UNICEF and the World Food Program. 
Yet refugees are still streaming into Lebanon, and bombs continue to fall in Syria.
Over the Jan. 19 weekend, 15 Syrian refugees died of exposure while crossing through mountainous terrain into Lebanon when a storm struck, bringing high winds, snow and plunging temperatures. The victims included two children and eight women.
Cardinal Rai
Lebanese Cardinal Bechara Rai, the Maronite patriarch of Antioch and the head of the Maronite Catholic Church, regretted the tragedy in his homily Jan. 21 from Bkerke, the Maronite patriarchate north of Beirut.
"It is the responsibility of the international community, which does not want to stop wars and bring peace to Syria and the countries of the region, and it reveals day after day that it is not concerned with human beings, the safety of citizens and their dignified living rights in their homelands," Cardinal Rai said.
The presence of 1.5 million Syrian refugees — the majority of whom are Sunni Muslim — also alters the sectarian balance of Lebanon, a country whose existing population is about 40% Christian.
As international interest in Lebanon's refugee crisis is waning, more and more Lebanese are also slipping into poverty.
"The consequences now are worse and worse for the host local community," Maronite Father Paul Karam, president of Caritas Lebanon, told the Register. "The first sign of that is the poverty, the huge increase of poverty, among the Lebanese people," he said. More than 28% of the local Lebanese population is now below the poverty line, he added.
Father Karam noted that during the first three years of the refugee crisis, international agencies and the network of Caritas were helping, with 100% of project beneficiaries being Syrian. Beginning June 1, 2014, however, the Caritas president said he required at least 30% of each project be allocated for the Lebanese "because the local host community is deeply affected by this crisis."
In a country in which government social services are practically nonexistent for citizens, Caritas is experiencing a surge in Lebanese seeking help.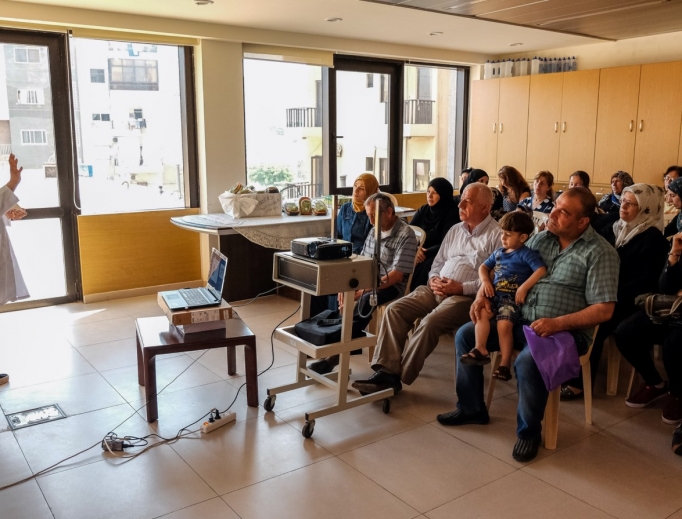 "In our health care centers, more people are coming, which means people are getting poorer and poorer," Father Karam said. He estimates the increase in Lebanese seeking help at 40%.
International Aid
But international aid in response to the Syrian refugee crisis is diminishing.
"Even the network of Caritas, and even our donors — they will help for one year, two years, three years, five years maybe, but they can't continue to help for eternity," Father Karam said.
"I personally believe there is less attention for Lebanon," he added. "I think maybe the international community has less concrete help because the whole world today has serious economic problems, and this crisis in Syria has taken too much time."
The crisis must be addressed, Father Karam noted, "by encouraging a peace process in Syria."
"Pope Francis said several times that the war, especially in Syria, and which affects the whole region, needs to be stopped, and to begin by ending weapons trafficking," Father Karam added.
The Caritas president also pointed out that the consequences of the war for Syrians will endure for a long time.
"Even Lebanon still didn't arrive to a real healing" from its 1975-1990 war, he said. "So let's encourage peace."
Ministry of Mercy
In the Jdeideh section of Beirut, the Good Shepherd Sisters' ministry of mercy and of seeing the face of God in each person permeates the atmosphere of St. Anthony's medical dispensary. Constructed from four corrugated shipping containers joined together, it functions as a primary health care center, serving Syrian and Iraqi refugees, as well as Lebanon's poor.
"The motto of the dispensary is: 'Religion is for God, and the dispensary is for all.' Whether Syrian, Iraqi or Lebanese — Christian or Muslim — the person, the suffering, all are equal," Good Shepherd Sister Antoinette Assaf, director of the dispensary, told the Register.
"It's about giving them some hope. It's about tender love," Sister Antoinette said of the clinic that is affiliated with the faculty of medicine at St. Joseph University in Beirut, which includes a team of 30 rotating doctors.
As the Syrian refugee crisis lingers, the Good Shepherd Sisters are also grappling with a decrease in international aid as well as an increase in Lebanese coming to the clinic.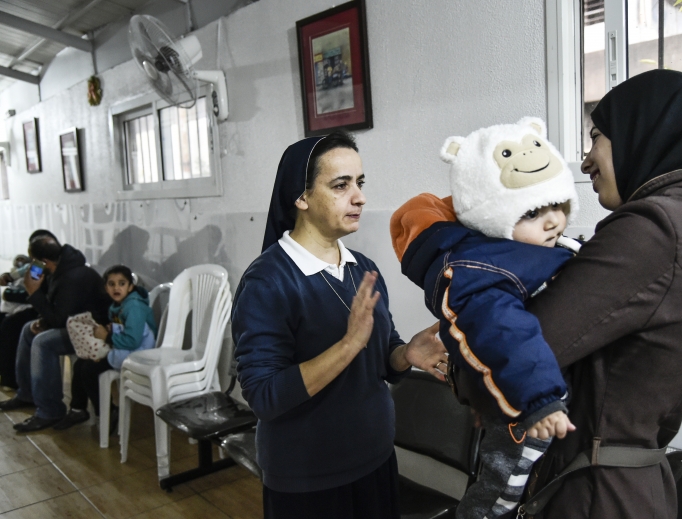 A European embassy that has helped to support the clinic for the last three years, for example, has told the Good Shepherd Sisters that this is its final year as a donor. "They said their focus is based on emergencies," Sister Antoinette recounted.
"For us, we're still having the same number of Syrian refugee patients, and sometimes even more," she said. "At the same time, the Lebanese society is deeply affected by this human crisis. Definitely the Lebanese are getting poorer. Definitely they need more care," she stressed.
In 2016, the clinic served 17,028 people, increasing to 20,995 in 2017.
Before 2017, it was easier for the Good Shepherd Sisters to obtain funds from international donors to provide health care and even education for the refugees, Sister Antoinette explained.
"Now, it's really cooling down regarding the concern, and we have less options. We have to struggle to search more and more to raise funds to be able to cope and to be able to respond to all the needs," she said. "As Good Shepherd Sisters, we always try to do the best we can. But it's challenging," Sister Antoinette added.
Focus on Refugees
While some international donors are open to providing funds to cover refugees and Lebanese alike, others want to target only refugees.
"And for us, we have to decline offers that focus only on refugees, because we are serving both populations: refugees and the host community. It's a very complicated, sensitive situation," Sister Antoinette said.
"The war is not over. We have our sisters in Damascus, under bombs," Sister Antoinette said of the shelling during January in Syria's capital, where three Good Shepherd Sisters are serving along with about 100 lay partners. In Syria, scores of people are also still displaced in their homeland.
"Peace is not there yet, and the refugees have not returned" to Syria, Sister Antoinette emphasized, adding that Syrians have many concerns for the future.
"Especially because children are growing, the question marks are getting bigger: What about tomorrow? What future are we going to have? What about education? What's our future in a country that has limited resources and has limited places for us?" she relayed.
"So the international community still should remember these refugees. They are still out of their country. And the more the period is longer, the tougher it gets," Sister Antoinette said.
"We would like Christians in the West to know more about our reality, to keep supporting us, to pray for us. I believe prayers are so powerful, to help in every way."
Doreen Abi Raad writes from Beirut, Lebanon.
To Donate
Caritas Lebanon: [email protected]
Good Shepherd Sisters' St. Anthony Dispensary:
Sister Mary Carolyn McQuaid
(314) 381-3400
7654 Natural Bridge Road
St. Louis, MO 63121-4989
Email: [email protected]