Have Hotel, Will Say Mass
'Clergy Hospitality' Program Takes Root at Resorts, Benefiting Priests and Vacationers Alike
Have you gone on vacation wishing the hotel or resort where you stayed had a chapel with Mass available? Would priests go there for relaxation and a free stay — and minister to the faithful, too?
If the answers are Yes, the dream has become reality in California, at the Meritage Resort and Spa at Napa Valley and the Bacara Resort and Spa on the Santa Barbara coast.
Named "Clergy Hospitality," the unique program is the creation of Timothy Busch, the co-founder (with Jesuit Father Robert Spitzer) of the Napa Institute (Napa-Institute.org).
The program (ClergyHospitality.org) has placed chapels in two of its hotels, with more planned, and it offers priests and bishops a free stay if they will celebrate daily Mass while at the resorts.
Busch Foundation manager Haley Smith explained the twofold goals: "One is to offer the priests an opportunity to relax and get energized in order to guide parishes and communities across the United States. A big part of Tim Busch's philosophy is supporting the clergy. The other goal is to offer guests at the hotel Mass while they are still on vacation."
Busch wants Mass offered every single day at these hotels so that spirituality can be a component of guests' vacations.
Are priests taking advantage? "This last year really picked up," Smith noted. About 60 priests stayed during the first half of this year, with 30 more signed up so far for the rest of the year. At the Meritage, in August, Mass was offered nearly every day.
Most priest-guests are not local. Many arrive for vacation or mini "sabbaticals." Several come for a big chunk of time — a week or more — while locals spend a day or two.
Origins and Vision
When Busch was traveling to Napa Valley frequently (he and his wife, Steph, co-founded Trinitas Cellars), a chaplain always went with his group. But they would have to seek out a room for Mass, and Busch wanted the possibility of a real chapel. A short while later, his thought became a reality.
Today, Meritage's Our Lady of Grapes Chapel and Bacara's St. Francis Chapel are approved by their respective bishops, authorized as oratories that are part of the Diocese of Santa Rosa with Bishop Robert Vasa and Archdiocese of Los Angeles with Archbishop José Gomez, making it possible to reserve the Blessed Sacrament 24 hours a day as long as a priest is on one of the hotel campuses.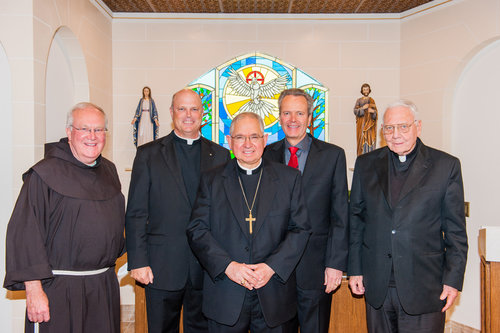 Busch is overjoyed. "For Catholics, this is great to have the Blessed Sacrament inside the hotel where they can pray, because they will have time to do so."
The Blessed Sacrament is exposed often, Smith said, and the staff also take advantage of visiting Christ during the day.
"Now, we're getting the word out to other priests and to Catholics who travel. … We started advertising, and bingo, the whole thing lit up," Busch said. "We have Mass there [Meritage] almost every day. We're trying to build a local community around this chapel, too."
Busch finds an "incredible response" in letters arriving weekly. Typically, guests write, "Wow, you had a chapel. I couldn't believe it!"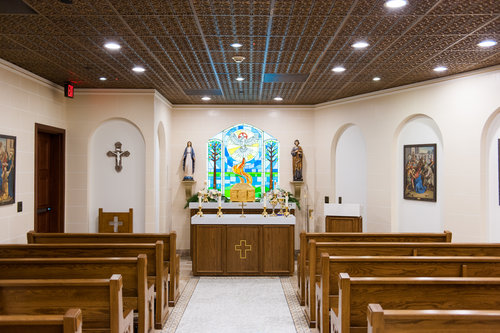 Guests learn about the 24-hour chapel and Mass times from signs posted in the lobby and a detailed letter placed in each room's side table. The drawers also contain a Catholic Bible, a rosary and a crucifix.
A Priest's Response
"The hospitality he offers priests is amazing. It's above and beyond. It says a lot about him and his faith and his desire to be a servant of the Church in any way he can," said Father Patrick Riffle of the Archdiocese of Washington about Busch.
Father Riffle recently spent time at the Meritage while a priest at St. Peter's on Capitol Hill, ahead of his receiving his first assignment as a U.S. Navy chaplain.
"The priest has the temporal relaxation, but also the spiritual, having the Blessed Sacrament and being able to say Mass every day," Father Riffle explained. He was especially appreciative of the convenient, fully-appointed sacristy. Other priests in his archdiocese have gone — some annually — and love it, he said.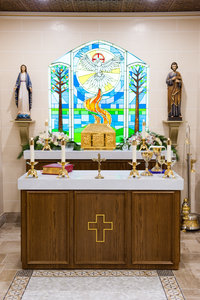 It "definitely opens itself to conversations" with guests, noted Father Riffle. "People often are inquisitive as to why there is a chapel. It definitely avails itself for the opportunity, but I personally didn't have that [happen]."
"It was very much a vacation. As priests, we're saying Mass every day, and it gave us the opportunity to do that," he added.
Guests' Experience
Marcus Salvato Quintanilla, a business and trial lawyer, needed a few days R&R after finishing a two-week trial, but the religious retreat at a desert monastery he hoped to attend was booked.
He had been attending 11:50am daily Mass at Queen of Life Chapel in his office building in Irvine, Calif., which happens to be Busch's building — Busch built the diocese-approved chapel where 40 to 50 people from area businesses attend daily.
So the "Busch connection" clicked for Quintanilla when he came across the Meritage chapel as he searched the Internet for a Napa Valley stay.
He got his rest and recreation — and more — making his own spiritual retreat using the "very dignified and beautiful" chapel, along with a friend who is working toward becoming Catholic.
"I invited him to come to Mass in the morning with me, and he did," Quintanilla said. Entering the chapel, they saw an older gentleman in the back row who left before Mass.
"Then he comes back in with a red beanie [zucchetto] on," Quintanilla said. Cardinal Edwin O'Brien, grand master of the Equestrian Order of the Holy Sepulchre of Jerusalem, was celebrating Mass, with another priest concelebrating. "The cardinal gave a really powerful, beautiful homily," Quintanilla added. "It was true, beautiful, loving — but firm Catholic doctrine. In fact, my buddy said, 'This is really great. I wish there was a chapel like this near my house where I could go every morning.'"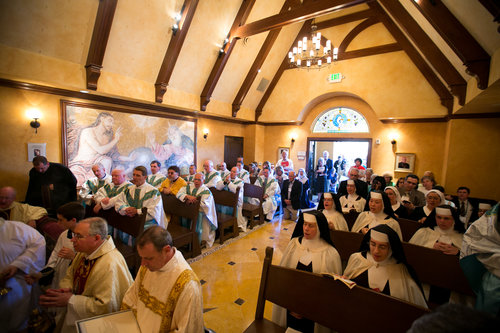 Not only will Quintanilla go back, he has already recommended the hotel to others.
More Benefits
The Clergy Hospitality program brings spiritual benefits in abundance. As Smith said, "The staff really like having a priest onsite, especially for people working there every day."
One future hope is to host retreats. Currently, two Meritage brands hotels (PacificHospitality.com) are ready to join the program. A similar hotel that was just added in New Orleans is a mere half block away from a Catholic church.
For his part, Quintanilla counts the program among his blessings. "I believe that the presence of that chapel and that resort was a real serious blessing, especially for my friend," he explained. "As we go through our spiritual journey in life, we have these little points that don't require the Red Sea to open, but something that nudges ... a further invitation along a path that is good."
That invitation along the good path is present every time a priest or bishop stays free at the two resorts and celebrates Mass in the chapels. A blessed vacation, indeed.
Joseph Pronechen is the Register's staff writer.