Faith Amid the Flames: Ventura County Catholics Recount Stories of Survival
Property damage from a massive California fire has been horrendous, but no lives have been lost, and there have been remarkable acts of kindness and generosity.
VENTURA, Calif. — When Jenny Lee heard about the "Thomas Fire" that broke out in the foothills around Thomas Aquinas College last Monday night, she was not too worried. The college — her alma mater — is a 25-minute drive east from her house in Ventura County. She knew that firefighters were on the scene.
"I was not too nervous about it coming close to us," she recalled. "I put my four kids to bed and decided to take a shower at 10:30pm."
While Lee was in the shower, the electricity went down. She immediately knew that something was wrong.
"I threw on a robe and ran outside. I could see smoke billowing from the Thomas Fire in the distance. By 11pm, I could see the glow of the fire from my front yard. Between 11pm and midnight, I began to see homes going up in flames, with winds gusting at 50 miles per hour — bringing the fire straight to us," she said.
The Thomas Fire, which had begun 25 miles away, had taken six hours to travel to her neighborhood.
"The palm trees in my front yard were swaying in the wind, and there were helicopters flying over us. Propane tanks in the area began to explode," said Lee.
When Lee looked at the hills behind her cul-de-sac, where her parents live, she could see firetrucks there. But since the power lines were down, the fire hydrants could not function.
"I ran inside and gathered birth certificates, passports and our marriage certificate. I took one baby quilt, which my mom had made, and then woke up my 7-, 5-, 3- and 1-year-old," she said.
Jenny Lee loaded her kids in the car and drove away. Her husband decided to stay behind and protect the house. Also, he did not think the house would be affected. As she drove away, she could see the house behind her cul-de-sac in flames — a couple of hundred yards away.
(During her evacuation, Lee spoke with her brother — a priest in Oakland — and said, "Maybe they should cover these situations in pre-Cana?" He replied, "Duly noted.")
"Around 5:30am, I drove back and got my husband. He was right. In the end, our house did not get burned," she said.
Jenny Lee's mom did evacuate, but her father stayed behind to hose down the shrubs. Eventually, he left too, when the eucalyptus trees behind their house caught fire.
"When my parents came back, they found a golden Miraculous Medal on the ground in the backyard. Their house did not get burned, even though the vegetation near the house did," said Lee. "The wind was so crazy that fire just hopscotched around the neighborhood, skipping some house, but burning others. It's a miracle my parents' house did not get burned."
That night was one week ago. But it seems like a lifetime ago.
"It is so traumatizing," said Lee. "I have survivor's guilt. About 450 homes burned in my area within a four-mile radius."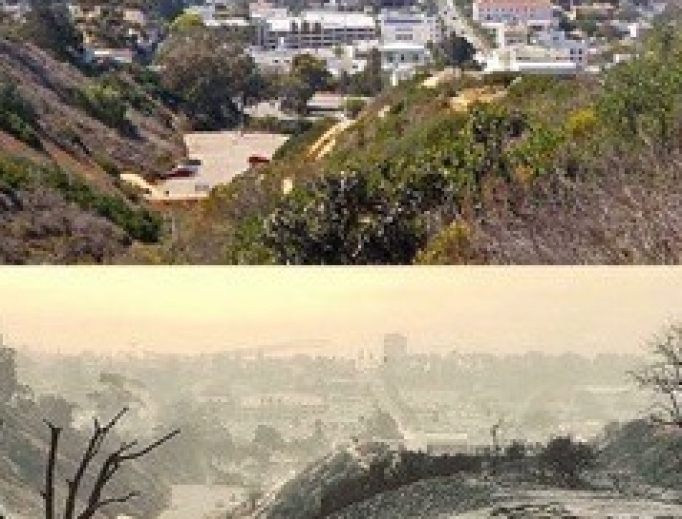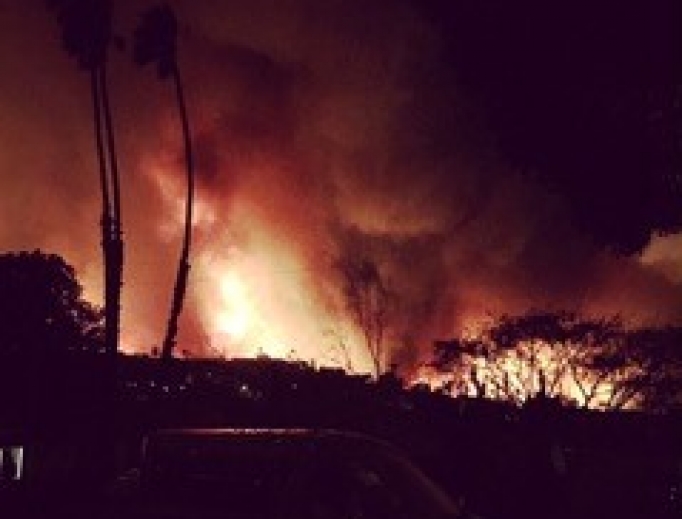 Surrounded by Smoke
Blythe Fike, also an alumna from Thomas Aquinas College, lives 20 miles east of Ventura in a town called Fillmore.
"We are two miles from the eastern edge of the fire. We are situated in an oasis [from the flames], but there is smoke everywhere," said Fike. "We are in a very weird holding pattern. I get alerts on my cellphone. I wake up every few hours. But there have been no evacuation orders."
Fike sees how the Santa Ana winds are blowing embers everywhere.
"The firemen can't defend against that. Planes have been dropping fire retardant. Helicopters have been dropping water for three days," she said.
A few days ago, the Fike house was between two distant fires.
"I called my husband and said, 'You have to come home.' There is this element of the unknown. Could it come to our house? Some of our neighbors have evacuated. I packed bags for our family a few days ago. But it still feels so weird. Do I unpack?" said Fike.
Among Fike's friends, many have lost their homes.
"I am praying and begging God's grace for them. I think there can be something good about feeling desperate. So many days go by, and I don't know what to say to God," she said. "Now I know."
She notes how inspired she has been by the faithfulness of friends who have lost everything.
"Our friend Nathan Haggard and his wife, Jessica, lost their house in Ventura. They have eight children. Nathan noted that a few months ago he decided that his family's mission was to have 'a life of great joy and adventure.' 'Maybe I shouldn't have said that part about the adventure,' he recently joked. But they're sure they will find some adventure hidden in this heartbreak," said Fike.
Unity With the Holy Family
Brooke Collins lives in Ventura with her husband and four children. Last Monday, they had a mandatory evacuation.
"Out of 300 homes in our area, 99 burned down. We are staying with family and friends. Our house did not burn down, but we are not allowed to move back for four or five weeks," said Collins.
Last Tuesday, FEMA allowed families that had registered to go back — under escort — for 15 minutes.
"I grabbed some Christmas clothes and cleaned out my refrigerator," she said. "We are good and safe, but it's inconvenient, and my children have shed tears. They are fried. But at the end of the day, it's temporary," said Collins.
As a Catholic, she has been reflecting on how this has impacted her and others in her situation.
"I think about Mary and Joseph and what a hassle it must have been for them to go and register for the census. As a human person, they had to be frustrated, tired and annoyed. I am prayerfully trying to unite with the Holy Family right now. It is my way of wrapping my head around this," she said.
Everyone acknowledges the incredible bravery of firefighters and first responders.
"I feel so much gratitude for firemen. Every time I see them, I honk my car horn. I heard that the fire chief for Ventura lost his own home. The night his own home burned down, he worked 26 hours straight. These guys are such heroes," said Fike.
Waves of Human Kindness
One of the remarkable and under-reported outcomes of these wildfires has been the wave of human kindness that has been unleashed.
"It has been pretty amazing and very emotional to see our community put aside all religious and political differences. In Ventura, it doesn't matter who you are: People are taking people in, giving out food, clothes, gift cards, water. People are posting on Facebook: 'Come here if you need to take a shower; take what you need.' People just want to give," said Lee.
People are marveling about the fact that the fires — so massive in scale — have not resulted in any direct deaths, though one woman died in a car accident while fleeing the flames.
"No one has been burned. No one has been left behind. People have been watching out for each other since that night. People are letting strangers sleep in their houses. The town set up an area in the fairgrounds with cots, water and food," said Lee.
The Red Cross, certain churches and even private citizens began collecting clothes and food items. So much flooded in that most groups had to ask that people stop donating clothes.
Still, the fires continue. And no one knows for how long.
"As a mom, I have to be strong for my kids, but I have wept for friends and for everyone affected," said Lee. "On Sunday, my husband and I went to the beach with our kids to unwind. I went to take my 1-year-old out of the stroller and said, 'Do you want to play in the fire?' Then I thought, 'Did I just say that?'"
Sabrina Arena Ferrisi writes from New York.