Church Trials 'Confidential,' Not 'Secret'
Father Thomas Brundage Discusses the Father Murphy Case and the Firestorm It Unleashed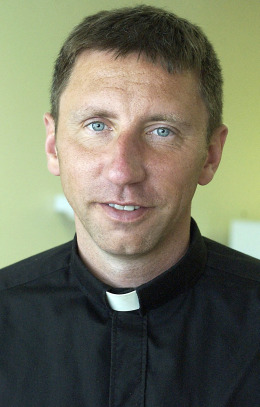 Father Thomas Brundage is a quiet man who enjoys his work as judicial vicar for the Archdiocese of Anchorage and pastor of Saint Michael's and Holy Family parishes.
Father Brundage juggles his many duties without calling much attention to himself. Just over a month ago, however, he was jerked into the national spotlight when The New York Times ran a story about Father Lawrence Murphy, the now deceased priest from the Archdiocese of Milwaukee who molested several boys at Saint John's School for the Deaf from 1950 to 1974. In 1996 the Archdiocese of Milwaukee began canonical proceedings against Father Murphy, and Father Brundage, then judicial vicar in Milwaukee, tried the case.
Register correspondent Jeff Gardner spoke with Father Brundage about the Murphy case, its coverage in the media, and the attempts by some to blame Pope Benedict XVI for Murphy's crimes.


How did you first hear that the Murphy case was in the news?
Just before Holy Week, I was driving home, and I heard on the radio the words "Father Murphy," "abuse" and "Archdiocese of Milwaukee." The archdiocese initiated the case against Father Murphy in 1996, and it was one, among thousands of cases since, that I had tried some 12 years ago. When I got home, I was stunned to see many of the documents from the case posted across the Internet.


Concerning the case documents, much has been made in the media about the fact the Archdiocese of Milwaukee kept them secret all these years. Why were they kept secret?
First and foremost to protect the victims. People accuse the Catholic Church of being "secretive" in some sort of conspiratorial way. This is not true. The things that Father Murphy's victims told us were so sensitive that if they had been made known, the person would have been victimized twice. If we had laicized Father Murphy, that would have been made known.There would have been an announcement that he had been laicized after having been found guilty of the crime of sexual abuse of a minor.


Can you explain the canonical meaning of the word "secret?"
When we say "secret," this means "the keeping of a confidence," a "confidentiality" that is there to protect the common good. The seal of the confessional is a good example. People need to be confident that what they tell the priest and God in confession will not be revealed. "Secret" in English has a negative connotation — as if you are trying to cover up something. "Secret" in canon law is better rendered as "confidential."


Did the archdiocese cover up the Murphy case to avoid embarrassment, a scandal, as the media, including Laurie Goodstein of The New York Times, have suggested?
Absolutely not. Again, as with "secret," "scandal" in English has the meaning that someone has done something wrong and you are trying to cover it up, whereas in canon law "scandal" means acting in such a way that the faithful are not inordinately affected by something that was confidential. So in the case of Murphy, having the victims' names known, this would have harmed the victims and angered (shocked) the people — that would be the scandal that you would want to avoid.


Jeff Anderson, an attorney in St. Paul, Minn., has filed a federal lawsuit on behalf of one of Father Murphy's victims. In it, Anderson names, among others, Benedict XVI as responsible for failing to act in the Murphy case and for covering it up. What are your thoughts on Anderson and this lawsuit?
He is overreaching, and eventually our legal system will work to show that. He is going after what he thinks are deep pockets,  and in this regard, his record speaks for itself, dot, dot, dot.
Also, this idea that Benedict XVI, who in 1996 was Cardinal Ratzinger and head of the Congregation for the Doctrine of the Faith, tried to delay or cover up this case is false, just not true. The truth is that Cardinal Ratzinger was the architect of a new process for hearing these cases in 2001, and there was a distinct change in procedure that bypassed many of the judicial hurdles that previous law called for. After 2001 it was considerably easier to try these cases, and the leader of this movement was Cardinal Ratzinger.
Concerning the Murphy case, Cardinal Ratzinger in no way delayed it. I met him in a restaurant in Rome in 2001, and if he had been involved, I would have brought it up.


Since Holy Week, the media, and notably The New York Times and the AP, have covered the Murphy story on a weekly, almost daily, basis. What are your thoughts on the media coverage of the case?
The continuous media coverage of this case is damaging the relationship between the clergy and the laity, and it is tragic. But we must not blame the media for covering the story. There are, as I see it, three motives driving the coverage. The first is truth, and as in all cases of sexual abuse of minors, it is pretty ugly. But we cannot run or hide from the fact that enormous harm was done to children — that is simply the truth. Secondly, there has been big money is this area, for both lawyers and the media. Third and finally, there are people who see the Church weakened and oppose the Church on issues of life and natural law. These people are using the media coverage as a way to destroy the Church's credibility.


You have had a lot to say about the Murphy case, including that those days were "the darkest of my priesthood." Can you expand on that a little?
I am a priest, and what affects one of us affects all. It was gut-wrenching to listen to the testimony of Murphy's victims. For nearly two years of my life, it was my highest priority to get justice for them, to bring this case to conclusion. It was difficult because, for those two years, I could not discuss most of the case with anyone. I could talk to my spiritual director, and I thank God for him. I would see him once a month for an hour, and I would talk for the first 59 minutes, and he would usually end with something that tried to put everything in perspective.


Do you have any regrets about the Murphy case?
We tried to do everything right in this case so that there would be no reason for any decision by the Archdiocese [of Milwaukee] to be overturned by Rome. Father Murphy even had an excellent canon lawyer, Father Patrick Lagges, who is one of the finest canon lawyers in the United States.
Once a crime has been committed, we have to take responsibility for that, and do whatever is just and humanly possibly to redress that wrong. I tried my best through a canonical penal trial to get justice for the victims. My largest regret in the case was the premature death of Father Murphy. Things would have been very different if Father Murphy had not died. It would have been a huge thing for the deaf community in Milwaukee to know that their Church was able to find him guilty and remove him from the priesthood.

Jeff Gardner writes from Onalaska, Wisconsin.