Catholic Church Pitches in to Relieve Families in Cash-Strapped Greece
A new program from Caritas aims to help families with basic food needs and assistance in medical and utilities bills.
ATHENS, Greece — As Greece's financial and political situation reaches a fever pitch in complexity, Caritas has stepped up and is offering help to the growing number of poor and migrants inhabiting the country.
"Here everything is blocked; everything is difficult. There isn't work; there isn't anything. Also, Greeks are looking for work; everyone is. It's a very, very difficult situation," Father Andrea Voutsinos told CNA Aug. 5.
Father Voutsinos is the director of Caritas Greece, which is part of the regional Caritas Europe branch and the wider, all-encompassing Caritas Internationalis.
In a July 5 referendum, Greek citizens voted heavily against Europe's latest bailout offer, after the country failed to repay creditors large amounts of their more than $300-billion debt. The vote raised concerns that the country could suffer a worse economic disaster and lose its place in the Eurozone, the monetary union consisting of 19 member states of the European Union.
Greece has been in financial crisis for years. Economically the weakest nation in the Eurozone, it was hit hard during the 2008 global financial crisis. Beginning in 2010, it began receiving financial bailouts, on the condition that it adopt austerity measures, such as pension cuts, tax hikes and public-sector layoffs.
These austerity measures were a primary motivation in the negative referendum vote, which has left Greece with an increasingly uncertain future.
Unemployment in Greece is currently 25%, and individuals are unable to withdraw more than $70 a day from ATMs.
Amid the country's ongoing dilemma, including a rising number of needy families and a growing number of refugees flooding in from the Middle East, Caritas Greece has been expanding initiatives to assist more people.
The organization recently launched a new program called "Estia," aimed at reaching out to families who have nothing, Father Voutsinos explained.
In addition to helping families with basic food needs, Caritas also offers assistance in paying for bills and medical insurance, since in Greece you can't be admitted to the hospital unless you pay, the priest said.
"If they don't have any work, they can't bring anything home to live on. We are sending help daily," he noted, including funds for electric, gas and water bills.
Caritas Greece also runs a large daily soup kitchen, this year feeding nearly 300 extra mouths, including several who are elderly.
However, the country's growing number of poor is "only half the concern," Father Voutsinos said, explaining that there is also an increasing worry over what to do with the number of refugees who enter Greece's southeastern islands from Turkey, making their way to Athens and beyond.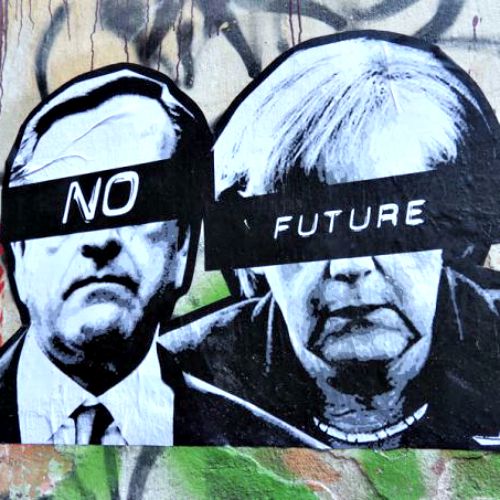 More than 90,000 refugees have entered Greece so far this year, most of them from the Middle East, the priest said, and he expects to see even more of an increase before the end of the year. Among those who come are many from Syria, Pakistan and Afghanistan.
"Every day more arrive from Turkey, because it's so close," he said. With nowhere to go, the refugees often make their way to Athens and sleep on the streets or in parks.
"There is great poverty, because the people don't have the possibility to buy what's necessary to eat." So Caritas tries to help feed them, he said.
In addition to their other initiatives, the charitable organization also has a special project for Syrians who come to Greece, helping them integrate as well as offering meals through the soup kitchen, assisted by the Missionaries of Charity.
The refugees who come "are looking for a better world," the priest said, "but when they enter, it's not a better world."
Despite the various projects Caritas is involved in, Catholics in Greece are a minority, making it difficult to raise the necessary funds in order to meet the country's rising needs.
With the dominating religion being the Greek Orthodox practice, only 200,000-300,000 Catholics live in the country, "but by now also the Greek Catholics have lost work. They also ask us for help, but we don't always have the money because we also have to sustain the parishes," Father Voutsinos said.
As a result, the Caritas branches of Europe, Italy, Latin America and North America have all donated to the Greek branch in order to ensure they have enough funds to continue assisting the needy community.
Pope Francis recently offered his solidarity with Greece ahead of the country's July referendum, calling for prayer and an attention to human dignity when entering into political debate.
"The news from Greece regarding the economic and social situation of the country is worrying," Vatican press director Father Federico Lombardi said in a July 1 statement on behalf of Pope Francis. The Pope, he said, "invites all the faithful to unite in prayer for the good of the beloved Greek people."
Father Voutsinos said that the Pope's words were a consolation for them, but that difficulty remains, and "everyone is a little afraid for the future."