Asia Bibi to Pope Francis: Pray for Me, Your Daughter
The Catholic woman's appeal against her death sentence for allegedly violating her country's blasphemy law was rejected last week by a Pakistani court.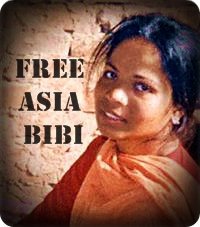 VATICAN CITY — A Catholic woman condemned to death in Pakistan for allegedly violating the country's blasphemy law has asked Pope Francis for his prayers, saying that she trusts in God's plan for her life.
"Pope Francis, I am your daughter, Asia Bibi. I implore you: Pray for me, for my salvation and for my freedom. At this point, I can only entrust (myself) to God Almighty, who can do anything for me."
In a letter to the Holy Father, which was obtained and made public by Vatican Insider, Bibi offered a heartfelt plea for prayer, while voicing her trust in God.
On Oct. 16, the Lahore High Court rejected Bibi's appeal against her death sentence. Bibi had been convicted under Pakistan's strict blasphemy laws in 2010. She allegedly made derogatory comments against Mohammad while arguing with a Muslim woman.
She has denied the allegations and says the case stems from an argument she had with a Muslim woman over a pot of water. During his Nov. 17, 2010, general audience address, Benedict XVI urged that she be granted "complete freedom … as soon as possible."
The lawyers defending Bibi had warned that local influential Muslims were pressuring the court to uphold the death sentence. Pakistan's blasphemy laws are said to be often used to settle scores or to persecute minorities.
Her lawyers now intend to submit her case to Pakistan's Supreme Court within the allotted 30 days.
"I am holding tightly onto my Christian faith and trust that God my Father will defend me and give me back my freedom," Bibi said in her letter. "I also trust in you, Holy Father Francis, and in your prayers."
"Pope Francis," she continued, "I know you are praying for me with all your heart. I know that, thanks to your prayer, I could be set free. In the name of the Almighty Father and his glory, I thank you for your support in this moment of suffering and disappointment. My only hope is that I will one day be able to see my family reunited and happy again. I believe that God will not abandon me and that he has a plan of happiness and well-being for me, which will come into being very soon. I am grateful to all Christians across the world who are praying for me and doing everything to help me."
Bibi also expressed her gratitude to the Renaissance Education Foundation in Lahore, which is providing support to her husband and family: "May God illuminate and bring wisdom to all those who are working on my case."