Archbishop Aquila to Celebrate Mass for the Denver Broncos Before Super Bowl
The Denver archbishop, a longtime Broncos fan, will fly to New Jersey to celebrate Mass with the team prior to Sunday's NFL championship game.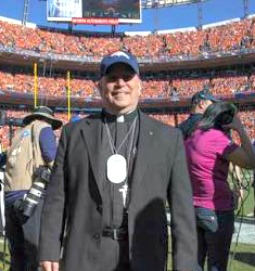 DENVER — The Archdiocese of Denver late Tuesday confirmed Archbishop Samuel Aquila will say Mass for the Denver Broncos prior to their Super Bowl XLVIII matchup against the Seattle Seahawks. 
"I have been edified by the example of many NFL athletes and coaches and their families who make the effort throughout the football season to attend Sunday Mass," Archbishop Aquila said in a statement issued to the Register. "I enjoy sports, and I'm a longtime Broncos fan from when I went to school at CU [University of Colorado] Boulder. Even when I was bishop of Fargo, I followed and rooted for the Broncos."
The archbishop will celebrate Mass for the team on Saturday evening at the team hotel in Jersey City, N.J. The Super Bowl will be played at MetLife Stadium in nearby East Rutherford. Kickoff is at 6:25pm Eastern. Meanwhile, the Seahawks had no specific plan.
"No priest of our archdiocese is flying to New Jersey to celebrate Mass with the Seahawks," said Greg Magnoni, director of communications for the Archdiocese of Seattle. "I hope [Denver's] archbishop will celebrate Mass for Catholic members of both teams."
Initial news about Archbishop Aquila's trip to the Super Bowl broke Tuesday morning on Twitter, after Broncos' defensive coordinator Jack Del Rio told Dan Petty, the digital director of sports for The Denver Post, during media sessions at the Super Bowl venue that Del Rio and his wife Linda had invited Archbishop Aquila for the occasion.
Petty tweeted: "#Broncos (Defensive Coordinator) Jack Del Rio says Denver Archbishop Samuel Aquila will say Mass for Catholic Broncos players in N.J."
Catholic Players
In addition to Del Rio, teammates and coaching staff with the Broncos who are Catholic include wide receiver Eric Decker, defensive line coach Jay Rodgers and owner Pat Bowlen, according to diocesan officials in Denver and Colorado Springs, Colo.
Tight end Luke Wilson, defensive coordinator Dan Quinn and general manager John Schneider are among the Catholics with the Seattle Seahawks, said Kevin O'Malley, a member of the board of directors with Catholic Athletes for Christ.
"I am sure many people are wondering what I will say to the Broncos in my homily, but all I can say is that the Holy Spirit will guide me as he wishes," Archbishop Aquila said. "What I do know is, that during the game, I will be cheering for a Broncos victory."
Just before the AFC Championship game against the New England Patriots, the Broncos' team Mass was celebrated by the regular chaplain to the team, Father Philip Steele, president of Regis Jesuit High School. Father Steele said his Mass the evening before the AFC Championships in Denver for 15 members of the team, coaches and family members. He told the Denver Catholic Register: "I honestly believe God didn't care if the Broncos or the [other team] won. But he cares that we do."
Father Tom Belleque, pastor at St. Louis Church in Bellevue, Wash., frequently says Mass on Sundays for the Catholic members of the Seahawks, Magnoni said.
In a 2012 homily soon after his installation in Denver, Archbishop Aquila said encouragement, not competition, is "the way to eternal life."
Archbishop Aquila recently celebrated a full weekend of Masses with additions to his normal weekly schedule. The archbishop on Jan. 25 presided at an ordination of 10 new permanent deacons at the Cathedral-Basilica of the Immaculate Conception. On Jan. 26, the archbishop celebrated a Mass for Catholic journalists and media professionals, the first of its kind for the archdiocese. 
Football and Faith
In an Jan. 28 interview with The Denver Post, Del Rio spoke about the influence of his faith on his work and life.
"When things are going well, I don't know that the challenges are as difficult as when they're not going well, and you're really leaning on your faith," Del Rio told the Post. "I think, certainly, faith is involved in both. My trust in God is involved in both, my faith is involved in both, but through some of the harder times in my career, I've leaned harder — more fervently — on my faith.
"[Faith is] certainly something I don't take for granted," Del Rio said. "I'm very appreciative of a great man like [Archbishop Aquila] in the Church and glad that he's going to be out here with us."
Register correspondent Anna Maria Basquez is a freelance writer from Denver.