50 Years Ago, This Catholic Wrote a Song That Made the Beatles Jealous
Tony Sansone's hit song 'Walk Away Renee' was released 50 years ago this month.
It's pop music lore said that the Beatles were jealous when the Left Banke released Walk Away Renee in 1966.
Native New Yorker Tony Sansone's silky pop love ballad initially spent 13 weeks on the U.S. charts, reaching as high as No. 5. Rolling Stone magazine voted Walk Away Renée No. 220 in its "500 Greatest Songs of All Time" survey. That's high praise, considering all of the songs not on the list.
Sansone, the song's principle author (the others are Michael Brown and Bob Calilli), has enjoyed surprising success and longevity with the song.
With its haunting, almost melancholic air, it's an example of popular music with a marked classical orchestration component. Steve Martin Caro, sings it with a distinctive vibrato that most fans of most pop music of that era immediately recognize when they hear it.
Now retired, Sansone, 77, is a lifelong Catholic who has devoted himself to serving God and the Church through various charities.
In anticipation of the song's 50th anniversary this July, Sansone spoke to the Register about his life, his faith and his music.
How did you first develop a professional interest in music?
Well, I think it was in 1939. That's when I saw Disney's Snow White. I felt it was excellently written and orchestrated. It wasn't just a bit of kiddish, commercial fluff. It was a substantial work, with a clear, classical structure to it.
I was continually writing music. When I was 27, I devoted a great deal more time and effort into it. I really wanted to become a professional songwriter, and I was able to work with several bands. It was then when I wrote Walk Away Renée.
By the time I was 17 years old, I was deeply into classical music. I actively sought out everything I could get my hands on: Greek classical music, Beethoven, Brahms, opera, including Puccini, Verdi, Jules Massenet and Vivaldi. It was all beautifully melodious. I could feel the music in my soul. It was there where my desire to create music, and not just listen to it, first began.
I was impressed, also, with operatic librettos ― the storylines of the operas. I was amazed at how well integrated, intertwined and dependent they were to the music, that they needed to be performed together to tell the complete story of the opera.
You'll note the influence of my interest and training in classical music when you listen to Walk Away Renée, especially the introduction. I included a harpsichord rift. It echoes a Puccini piece, which I like a lot. The structure of that song is also reminiscent of Puccini. There's also a descending chromatic bass melody, which isn't normally used in this type of song, but I included because I enjoyed it when I came across [it] in classical pieces. If you listen carefully, you'll also hear a flute solo played during the instrumental part of the song's middle section. The song also includes a noticeable harpsichord piece. None of these instruments are typical for popular songs, but I included them both in the arrangement, along with a raft of strings and chimes. It's really a very complicated [piece] ― just like a typical classical orchestration piece. The song has a noticeable Chopinesque feel. It has a descending chromatic scale in the first four bars of the song.
I wrote many dozens of songs for other bands, including 14 for a singer named Gjorgi in 2008. I like to write about romance. I also wrote one Christian song for singer Steve Pasqualone. It has love themes in it, also, because that's a basic aspect of our faith, so it wasn't a real stretch.
Despite the popularity of Walk Away Renée, I never really got involved further with the band Left Banke. However, I did write a piece of their other popular song, Pretty Ballerina. I never got credit for it, but I didn't mind. I was still paid, nonetheless ― even though it was a small amount.
I never worked with Left Banke again, as they were off into their own world. The age difference between us was difficult to maneuver, and, frankly, they were always interested in drugs, and I simply never did that. I was never involved with that lifestyle. Because of that, we never got to know each other or otherwise got involved, other than working on Walk Away Renée and Pretty Ballerina.
Speak about your upbringing in the Bronx.
I have an extensive family, even though I never got married and remained single all of my life. My grandmother had seven children. When I was a teenager, I lived in an enormous house with my parents and my sister, my grandparents ― both sides ― and their children. I thought that was normal: I thought every kid grew up living with their grandparents and cousins.
My grandmother sent all five of her children to fight in World War II ― both the Pacific and European theaters ― and all of them returned. My father was a paratrooper who, thankfully, never saw action. My Uncle Mike fought in the Battle of the Bulge and returned unscathed. My Uncle Mario was a marine at Iwo Jima. My Uncle Eugene was in France. Everyone came home alive, something for which we are — were — obviously grateful.
Most of family is deceased. Currently, my sister lives in Jackson, N.J. She has four kids and is married to Pasquale Mancuso, who was mayor of Ridgewood, N.J., for 12 years. I have three grandnephews and three grandnieces.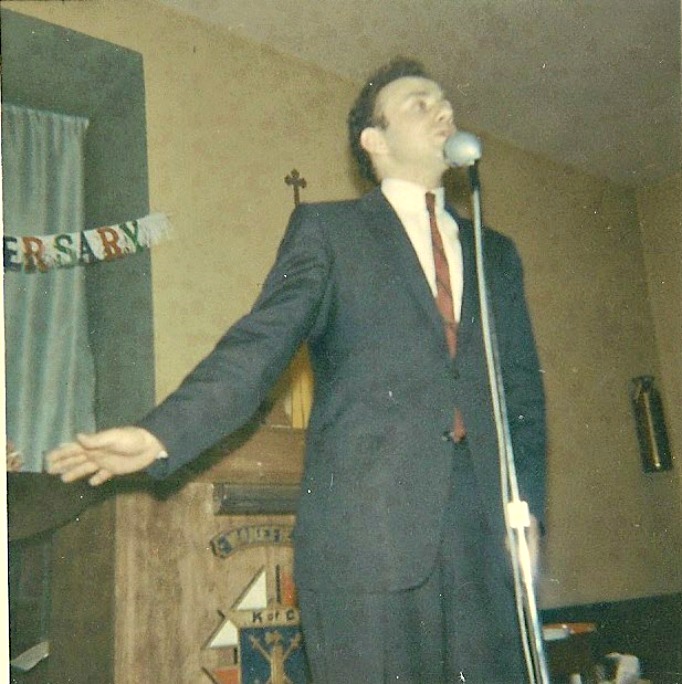 Who is "Renée" in Walk Away Renée?
Renée is not an actual, physical person. She never existed.
There's a nonsense story being spread around about the Renée in my song being Left Banke band member Tom Finn's girlfriend Renée [Fladen-Kamm], but it's completely untrue. I think Michael Brown said it, or he was misquoted or something, but it's completely untrue. I totally made up the girl's name. She's not meant to be anyone in particular. I was listening to the Beatles' song Michelle and thought, "Why not another song with a French name?" That's when I came up with the idea to write a song with the name Renée. That's all — nothing else. The entire song was about my life in the Bronx ― specifically, the things around me in my environment as I was growing up there. I saw the empty streets near my house, and I put that into my song ― "the empty sidewalk on my block… "
We lived up on a hill near St. Brendan's Catholic Church on 207th Street near Bronx Zoo in the Norwood neighborhood. That's the hill I mention in the song Walk Away Renée. It's all about imagery I witnessed or participated in on Hull Avenue. No mysteries — it's just the experiences of my life.
Would you say that Walk Away Renée is your enduring professional legacy?
I've had an extraordinarily blessed life. It's by the mercy of God that I stand here having accomplished the little that I could in my songwriting. We don't deserve the blessings we get, but it's important to look back and count your blessings.
Walk Away Renée is a continuing miracle for me. Even I'm amazed it did as well as it did or has had the staying power it has shown itself to have. It took me about a half an hour to write out the lyrics. You could say it was written in a couple of weeks, considering all of the discussion and editing the song had to go through with my writing partner. It took all that time before it all came together.
I wrote all of the lyrics of the song with the exception of the "You're not to blame" line. It's the only part of the song I didn't write. It's true I had a writing partner in creating the song, but the concept was completely mine.
Walk Away Renée has remarkable staying power. To what do you attribute this?
God — that's to whom I give credit for the song.
I count it as a connection to my faith. The song has lasted since 1966. It was featured in the 2012 film The Joyful Noise, where Queen Latifah sings it. I really loved her rendition of the song.
I've never been one of those very ambitious people, so even I wonder how it is that I could have such a magnificent miracle as this song happen to me in my life. Very few songs in the 300 million songs written and published in the past 40 years ever gets to be a "Top 10" hit. … That's one of many miracles in my life, for which I'm grateful. I know it's God working in my life. No one needs to convince me of that.
Walk Away Renée was a hit again in 1966 by Let's Dance. In 1967, my agent called me in and told me that The Four Tops … wanted to cover my song, but the band couldn't pay a lot. I didn't care! I really liked that group a lot, and I was very honored that they wanted to cover it.
The song never left the public imagination after that. Southside Johnny & the Jukes covered it in 1986. Rick Price covered the song in 1993. Linda Ronstadt covered it in 2006. I happened onto something really incredible with this song. Even I like the song! It's sorta catchy.
That's the story of the song, and the song has had a life of its own. From a success stand point, I consider it a gift from God. … I consider that a miracle. I'm very grateful for that.
Tell me about your faith. How has your faith upheld you in life? How are you involved in the Church?
I look forward to life each day when I wake up. I've been healthy; I've been blessed that way. I feel God's presence in my life. Faith is a gift. You don't have it unless God gives it to you.
I owe everything I have — and all I've accomplished — to the Catholic Church and to my faith in God; absolutely everything. All of my successes couldn't have happened without my faith, even the things that went badly or not as I had hoped for. I sometimes feel overwhelmed by it all. I'm often surprised … more stunned … when I stop to consider my life.
I have to say by way of explaining my faith and what it means to me in my life that our Pope Francis is a wonderful example for us all. He said that when he's washing the feet of the poor, it's like he's washing Jesus' feet. I'm really impressed with him. I can't say enough good things about him. All I can say is that the Catholic Church and the world are very fortunate to have such a loving man as pope, especially in this turbulent time. He has really revolutionized the way I — and the rest of the world — see the Church. He has simply been wonderful for the Church and for the world. He's exactly what we need right now.
Faith is a gift. If God gives it to you, then great. You can't produce it on your own. This was God's gift to me. I love the faith. I love the saints. I love Mary. I love Jesus. I feel they are always with me. I don't mean that just because of the financial successes I've had in my life ― I'm not that kind of person. Instead, I believe in the presence of Christ, his glorious Mother, the saints and my guardian angel, as well. They are all here with me, like my extended family. They are present to everyone if they are really open to it. Life is very lonely, indeed, if you can't make room for God and his saints. He wants to show himself to you ― to us all. Just be open to it, and you'll be blessed.
I live my life, as always, being a son of the Church.
Angelo Stagnaro writes from New York.