New York Mets Catcher Enjoys Being at Home
Rene Rivera loves the Church, family and baseball.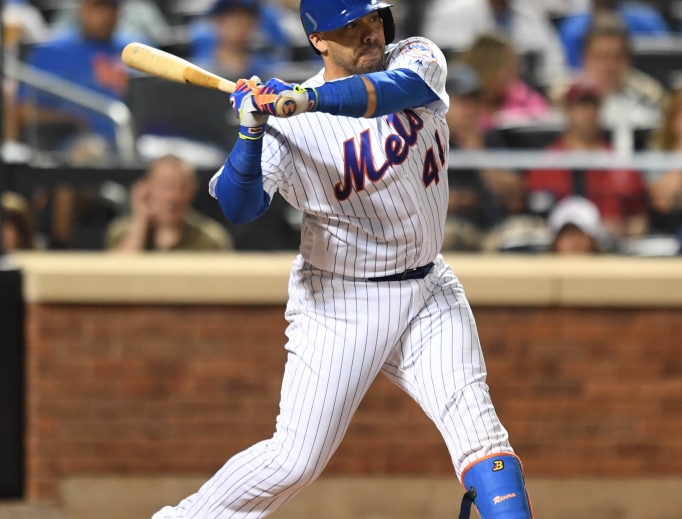 Major League Baseball can be a constantly changing experience for many players. It is not uncommon to play for many teams over the course of a career — and Rene Rivera has done just this. The 33-year-old Bayamon, Puerto Rico, native was drafted by the Seattle Mariners in 2001 and has since played for the Mariners, Minnesota Twins, San Diego Padres, Tampa Rays and New York Mets — and for minor league teams in the Los Angeles Dodgers and New York Yankees organizations.
Regardless of where he travels, though, he always enjoys returning home to his family, which holds a special place in his heart. Rivera sees marriage and children as gifts from a generous God who gives him not only a natural family, but a supernatural one in the Church.
Following the Mets' wild-card loss against the San Francisco Giants Oct. 5, Register correspondent Trent Beattie threw some questions to Rene Rivera.
You lost the National League wild-card game to the San Francisco Giants, and they proceeded to lose to the Chicago Cubs. Do you think the Cubs will win it all?
The Cubs can win it all, but so can any of the other teams left. The Nationals are in our division [the NL East] so we've been able to see how well they play up close, yet, despite how good they are, they couldn't get past the Dodgers. The Blue Jays and Indians are good, too. Really, any team left has a shot. That's why they play the games.
Even though we would have liked to still be in the hunt for the World Series, we had a good season overall. We were missing some injured players, such as Neil Walker, who attended Sunday Mass with me before his injury. Despite the injuries, though, we still did well enough to make the playoffs. We have to be thankful for that.
When you were growing up, did you always want to play Major League Baseball?
Yes, from a really young age, I've always wanted to do this. Baseball is the No. 1 sport in Puerto Rico, so it was easy to get into it. I would watch baseball games with my grandpa and play catch with him. That started things, and since then, I played with my brother at home, and then I played on youth teams. I was blessed to do well enough that I was considered by different Major League scouts. The Seattle Mariners drafted me in 2001; and since then, I've had both ups and downs, like all pro baseball players.
In the failure-filled sport of baseball, how do you maintain a positive attitude?
You have to know going in that you will fail a lot, just like everyone else. Because failure is an automatic part of the game that you can take for granted, it's not the most important part of the game. The important thing is how you respond to failure. You can let it hold you back or you can use it to move forward.
Everyone has a set of ideas on how they'd like things to be, but oftentimes things won't work out exactly in that way. That's when faith comes into play. I have always put my work in God's hands and have believed that I have a reason to be in pro baseball and that I can bounce back from whatever negative situation that might come up. That has helped me to persevere through the years.
Do you find that prayer helps you maintain that belief?
It certainly does. Prayer is a communication with God and a commitment to him. It's a way of learning how God cares for us and wants what's best for us. It gives us a better idea of how we should see things and respond to them. Everything we go through is part of God's plan, and we remember this best when we simply take the time to talk with him in prayer.
What are some of the things you enjoy about family life?
Family means everything to me on a natural level. Family is where you interact with people you love and who love you. No matter what happens at work, your family is always there for you at home. That gives you a more permanent sense of belonging because, despite how well you might get along with teammates, it is fairly common in baseball to play for different teams from year to year or at least to go back and forth from the majors and minors on one team.
I've been able to meet so many good players, coaches and other people in my career, and some of them I see later on with different teams. One good man who seems to be there regardless of which team I'm with is Ray McKenna. He's based in Virginia, but he goes all over the place to make sure there is a Catholic presence in Major League Baseball.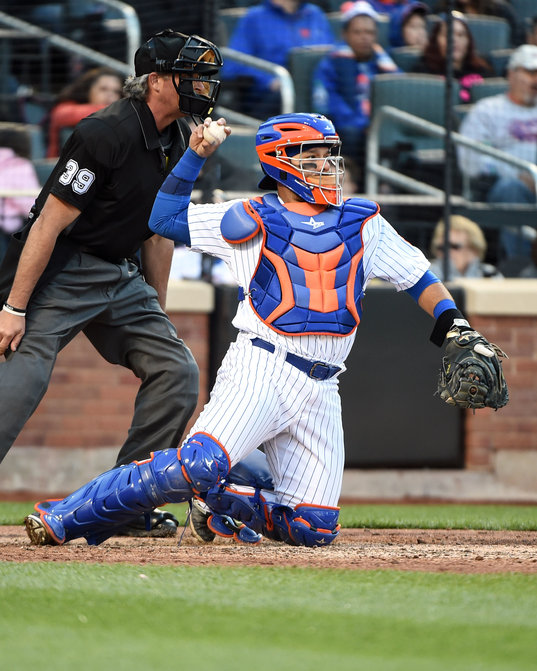 Home plate is where catchers are positioned, and it's where every runner wants to get back to. You can say that as a catcher I'm always at home, but in the larger picture of life, home is where I always want to get back to. That's where my family is, so that's where I always seem to be heading. My wife and daughters are the specific people God has chosen to bless me with, so I have to love them more than any other people. It's a responsibility that I enjoy very much.
Do you feel like the Catholic Church gives you an extended family?
Our own natural families grow bigger when we are part of the Catholic Church. Our fellow Catholics may not be related to us by blood, but they are related to us spiritually. That connection is one of the things that makes walking into a church so reassuring and peaceful.
Even more than that, though, is the real presence of Jesus in the Eucharist. Every Catholic parish has Jesus in the tabernacle, so that means you can feel comfortable spending all the time in the world there. If you're praying in a Catholic parish, you're not alone. Jesus is always there, and so is God the Father and Holy Spirit. Mary and the angels and saints are there, too.
Home plate is where I like to be for baseball, home with my family is where I like to be even more, and being "at home" in church is the very best place anyone can possibly be.
Trent Beattie writes from Seattle.
His book, Fit for Heaven (Beacon, 2015), contains numerous Catholic sports
 interviews, most of which have appeared in the Register.