Carolyn Woo Reflects on Her Tenure at Catholic Relief Services
The outgoing president of CRS spoke with the Register about what she set out to accomplish five years ago and the road that lies ahead.
BALTIMORE — When she took charge of Catholic Relief Services, the international aid agency of the U.S. Catholic bishops, Carolyn Woo had three objectives to achieve: build up the structure, bolster its leadership and strengthen its Catholic identity.
In this interview with Register staff reporter Peter Jesserer Smith, Woo reflected on the journey of the past five years as president and CEO of CRS — not simply as a professional, but as a vocation to holiness that often brought her to the foot of the cross and the joy of the Resurrection in the people she met. Now, at 62 years old, she looks forward to setting aside the role of Martha and taking on the role of Mary, listening at the feet of the Lord.
Dr. Woo, as you come to the end of five years at the helm of Catholic Relief Services, what personal stories stand out in your memory as "this is what CRS is really all about"?
There are so many, because CRS is involved in over 900 projects, you know, across many different sectors, in over 100 countries, dealing with very different types of issues and serving about 100 million people. So everywhere I go, every project I visit, there's always something that jumps out at you.
There are some projects that take you to the foot of the cross. And some of those would be in Gaza, after the bombing, and I think that was the summer of 2014.
Right after the bombing, I saw people living in holes where their homes used to be. We met with one … and the father was talking about his family and how grateful he was. He himself had cancer at that point — he didn't think he would live very long — but then he wanted me to meet his son, a lanky kid, just probably about 17 years old or so. And then he asked his son to pull up his T-shirt. He was in a big, loose T-shirt, and he pulled up his T-shirt, and his stomach was the size of a soccer ball: It was impregnated with shrapnel. You know, just imagine discomfort — intestinal discomfort — for Americans: We reach for our Pepto-Bismol; we moan, and we groan, and then it will be over. But to have metals inside your stomach — that pain, that suffering — and the medical facilities in Gaza would not be adequate to treat him. He was not likely to be able to go into Israel for treatment. He just had this big stomach of immense pain — of metal.
So, if you ask me, that experience is really seared [in my mind]; I think, also because I'm a parent. I have two sons, so looking at this is the sense that: How would you handle this if it happens to your sons?
We are also a resurrection people. There are some stories where the resurrection will take place in the next life. There are some situations where the resurrection has taken place in this life.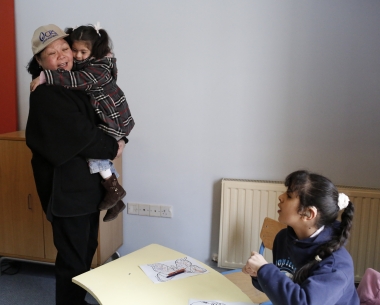 In Lebanon, actually, we were in a women's shelter, and one of the staff members there was full of joy. She was just a very cheerful, joyful person. She did everything in the center. She also cooked the most incredible meals. But she herself was trafficked. And somehow, she had an accident, and she woke up without her memory. And she woke up also without one leg. But instead of complaining that she only had one leg, she praised God for having at least one leg and [recognized] that other people had less. And she turned her life into service.
What did you set out to do at CRS over the past five years?
I only had three objectives. One was the whole strategy/system/structure: whatever it takes for an organization to be vibrant and to be relevant. The second part of it was leadership development. My work as an academic, particularly in business and executive education, is to develop people. And besides, I didn't want to stay more than five years. I was living away from home. ... I also felt that if I did my job well, five years would be enough. If I didn't do my job well — well, five years would be enough. And the third thing was the Catholic identity. Those were my three major concerns. Every board meeting when I report out, I report out according to these three things. I approach my work in terms of these three things.
Do you feel that you were successful?
I would say it has been successful, but it doesn't mean that the work is done. But it does mean that the foundation that we have built allows the next team to do really excellent work.
What steps did you take to strengthen CRS' Catholic identity and mission?
In the whole area of our strengthening CRS' Catholic identity, first of all, there is no question that every person at CRS completely understands Catholic social teaching, the principles and the dignity of the human being, which underlies our work.
We put in a lot of teaching and training for our people as to "Where does the Catholic Church draw the boundary in a work?" so that everybody understands that boundary and does not exceed that boundary. So that training was always there.
We then also looked into our various policies, particularly our recruitment policies — whether people understand that they're joining a Catholic organization, where these are our core principles.
The next thing we did was: We instituted a committee, and it's called the Advisory Committee for Catholic Identity. It comprises four theologians and two of our board bishops. The theologians were selected by our chair at that time, and the bishops who are on that committee also sit on our board. So we don't choose experts. These are the experts, so they provide the detailed guidance as to whether this is collaboration with evil and also where there is scandal. So they approve the whole list of people we work with. And sometimes the relationship is that that [problematic] group is the only group that has malaria tents, and we buy the tents or the medications from that group. There are times when we are part of a big association on health, and in the association there are a lot of different members in it [whose philosophies vary].
So this governance is very important. And, of course, our board is: We have 13 bishops, plus the general secretary, and no more than 11 other lay board members. So it's the board, which is dominated by bishops, and the bishops are elected by the U.S. Conference of Catholic Bishops, and also all of our documents anywhere are completely open. So if you think about the governance, as well as our policies, as well as our training, as well as our screening, CRS is not an operation that is just, you know — what do they say? — "leaving the reservation," or whatever it is. The governance is comprehensive. It's very thoughtful and careful, and that's how we work.
We also engage the bishops, the local bishops, because everywhere we work we also work with the collaboration and the approval of the bishops. And, oftentimes, the Church is our partner in this work.
Sean Callahan steps into your shoes in January: What are the challenges you see waiting for him and CRS?
Sean has been with CRS for close to 30 years. He has seen our operations in the field and in headquarters. He is a very smart person, very committed to colleagues, very committed to his faith. I'm just very thrilled that he would be the leader.
The challenges for any organization doing what we do, I think, are several. The first is the security in the world. Security is just not what it used to be, and I would say aid workers now are targeted.
We work in situations, for example, in northern Nigeria, trying to rebuild livelihoods for communities which were devastated by Boko Haram. And while Boko Haram has dissipated, they have not disappeared.
I think the second challenge is … how will policies affecting the poor, budget and so on be affected? I think there are big macro, external issues.
In terms of internal, the interesting thing about CRS is … it has the readiness, it has the foundation, it has the commitment to really take on big problems and long-term problems. So if you think about refugees, there are 65 million of them. On average, the projection now is that it would take 28 years before they could go home. So if you look at climate change, we see agriculture, which is the livelihood of the poorest in many countries, such as in Asia as well as in Central America, in parts of Africa, where we see a drought. We see crops dying. That whole response has to be a very large-scale response.
The third example is health systems. So Ebola — as I mentioned to the bishops — while right now is not in an outbreak, the Ebola virus is in the people who did not perish. And so the way to really watch it is to create health systems that could spot it very early, can put barriers around it earlier and start treatment quickly.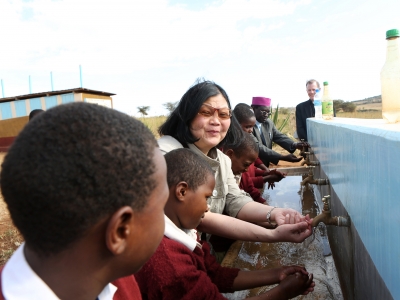 I think that CRS now has the capacity to deal with those. We have the type of culture, of training; we have the systems that could handle very large-scale programming. But now [it] is, again, rethinking how we work, in order to be able to deal with these very big challenges.
So I would say those are three things that Sean would be dealing with. But what a privilege to be able to digest those issues.
Where are you going next?
I'm going home to South Bend, Indiana. So there are different interesting things I'm doing: I write a column; I serve on boards. But I have a lot of other personal things. Now is time for my husband and me. We met when we were 18 and 23, and we're now 62 and 68, and I didn't know what happened. I used to feel like we're just an older version of 18 and 23, but we're not. So I just want to honor and dignify that time we have together, because, in the end, a good marriage is really such a gift from God.
Planning was my profession and my modus operandi. I think now is [the time] to let God be the plan. And I'm going to switch [my] personality, like in the story of Martha and Mary. I'm going to go from Martha to Mary — you know, when they say, to sit at the foot of the Lord.
And so that's what I want to do: to make God my plan, to be Mary and less Martha, and just really enjoy my role as wife, mother, friend, sister, aunt and parishioner. And to not have a title.
What spiritual lessons from CRS will you carry with you?
In terms of spiritual lessons, one of the hardest actions I took — and I didn't think it was possible — was to give up tenure as an academic. Because I worked very hard for security. I did not work very hard to win awards, or whatever. I just want to have security, because I didn't have a lot of that. I don't know of any other Chinese academics who have given up tenure, which is really life employment without age limits, so long as you're relatively with it. So taking on CRS required me to give up that security, and it was such a grace of growth to talk with my husband and say: "Do you think we have enough? Do you think we'll be okay? Do we really need this?" And to arrive at the decision to say No, it was one of the most freeing experiences I've ever had. And I think to have seen God in the world in such different ways [is another lesson].
So my spiritual lesson is: I think we are not as strong as we would like to be. We hold back on God in many different ways. We have our own fears, we act out of those fears, and I think God understands all of this. I think it's to keep praying, and to just say: "God, I truly know you are in our lives, and whatever I'm not able to do that you want me to do, just help me get to that point." I think, in the end, it's just to recognize that. It's just — the biggest lesson is — that God is in our lives. And we're made for God. And he has our backs. He made us for a reason — and to just really, really draw on God is the lesson I've learned.
This interview has been edited for length.
Peter Jesserer Smith is a Register staff reporter.