GIVEN Forum Affirms Young Women in Christ's Love
Gathering for Catholic women continues to bear fruit.
More than a year has passed since the "GIVEN Catholic Young Women's Leadership Forum," and the fruits continue to show in the lives of Catholic women inspired by its 21st-century approach to emboldening disciples, centered in a radical encounter with Jesus Christ's love. 
The weeklong "GIVEN Forum," held in the nation's capital June 7-12, 2016, had all the marks of a professional development event, with seminars on faith formation, leadership training and networking. But it set itself apart by being an outreach to Catholic women, completely centered in Christ. Each attendee proposed and implemented an action plan by April 2017 to bring her missionary gifts to her local Church and community.
"It was conceived in the hearts of women religious as a way of loving, supporting and encouraging young women," Sister of Life Bethany Madonna, a co-chair of the event, told the Register.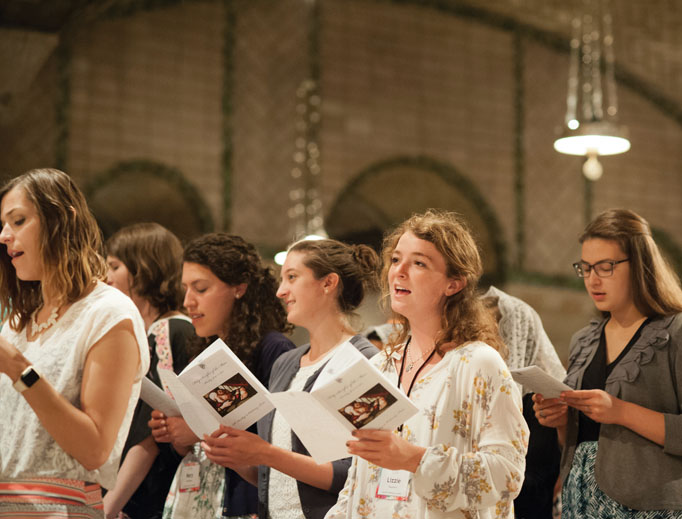 Sister Bethany explained the Council of Major Superiors of Women Religious (CMSWR) wanted to let young Catholic women know they have "a unique gift" to offer to the Church. Through a grant from the Conrad N. Hilton Foundation, nearly 300 women participated in the forum, which harvested the fruits of papal reflections on the vocation of women, from St. John Paul II's teachings on the "feminine genius," in Mulieris Dignitatem and "Letter to Women," to Pope Francis' exhortation in Evangelii Gaudium to create "broader opportunities" for women's participation in the Church. 
Sister Bethany said that the GIVEN forum will continue in the future as a sponsored institute of the CMSWR.
Besides the training to help women in their ministry in the Church, the event also provided an opportunity for young women to see the full spectrum of how women, both lay and religious, serve in the Church.
Sister Bethany said the GIVEN Forum brought together "prominent lay and religious women, leading in various fields, to mentor young women at a crucial moment in their lives."
"The purpose was to inspire, equip and connect the next generation's leaders by giving them witnesses and a community."
Sister Bethany said some participants opened their hearts to a religious vocation — three women have decided to enter religious life — while others reported the sisters' example gave them "a model of joy" that helped them to be better mothers and wives.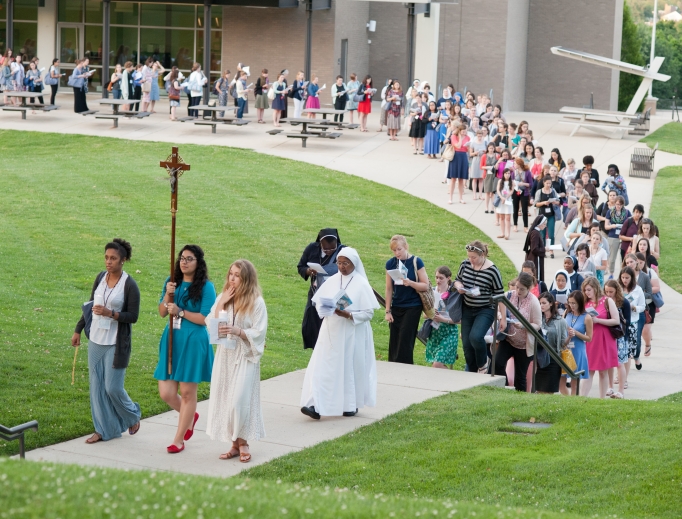 One woman told Sister Bethany she had never recognized so clearly the "beautiful complementarity" of the consecrated and married vocations and how both are icons of the marriage of Christ and his Church.
The women also discussed the truth about the vocation of women in a culture that has really been "wounded" by a misunderstanding of femininity and a tendency to reduce persons to their functions.
"Many received the truth that they are known and loved as they are for the first time," said Sister Bethany, which "changes everything and deepens through prayer."
Amanda Wilson, the youth minister at Most Pure Heart of Mary, a Josephite parish in Mobile, Alabama, told the Register that it was "an amazing experience" to be with so many women religious living out their vocations. Wilson felt edified to learn from one of the sisters sitting with them at dinner that the nuns had prayed for each one of the attendees by name.
"It was so beautiful to know that before she met us, she was praying for us," she said.
Sister Bethany said that the sisters had consecrated the event to Our Lady of Guadalupe and entrusted each attendee to Mary's intercession in preparation.
That model of personal attention and love inspired Wilson to respond to the call to become a youth minister at her parish.
"The need was there, and I took [the position]," she said. As a black Catholic, Wilson hopes to bring a perspective to the Church that otherwise might not be heard. But her experience at "GIVEN" also helped her realize she had the gifts to "expose the potential" of the black Catholic community.  
"In doing so, families will prosper, vocations will increase, and the community will change," she said.
Much of GIVEN's power drew from the energy that women religious brought to the event.
The encounter with women religious, and the opportunity to see it as a blessed vocation, inspired Emily Savage to create opportunities for other women to experience such edification in Wichita, Kansas.
"I loved GIVEN," Savage told the Register. "I have an active spiritual life and an active ministry life, but GIVEN was one of those places I went and was showered with God's love."
As the director of Fiat Ministries in Wichita, Savage said that her mission has been to help young women discern their vocations and expose them to the lives of women religious in a context where "the girls don't feel recruited, and the sisters don't feel like they're on 'show.'"
Savage hopes that by helping women to understand themselves as loved by Christ, and bringing forth the gifts they've been given, "we could bring forth new life [in the Church]."
"Though we are all created for a specific purpose, we have to embrace our particular mission," she said. 
While an arts-and-music festival is not a typical outreach for the Catholic Church, Mary Catherine Damon said she felt called to raise awareness of two causes related to martyrs in the Church — that of Christians in the Middle East and the Martyrs of La Florida Missions — because of how both witness to the Catholic faith through persecution.
After returning from GIVEN, she organized the "No Greater Love" festival. The event raised more than $30,000 for the Knights of Columbus' Christians at Risk fund, which supports Christians in the Middle East.
Along with music and other arts, the festival also had Eucharistic adoration and confession. A living history tableau presented the lives of the Florida martyrs. Several of the descendants of the Florida martyrs participated in the presentations and were moved to return with their families to the Catholic Church, Damon told the Register.
Damon said the Church provides a service to the world by encouraging women in their vocation, and to do so in a way that stands counter to "the way the world is doing it."
"'You are a gift' means so much more to a woman's heart than 'women power!'" she said. The Church witnesses to women that — instead of their value being found in their looks or in what they say — their value is found in God and their individual call to service, Damon said.
"Each and every one of us loves in a unique and unrepeatable way; each of us is called to love God and others in a way that has never been done before," she said. "And it's freeing to know that you need to be yourself; you need to be who God created you to be."
Nicholas Wolfram Smith writes from Rochester, New York.
The talks are available at GivenForum.org.