Families, Young People Strong in Faith Are Fruit of the Catholic Charismatic Renewal
Many ministries have been ignited by the Spirit in the last 50 years.
Matt Karr, 42, wasn't around to see the beginning of the Catholic Charismatic Renewal in 1967, but he feels its effects — in his own faith, in the community that's helping him and his wife, Jen, raise their five children with other Catholic families, and in the college ministry he helps direct that is drawing young people to conversion and life in the Church.
For the Karrs, of Kansas City, Missouri, "Catholic covenant communities," including the one they lead in Kansas City, Kansas, as well as ministries that have developed out of those communities, characterize more than an expressive style of worship. They are seeing fruits of an outpouring of the Holy Spirit through which Catholics are embracing and living their faith in today's culture.
Some of those fruits stemming from the Karrs' membership in Heart of the Redeemer covenant community continue to grow in their children's lives. "Seeing their mom and dad praying every day, I think that's a big deal," said Karr, the community's leader and Kansas City mission center director of the college ministry St. Paul's Outreach (SPO). "That we're going to church, that we're taking time with family prayer … all these things in community life and being surrounded by other families who are doing a similar thing, I think, has a real influence on them. They will still have to decide how they're going to live their lives when they get older, but, hopefully, we're a good witness to them."
At a retreat at Duquesne University near Pittsburgh 50 years ago, students asked the Holy Spirit to act powerfully in their lives and had Pentecost-like experiences. They told other students, and during the years that followed, the Catholic Charismatic Renewal spread rapidly among U.S. Catholics.
The outpouring fostered dialogue with Protestants and deepened Catholics' interest in Scripture, the sacraments, praise and worship, sharing in the events of everyday life, prayer for healing and the spiritual gifts.
Though the Renewal still conjures images of folk-inspired guitar praise and swaying, emotional worshippers to some people, the movement at 50 is more mainstream in Catholic communities, universities and ministries. It's also more focused on principles Pope Francis now calls a vision for the 21st-century Church: a community of missionary disciples, according to Gordy DeMarais, founder and president of SPO and senior coordinator of the Community of Christ the Redeemer (CCR), another covenant  community and a Catholic lay association of Christian faithful based in West St. Paul, Minnesota.
More than 120 million Catholics in over 200 countries are connected to the Renewal, according to Rome-based International Catholic Charismatic Renewal Services, which coordinates, provides information and serves as a link between the Renewal and the Holy See. 
"I think maybe 40 years ago the Renewal was a little bit on the periphery," said Mark Berchem, founder and president of National Evangelization Teams (NET) Ministries youth ministry and a CCR coordinator. "Now it's right in the center," he said. "It's alive in the hearts of our young people. It looks different. I believe it's the same grace, but it's been diffused now to a much wider group of people."
Spirit-Led Growth
In 1973 a charismatic prayer group that met at the Archdiocese of St. Paul and Minneapolis' Catholic Youth Center gathered in St. Paul, where it would later develop into CCR. Youth center staff members and others had an experience of the Holy Spirit and sought ways to share life together, said Jim Kolar, CCR founder and coordinator. In 1978 members responded to what they understood as the Lord's call to form the lay community.
CCR's way of life, like that in many covenant communities, is about authentic conversion to life in Christ, sharing in that life in community and evangelization, and involves regular gatherings and small-group participation designed to help members grow in holiness through relationships and teaching. After completing formation, community members can make a covenant — or lifetime — commitment to support each other in the body of faith.
From the start, this covenant commitment that defines the communities "wasn't just a polite society or some friends getting together," Kolar said. "There was something spiritual about how God wanted to join lives together to do something."
The community became a private association of the faithful in the Archdiocese of St. Paul and Minneapolis in 1985 and now has about 400 adult members. CCR members have assisted with development of Heart of the Redeemer in Kansas City, which formed in 2009. The new community has about 85 adult members.
Inspired by the Renewal, CCR members who were on the youth center staff focused youth and college ministries more on the need for a personal relationship with Christ and evangelization, Kolar said.
The middle-school and high-school retreats were popular enough in the archdiocese and other dioceses to eventually keep a team traveling all year. Now what came to be NET Ministries in 1982 has teams of young adults who have ministered to more than 1.8 million young Catholics on over 30,000 retreats, as well as internationally.
At the same time, youth center staffers working with students on Minnesota campuses developed an evangelization process involving Christian relationships and prayer for release of graces from baptism and confirmation to foster Christian maturity and effectiveness, DeMarais said. St. Paul's Outreach was started in 1985, and this year alone its missionaries have reached 17,000 students on college campuses in eight states.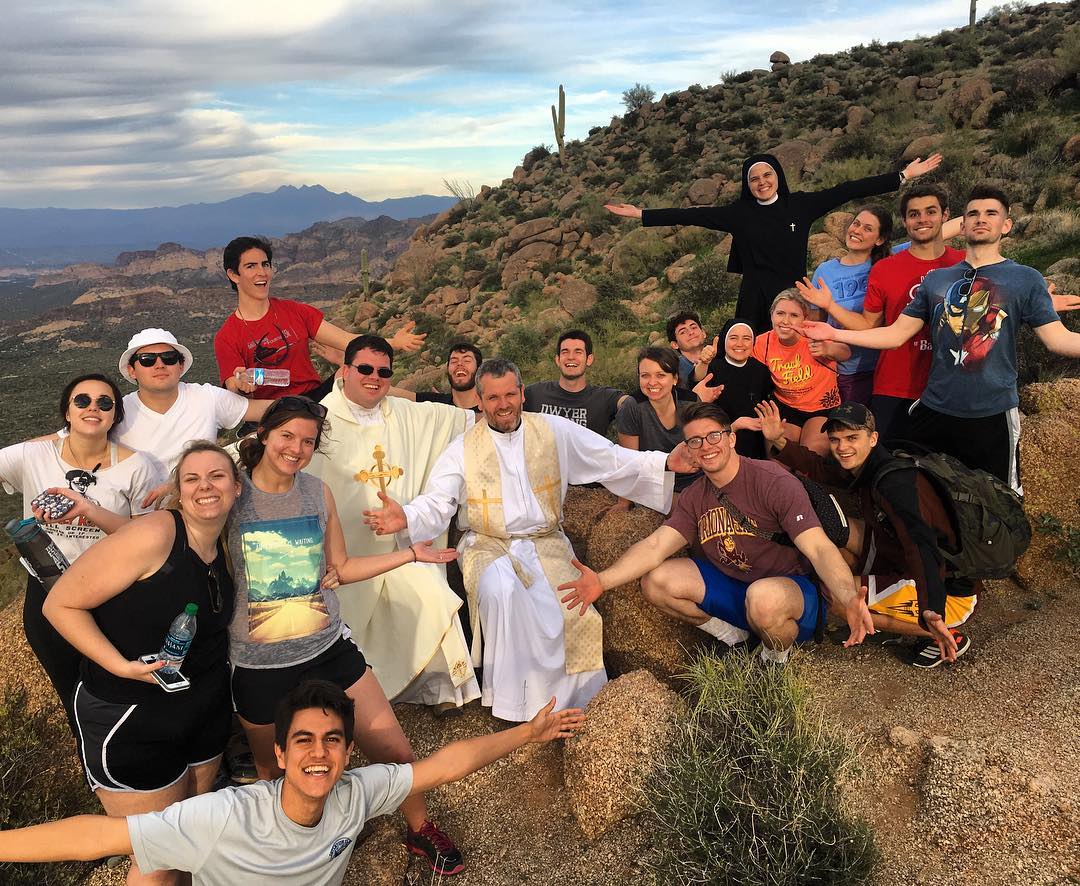 Working with SPO is the Brotherhood of Hope, a Boston-based Catholic religious community, also with roots in the Renewal and with a New Jersey covenant community.
Another organization that grew out of the Catholic Youth Center and CCR is the Companions of Christ, a fraternity of diocesan priests and seminarians in the Archdiocese of St. Paul and Minneapolis. In 1992 it was established by the archdiocese as a public association. It currently has as members 29 priests and one bishop. Several hundred evangelization and other ministries are associated with or inspired by the Renewal, according to the Catholic Charismatic Renewal's National Service Committee, a body of leaders in the Catholic Charismatic Renewal.
Newer generations doing charismatic ministry aren't going through existing structures and don't always call themselves "charismatic," said Walter Matthews, executive director of the Locust Grove, Virginia-based National Service Committee. "It's not totally new, but it may be a refocusing or re-articulation of that grace that was poured out in 1967."
One source of growth has been connections between covenant communities. CCR is one of a network of more than 82 Catholic and ecumenical covenant communities worldwide called the Sword of the Spirit, which is based in Ann Arbor, Michigan. All the communities share a common vision, way of life and spiritual culture. 
As one of Sword of the Spirit's 45 Catholic communities, CCR is self-governed but makes decisions within the network and shares a support structure, said Steve Clark, past president of Sword of the Spirit and an early Renewal participant.
"The community part of what we call a covenant community is the way people live, the common way of life, and it's a big support to living in the kind of culture we have now," he said.
City of the Lord Catholic charismatic covenant community based in Tempe, Arizona, belongs to the Catholic Fraternity of Charismatic Covenant Communities and Fellowships, a pontifical association of Christ's faithful serving member communities in the United States and 219 countries around the world. It also has an alliance with Sword of the Spirit.
The lay community, formed in 1984, has more than 200 members, with California branches in Los Angeles, San Diego and Monterey Bay.
With the help of Sword of the Spirit and SPO, City of the Lord has expanded its outreach to youth. 
"The future of the Church is in the youth, so we definitely are focused there," said Peter Poppleton, its overall coordinator.
Franciscan Connection
Students at Franciscan University of Steubenville in Steubenville, Ohio, may not know about the Renewal, but they see what it has brought to campus, including more sacraments, faith-centered households and the growing theology department, said Alan Schreck, professor of theology at Franciscan since 1978.       
"It all begins with them encountering Jesus Christ in a vital faith environment — that would be the great fruit of the Charismatic Renewal," he said. "It really showed people that faith and encountering Christ are the keys, and that is the work of the Holy Spirit," Schreck said. "The fruit of changed lives is a life of deeper prayer, study of faith and service to the Church and others."
Having a mission motivates many young people, Berchem said. "When you see God using you, it motivates you to take your faith more seriously. It also opens you up to ask the question, 'What else does God want me to do?'" 
The same is true for young professional adults involved in SPO and those transitioning into community life at Heart of the Redeemer, Karr said. "People don't want to be formed just to be holy, but to make a difference in other people's lives."
Communities and youth ministries create a pathway and destination for young adults seeking authentic relationships after finishing college, he said. Children of community members, now adults, are raising their own families in the community, DeMarais said, noting that half do at least a year of service after high school.
Early in the Renewal, Matthews hoped that all Catholics would join it. "Now I understand that the movement is a grace to be poured out," he said. "The movement, structures and people who perceive themselves as part of the Charismatic Renewal are called to be channels by word, deed and lifestyle, pointing towards the power and grace of the Holy Spirit in our everyday lives … so the whole Church can experience this grace individually and as parishes."
Some things have changed little since the Renewal began. Sword of the Spirit communities still focus on the "baptism of the Holy Spirit," the spiritual gifts and the centrality of Christ and his lordship, Clark said. Worship and the pattern of living are similar but more effectively ordered, he said.
In some ways, covenant communities are still discerning their call, Karr said. "The Lord seems to have some use and purpose for … communities where people are striving to live out the Gospel mandate: To evangelize, authentically know each other and pastorally care for one another in this culture environment is really, really important."
The grace of the Charismatic Renewal offers hope for the Church through a new generation of young people alive in faith, DeMarais said.
"What the Lord has given the Church through the Charismatic Renewal over these last 50 years is a gift for our time. In the midst of a culture that is increasingly indifferent, and even hostile, to Christian faith and life, the Holy Spirit is reawakening faith through a personal encounter with Jesus Christ, bringing people together in intentional relationship and forming them in a practical way of living the Christian life. I think the Holy Spirit's renewal in the Church is just beginning, and I have a lot of hope for the future."
Susan Klemond writes from St. Paul, Minnesota.