Culture of Life vs. Culture of Death on the Same Street
Opening a pro-life pregnancy center near an abortion center, or even in a former abortion business, is a strategy that is saving lives across the country.
Abortion giant Planned Parenthood turns 100 on Oct. 16, but its influence is waning, thanks to pro-lifers.
In Creston, Iowa, a former Planned Parenthood has become a life-affirming pregnancy center. It opened this July.  
LC Clinic's Ruth Fennessey, the director and a registered nurse, was looking for a second location when she found a building formerly used by Planned Parenthood, where "telemed" abortions (video conferencing allowing doctors to prescribe abortion-inducing drugs) were performed.  
"The building was not within our price range," Fennessey said. "Then, through God, a generous donor wanted to give a large donation to allow us to purchase the building. God was working in that person's heart."  
The donor who made the purchase possible wishes to remain anonymous. 
Now, LC Clinic's free services include pregnancy testing, ultrasounds (with a unit donated by the Knights of Columbus), counseling, parenting classes, material assistance and more.  
Fennessey says business is "steady and growing," with the budget doubling in the past five years through fundraising. "Even five years ago, six years ago, when there was no clinic yet, we were hoping and praying to start a pregnancy center in Creston," she said. "God just opened the doors."
New Orleans' Women's New Life opened two doors down from Planned Parenthood to literally "meet women where they're at" and emphasizes holistic services, "whether it's for general women's health or for options with an unplanned pregnancy," said CEO Angela Thomas. "We want women to know that they have other options that are life-affirming and better for them as women. We're outside the box of the typical pregnancy-center model and offer full care for women." Starting next year, the center will also offer the abortion reversal procedure. Dr. Susan Caldwell said the treatment is for pregnant women who have recently ingested the first (mifepristone) of two (misoprostol) abortion pills.
As a way to advertise pro-life options, women who park for a visit to Planned Parenthood immediately see a billboard on the side of New Life's building.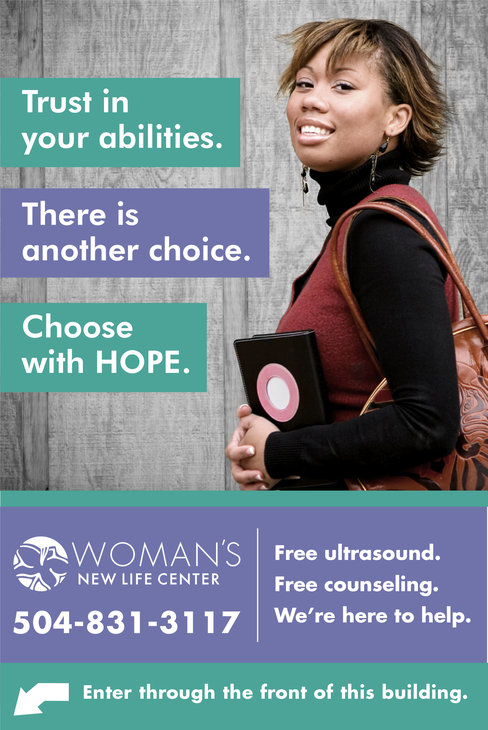 While Planned Parenthood just opened a mega center nearby, two workers have left their jobs in recent months and come to Women's New Life for trauma counseling. As Thomas said, "When these women realized we were there for them, they came to us. They didn't want to be at Planned Parenthood, but needed support to step out in faith. They really need healing now." The women who left Planned Parenthood were connected with And Then There Were None, an organization that assists abortion workers who want to leave the industry. It was started by Abby Johnson, Planned Parenthood-director-turned-pro-life-advocate.
Such pro-life vs. Planned Parenthood endeavors are cropping up across the country.
In Kentucky, a new pregnancy-resource center, A Women's Choice Resource Center, is set to open a new, larger location to better serve women and children in early 2017 — just four blocks from a Louisville Planned Parenthood.
On Long Island, The Life Center has three of its four AAA Pregnancy Options centers strategically located across the street or down the block from Planned Parenthood. 
According to Gloria Schreiber, the executive director, "Being in close proximity to an abortion clinic creates the opportunity to work with sidewalk counselors as they speak with young women looking to abort their babies. As they redirect and walk them to our centers, the hope is that both their lives and the lives of the babies will be saved. We cannot put a price on saving a baby's life from abortion."
"Being in close proximity to Planned Parenthood's doors increases the number of baby saves exponentially," she added. "We educate the women and men in unplanned pregnancies on the options available for their unplanned pregnancies other than abortion (parenting with support resources and adoption). We can educate them on fetal development and the numerous risks of an abortion so they are truly making an informed decision. We've had many abortion-vulnerable women and men come to our Massapequa center directly across the street from Planned Parenthood, even though they had appointments scheduled at Planned Parenthood, because they saw the words 'options' and 'free services.' This has resulted in babies lives being saved and women spared the lifelong ramifications of abortion."
And in other good news, Pregnancy Aid Center, part of the only Catholic pro-life pregnancy network in Georgia, has just moved into a former abortion center in Forest Park, Georgia.
"We'd outgrown our former space. We could only fit 25 people into our parenting classes, and that was using the lobby area," said CEO Marla Brown. "We jumped at the chance to purchase the building where hundreds of abortions were performed, but we wanted to keep it quiet until the sale was complete. When word got out, the abortion people did everything they could to stop the sale."
The abortion provider also moved to larger premises, but the city of Atlanta is now covered by a "crucifix of love," according to Brown. With a center in southern Atlanta, a mobile RV unit going east and west across the city and a center opening last year in northern Atlanta, the "points" of the crucifix are now complete.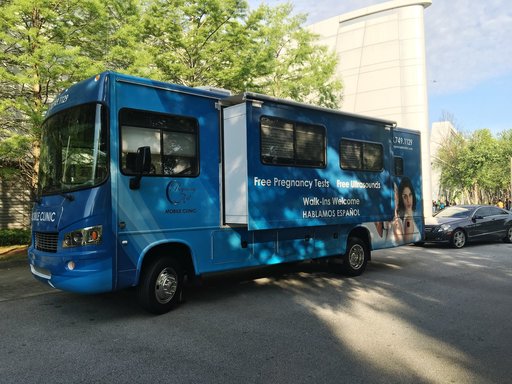 Even before opening, the new facility was blessed on Sept. 20 by Msgr. Edward Dillon, who led prayers for the unborn lives that were ended there, as well as for their mothers.  
Also before opening, Brown said, "We made sure our 'free' signs were up ... free pregnancy tests, sonograms, counseling. Many times, a client comes to us simply because it's free, not sure if we do abortions or not. We just have to get them in and talk to them so they get the full truth."    
The abortion center is now two doors up the street. "We have a window of opportunity," said Brown. "There's often a group praying out front and offering to speak with the people heading in. They can prayerfully suggest the woman first see her ultrasound, something that will not happen at the abortion center. Just yesterday, we had a woman and her mother-in-law. The mom wanted the abortion, and the mother-in-law was trying to get her to keep the baby. They asked to see an ultrasound at the abortion place, and they wouldn't show it to them. We were happy to show them the sonogram of the baby for free, and, as is often the case, that made the difference in keeping the child."
In another telling incident, a woman and her boyfriend went for an abortion. After a pregnancy test and sonogram, she was prepped for an abortion. The boyfriend was hesitant and asked to see the sonogram pictures. He was told no. The couple decided not to go ahead with the abortion. Upon leaving, they were told they owed $150 for the sonogram that they weren't allowed to see.
"This couple came over to our center, and we were thrilled to show them the sonogram pictures of their baby. This mom went ahead with her pregnancy, and, recently, she and her boyfriend and baby were guests at our annual gala," reported Brown.
Being in close proximity to Planned Parenthood is also central to Obria pregnancy center's mission, which involves bringing existing individual pregnancy centers under the Obria brand. CEO Kathleen Bravo, herself post-abortive, explained: "We have over 2,500 pregnancy centers here and there across the country, with so many different names, and a unified brand makes us a player in the field. All of a sudden, we're competing with Planned Parenthood and their unified brand. It increases competition with them enormously. In too many communities, the young girls have no idea where their nearest crisis-pregnancy center is, but they sure know where Planned Parenthood is. We're looking strategically for properties right next door to them. We want the young women to find us and to start coming to us for all their women's medical needs. We have to break the woman's relationship with Planned Parenthood and the mentality of sex without consequences, and get them into a true health care setting, preferably before they find themselves pregnant. Instead of being reactive, we're being proactive."  
Over the next five years, Obria plans to open 200 new centers through a $2.5-million grant from the Catholic Campaign for Human Development, a subcommittee of the U.S. Conference of Catholic Bishops, focusing on locations as close to Planned Parenthood as possible.
"What can we do to shut down Planned Parenthood?" is the motivation of Guiding Star of Tampa, Florida.  
"These young women are going to a board of health clinic paid for with our tax dollars, and those clinics are referring them to Planned Parenthood for abortions. We want a new model of a crisis-pregnancy center, one that is a comprehensive women's health center. We want these women coming to us for their annual physicals, so that if and when they find themselves pregnant, they're already used to coming to us, and we are not going to send them for an abortion," said Ana Hidalgo Stooks, board member at large, referring to the organization's similarity to Obria; the two have begun a partnership of sorts.  
"The whole idea is building the woman up," Stooks emphasized. "We want a nice office with nice furniture, with warm and friendly staff. Our motto is 'empowering women, embracing children, enriching families.' From the moment they see their positive pregnancy tests and throughout their ultrasounds, we're talking positive — 'Wow, look at this little baby.' We assume they're keeping their babies; we assume they can do this."
Two of Heartbeat of Miami's four medical clinics are located in former abortion facilities, too. In 2015, Heartbeat watched a Planned Parenthood across the street close its doors.
It was a victory for a city immersed in the industry, said Heartbeat President Martha Avila.  
"Sadly, Miami has the most abortions — and abortion providers — per capita in the nation. There's only one choice that makes money for Planned Parenthood. Women don't hear about real choices from them. The truth is, these women are very open to hearing about real options. Over 85% of the women we see are abortion-minded. They think they want abortion, but when they hear there are actually other options, they're so eager to hear it. This points out these women really do not want an abortion: 90%-92% of our clients chose life! This points out how these women really do not want an abortion. They just need to be educated on the truth and given support."
Another former abortion facility is now saves lives in Texas. Hope Pregnancy Centers of Brazos Valley purchased a Planned Parenthood building last year after the abortion center closed. The pro-life organization remodeled the facility and opened in September. 
"What was once a place of death and grief, where an estimated 6,400 abortions were performed, has been transformed into a place of life," said Tracy Frank, Hope's executive director. "We feel like we have reclaimed and redeemed the ground."
And Hope Medical Center in Washington put together a crowdfund last year to purchase a former Planned Parenthood building that was put up for auction. In just three and a half weeks, $357,000 was raised and the building for purchased for $250,000. The remainder was used for such things as taxes, closing costs, replacing the heating system and splitting the cost of an ultrasound machine with the state Knights of Columbus.
Said manager Shira Wise, "Pro-lifers had prayed and counseled in front of this Planned Parenthood center for decades. Now we are a medical clinic with a medical director who oversees ultrasounds, STD testing and NFP (natural family planning). We tell women about the harms of contraception. The women see that we are treating them with respect and dignity."
Patty Knap writes from Long Island, New York.