Catholic 'Band of Brothers': Fathers and Sons Forge Faith, Camaraderie at Camp
Each summer Camp Kodiak offers high adventure with Catholic prayers, outdoor liturgies and spiritual formation.
Rafters along Alaska's remote Gulkana River expect to see their share of moose, bald eagles, king salmon and maybe a bear — but to float around a bend and find a robed Catholic priest celebrating Mass with 20 fathers and sons on their knees is rare.
Each summer for the past 22 years, however, Camp Kodiak has merged two weeks of high adventure with Catholic prayers, outdoor liturgies and spiritual formation for boys and their dads.
Founded by Legionary Father Kermit Syren, the program is geared for ages 11 and up, with the aim of inspiring a deeper Catholic faith and commitment to Christ.
"It's the perfect combination of God and his creation," Father Syren said.
Born and raised in Alaska, Father Syren is now in his 60s. For much of his priesthood, he has worked in youth and family ministry on the East Coast, including other Catholic youth camps, but he enjoys returning to his old stomping grounds each summer.
"I remember growing up in Alaska and being out in nature," he recalled. "It's about as primordial as it gets."
In fact, the wilderness serves as a filter for modern distractions like iPhones, video games and pop culture, he said. With no internet and few cell towers, these distractions are stripped away.
"I don't think the boys miss it," said Ray Arsenault, the camp director, who has worked with the camp for more than 20 years. "You don't hear them complain because they are busy and having fun."
Around evening campfires, the boys recall the day's adventures, listen to stories and share jokes. Others play cards or "capture the flag" in the forest.
"We just let boys be boys," Arsenault said.
Father Syren launched the camp in 1996 on limited funds. Since then, it has grown into an annual tradition that draws campers from around the world. Some 400 boys from all across the United States and Canada have attended the camp, as well as youth from Europe and Central and South America. On average, 15 to 20 boys attend each summer. The father/son special rate is $3,000, plus air fair.
The outings begin with a week of river rafting and world-class salmon and grayling fishing, followed by a week of backcountry hiking, glacier ice climbing, horseback riding, archery and survival skills in the Wrangell St. Elias National Park — the largest in the country.
Dr. John O'Brien of Syracuse, New York, the camp physician, has attended eight trips and admires the work Father Syren puts into making it a truly Catholic camp.
"He adds the daily Mass, the sacraments, the half-day retreat we have," O'Brien said. "He gives spiritual reflections to the men in the evenings and allows the boys to see religious life and a priest who loves his vocation and still has fantastic experiences outdoors."
The camp also provides opportunities for boys to stretch their limits physically and spiritually, O'Brien observed.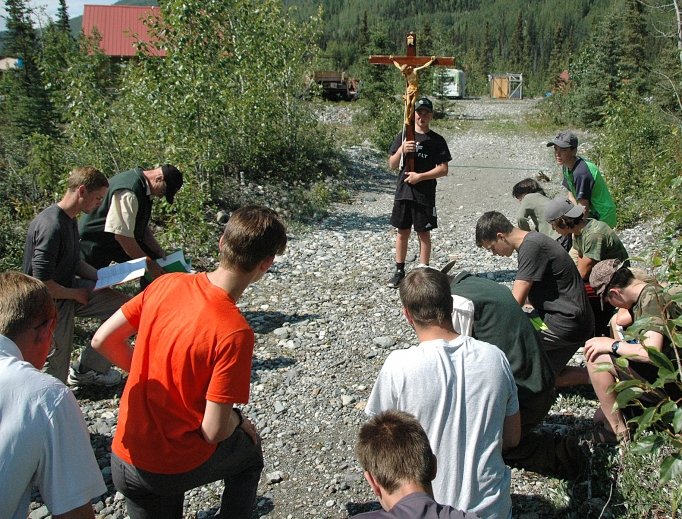 "It gives them an opportunity to be with other like-minded kids and dads and grandfathers," he said. "Having my two boys come here and being able to experience it with them — I wouldn't have this opportunity anywhere else."
Gary Holder, 14, attended his first camp last summer with his father.
"I enjoyed the competition and working on our virtues," he said. "I also liked going to Mass every day — it was awesome."
Holder had never met a priest like Father Syren — a man who has given his life to God in the priesthood, but who is also well equipped to navigate Alaska's wilderness.
"I was shocked," Holder said. "It was an awesome surprise."
In addition to Father Syren, two Legionary seminarians attend each summer — as a witness to young men discerning a vocation to the priesthood.
"The boys look up to the seminarians and see them praying and striving for holiness," Father Syren noted.
"That reflects back to the boys."
Throughout the camp, the seminarians organize the boys and create situations where they can learn and practice virtues.
One of the key goals is to challenge campers to surrender their whole lives to God. For the men, that means fully embracing their role as fathers, husbands and leaders. The boys are encouraged to ask God what he wants of their lives, whether it is marriage and family or the priesthood.
"There have been many young men who have come to camp and then have gone to the seminary," Arsenault said. "Some find out that it wasn't their vocation, but the beauty is that they actually gave God the first shot at their lives. We talk about things like that."
Leadership development is another critical aspect.
Given the remote setting and physical challenges, opportunities for growth abound.
"Even years later boys and dads will talk about how the experience helped them mature as leaders," O'Brien said.
The enduring camaraderie is something he cherishes.
"We've created an incredible bond, and we can talk together at other times of the year," he said. "When issues come up, you know you have a band of brothers to talk to."
As camp director, Arsenault has built a team that includes a full-time cook, medical doctor and local guides. The presence of fathers and grandfathers adds another dynamic.
"We started realizing that there was a crisis in fatherhood, and we thought we should be doing something about it," he said. "And the reason there is a crisis in fatherhood is because there is a crisis in manhood. Boys and men don't know how to be men. That's not the case at Camp Kodiak."
The goal, he said, is to involve dads in most activities, while offering separate evening reflections tailored to the two age groups.
"We try to create an atmosphere in which anyone can hear what God is calling them to do," Arsenault said. "What is he calling the married men to do? For a young person, is he calling them to a vocation? And you try to make it as much fun as you can."
Joel Davidson is the editor
of the Catholic Anchor, 
the newspaper of the
Archdiocese of
Anchorage, Alaska.
INFORMATION
"Kodiak '18" will be July 7-21. The application deadline is May 30 via CampKodiakAlaska.com.