Lawsuit: National Archives Museum Staff Wrongly Harassed Pro-Life Visitors
Sekulow's organization is representing four plaintiffs who all visited the museum on Jan. 20, the same day as the March for Life in Washington, D.C.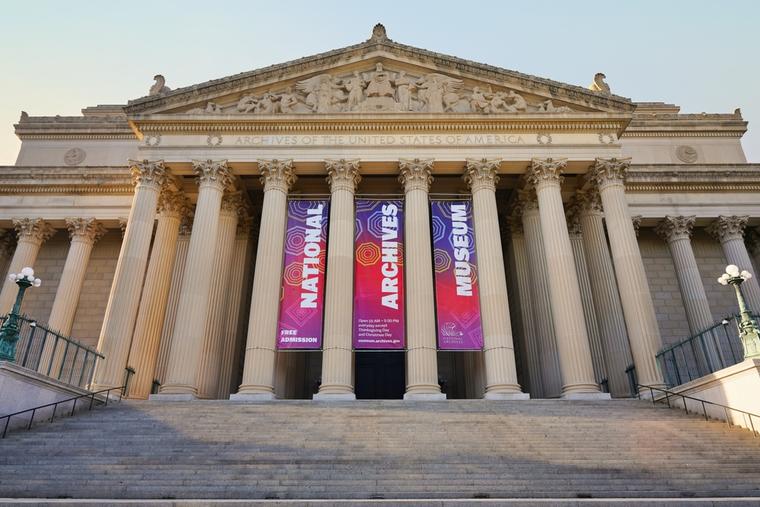 Pro-life advocates who visited the National Archives Museum last month have filed a lawsuit charging that staff at the museum told them to remove any pro-life clothing or leave.
"All of our clients were told by National Archives employees that they had to take off their religious, pro-life apparel or leave the museum," Jordan Sekulow, an attorney and executive director of the American Center for Law and Justice (ACLJ), said in a Feb. 9 statement.
Sekulow's organization is representing four plaintiffs who all visited the museum on Jan. 20, the same day as the March for Life in Washington, D.C.
"As the home to the original Constitution and Bill of Rights, which enshrine the rights of free speech and religion, we sincerely apologize for this occurrence," the National Archives and Records Administration said in a Feb. 10 statement.
National Archives and Records Administration policy "expressly allows all visitors to wear T-shirts, hats, buttons, etc. that display protest language, including religious and political speech."
According to Sekulow, security officers "instructed a whole group of Catholic students and chaperones to remove or cover up all their religious and pro-life clothing while standing in the same room as the Constitution of the United States."
The student group was from an unidentified Catholic high school in Michigan. Their apparel included hats that bore slogans including "Life Always Wins" or simply "Pro-Life."
Another plaintiff, a Protestant Christian, visited the museum with her Liberty University Law School group. She and her peers wore sweatshirts that said "I am the Post-Roe Generation: Law Students for Life."
A security officer told her that the apparel would "incite others" and alleged that she was "disturbing the peace," according to the complaint. She was told to take the sweatshirt off if she wanted to enter. She and her group complied.
However, the plaintiff saw other visitors wearing pro-choice slogans like "My Body My Choice." They appeared not to have been approached by security staffers.
Another plaintiff, who was visiting the museum with her granddaughter, wore a "March 4 Life 2014" T-shirt displaying the name of a youth group from a Glen Carbon, Illinois, Catholic parish. An official told her that the shirt was "offensive" and needed to be covered up.
"Treating religious pro-life speech differently than opposing speech is blatantly unconstitutional viewpoint discrimination," Sekulow said. "What is so egregious about this particular targeting is that it was done by the very federal institution that is home to our Declaration of Independence, our Constitution, and the Bill of Rights — the exact documents that call on our government to protect the freedoms of speech and religion, not trample on them."
The lawsuit was filed last Wednesday in U.S. District Court for the District of Columbia. It asks the court to declare that the plaintiffs' First Amendment and Fifth Amendment rights were violated and to declare that the actions violated the federal Religious Freedom Restoration Act. It also seeks an order for remedial measures, including training for staff to prevent similar incidents in the future.
The ACLJ is also representing several Catholic students who say they and their chaperones were wrongly kicked out of the Smithsonian Air and Space Museum because museum staff reacted with hostility to their matching blue pro-life hats, their supporters say. The student group from Our Lady of the Rosary School in Greenville, South Carolina, was also visiting the museum on Jan. 20, the day of the National March for Life.
Sekulow noted the multiple incidents.
"The fact that there were multiple instances of targeted discrimination in at least two federal buildings on the same day against pro-life advocates is no coincidence," he said Feb. 9. "Where there were two, there are likely more."
The National Archives and Records Administration said it is investigating what happened in interactions between staff and the three groups at the National Archives Museum.
"Early indications are that our security officers quickly corrected their actions and, from that point forward, all visitors were permitted to enter our facility without needing to remove or cover their attire," its Friday statement said. "We have reminded all of our security officers at our facilities across the country of the rights of visitors in this regard."
However, Olivia Summers, senior litigation counsel with the American Center for Law and Justice, questioned that explanation.
According to their clients' timeline, the earliest client had arrived at 10 a.m. and passed through security before being told to remove their pro-life apparel. The other clients arrived at 10:20 a.m. and 10:45 a.m., respectively, and were stopped at security.
"So it seems that they ramped up their efforts, not diminished them, at least within that hour," Summers told CNA Feb. 13.
Summers said attorneys are in the process of filing a temporary restraining order and preliminary injunction motion on behalf of several clients who intend to return to the museum. This action would come after a meeting with the museum's attorneys.