#WhyWeMarch: Scenes from 2015's National March for Life
WASHINGTON — The national March for Life in D.C. is not only a pro-life story, but a Catholic story. Amid the hundreds of thousands of people who gathered in Washington to show their solidarity with the unborn child on the 42nd anniversary of Roe v. Wade, the vast presence and diversity of the Catholic Church could be seen.
Each one came with their own reason for why they marched, and they show a cross-section of the Church that is young, vital, and engaged with their faith and the Church's teachings on life and human dignity.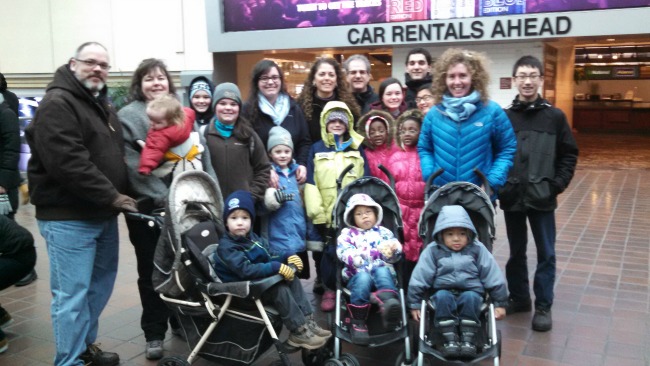 Marchers could be seen streaming into Union Station on their way to the March's rally at the Washington Mall, such as this group of Catholic families from Our Lady of Victory Church, in Rochester, N.Y.
"We're here for the sanctity of life," Paula Belemjian said. "We're marching for life to protect the unborn" — "a voice for the voiceless," added her husband, "the handicapped, the underdog."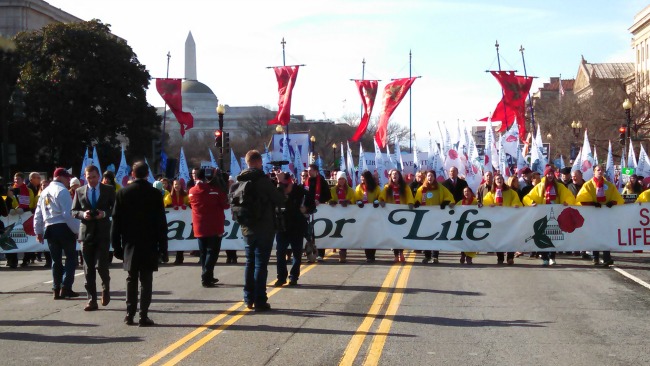 The march began in earnest at 1pm Jan. 22 after the conclusion of an hour-long rally that featured pro-life leaders, faith leaders, and a handful of politicians, speaking in defense of human life on the Washington Mall. A mass of humanity witnessing to the pro-life cause followed the March for Life banner down Constitution Avenue, with the Tradition, Family, and Prosperity's groups distinctive red banners flying overhead.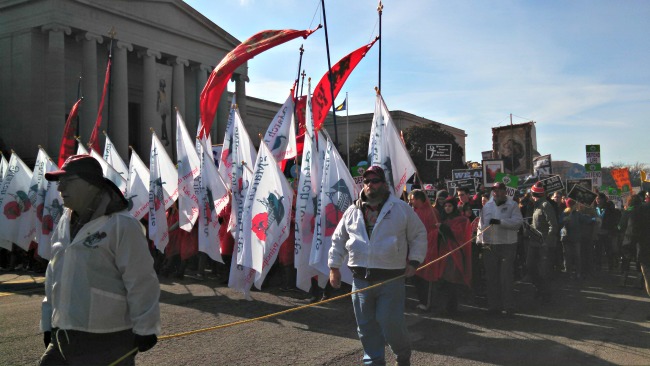 A wall of pro-life flags followed the March for Life banner. Behind them, among the signs that said "We Are the Pro-Life Generation" and "Women deserve better than abortion," could be seen the Knights of Columbus' "Defend Life" signs, papal flags and images of the Blessed Mother.
Throughout the March, the Catholic presence could be seen.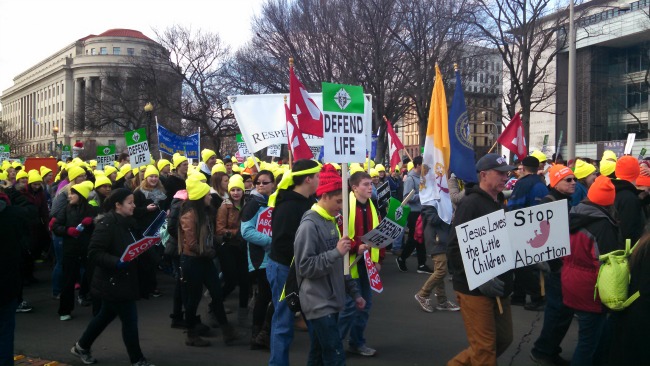 Many were marching alongside their bishops, especially those from dioceses far, far away. Catholics from the Archdiocese of Omaha traveled 22 hours by bus to march for life with their archbishop, George Lucas.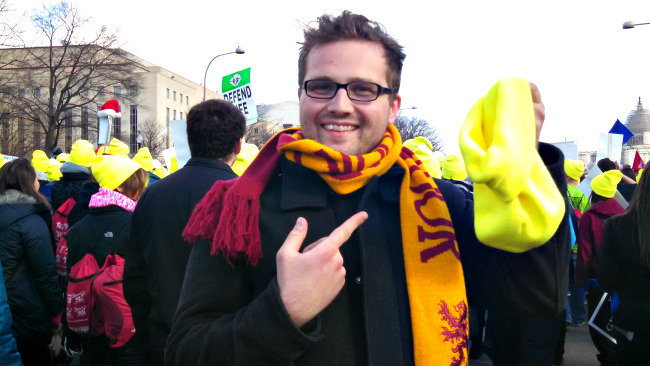 Nick Schattle, a youth minister from O'Neill, Neb. points out their distinctive yellow hats, and shared his own thoughts on the March.
"I feel really invigorated. Even Pope Francis tweeted about the March for Life today, and that really re-energized us for this mission."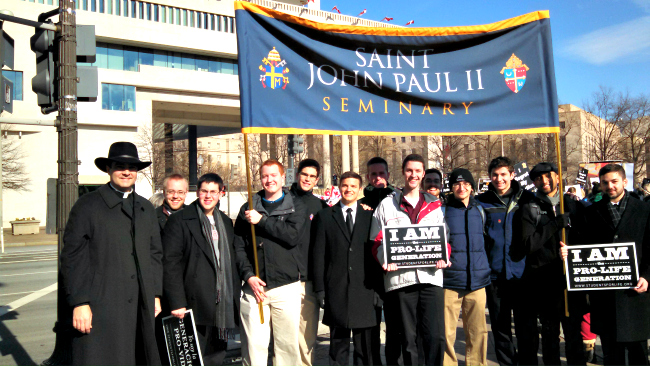 The Archdiocese of Washington sent its seminarians to participate in the March. The St. John Paul II seminary has attended every March since its founding four years ago.
"Today's a great day to pray for the unborn, to pray for mothers who are considering abortion," said Father Carter Griffin, vice rector and dean of students.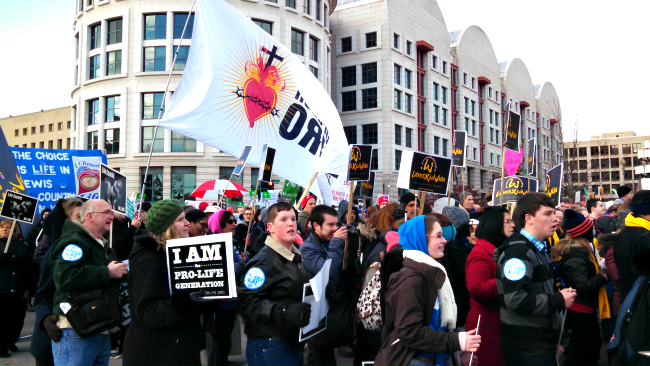 The pro-life Hispanic presence could be seen with Latinos por La Vida marching.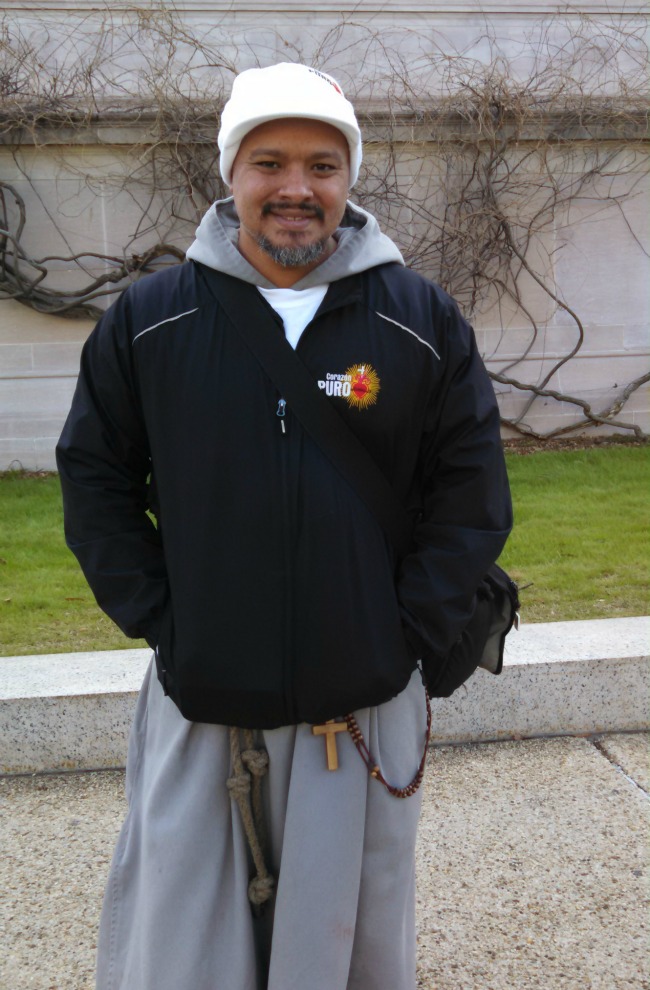 "I want history to remember that there were many people who are pro-life during the holocaust of abortion," said Father Agustino Torres, the group's co-founder.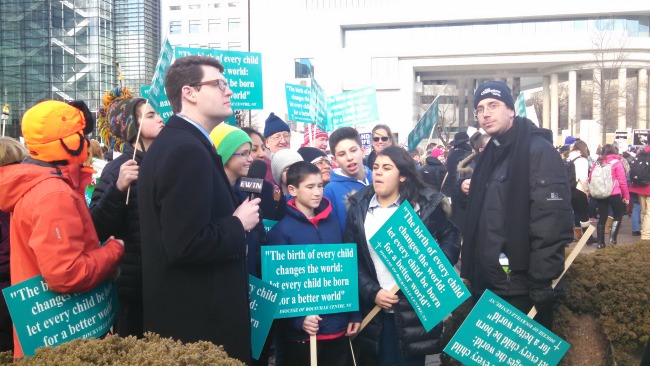 EWTN News was on hand to interview passing groups of Catholics including this group from the Diocese of Rockville Centre, N.Y.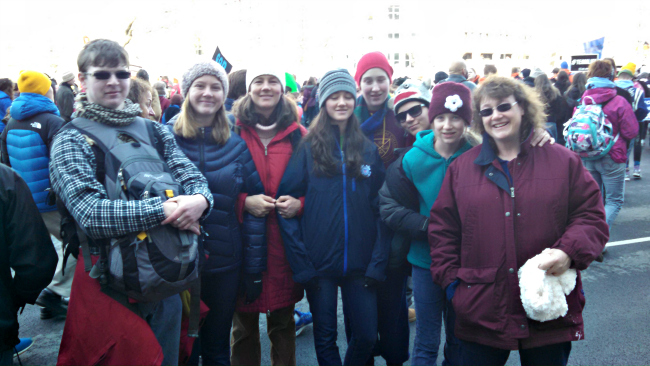 Among the mix were Catholic homeschooling families, such as these two families with the Mother of Divine Grace program.
"I think especially for youth, it's important to be here," said homeschooling mother Cyndi Montanaro.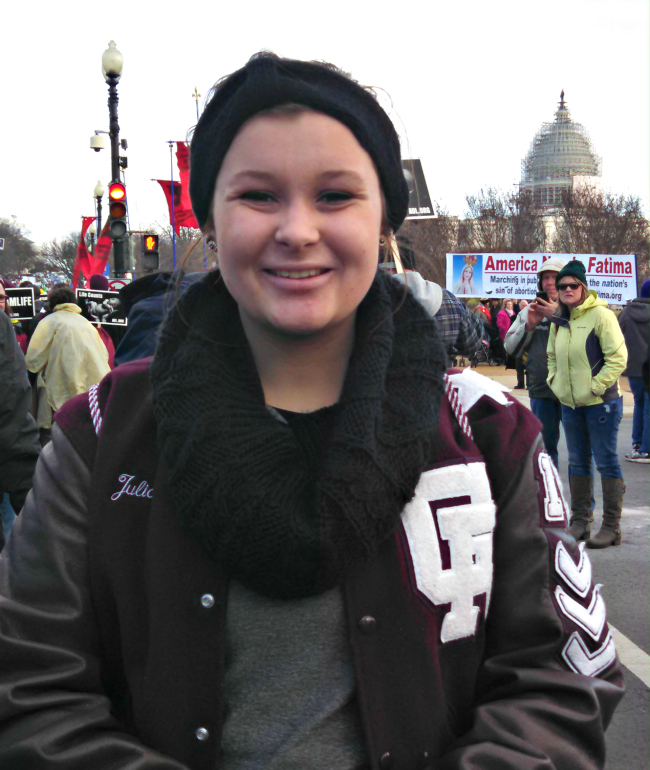 Many high schoolers too with their own stories. 
"My little brother was born with Down syndrome and my parents were advised to abort him in the second trimester because of complications with his life," said Julia Hilliard, a high schooler with Gabriel Richard Catholic High School in Riverview, Mich. "But now he's 12 years old and he's great. He's so happy and the kindest kid I know. It just upsets me when people abort kids because of their disabilities, when you don't know that it could turn out okay, and the disability wouldn't be that bad."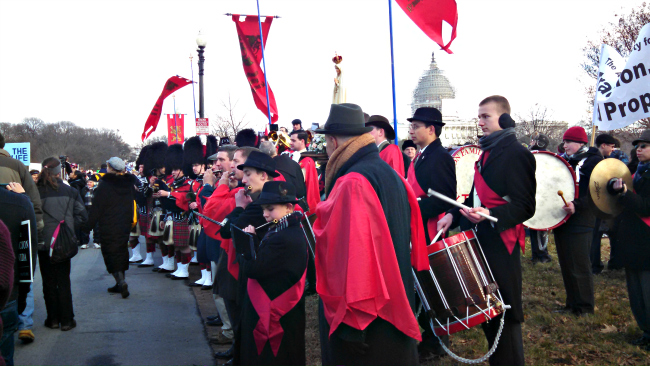 The Tradition, Family, and Property (TFP) group had its pipe, fife and drum band playing for the marchers, thundering out at one point a beautiful rendition of "Hail, Holy Queen."
The group also was collecting a petition to send to Pope Francis asking him to definitively settle at the upcoming Synod on the Family some of the confusion of Church teaching on life, marriage, and family that arose out of the media's coverage of the extraordinary synod back in October.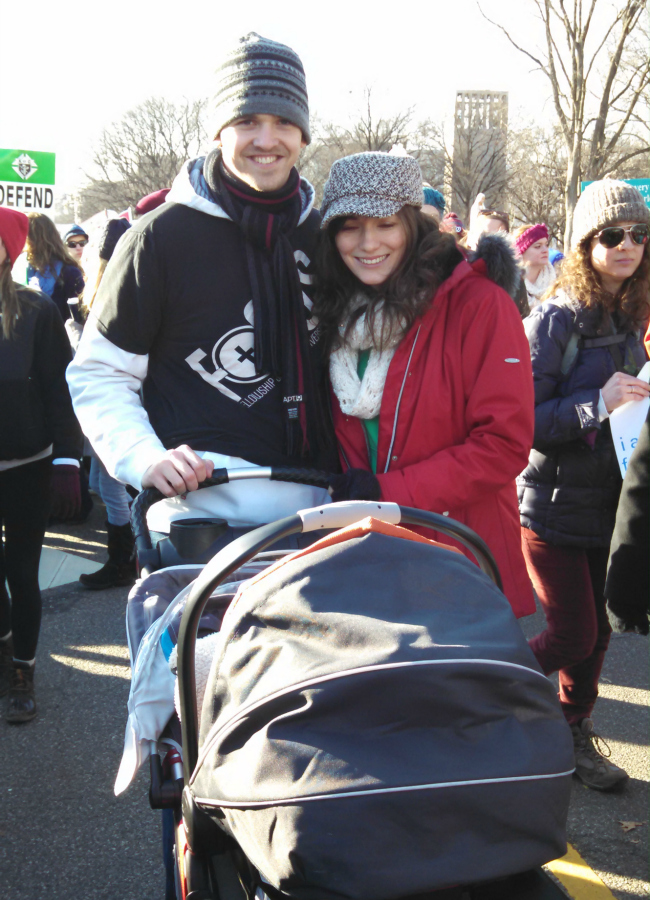 Joshua and Peggy Johanni, a young couple in their 20s who met each other at Ave Maria University, were among the many young married Catholics who brought their babies and small children with them to the March.
"It's the summit of the pro-life movement each year, where we bring together every state in the nation and demonstrate what we've been working on all year long: overturning Roe v. Wade and establishing the sanctity of life subsequent to death," Joshua said.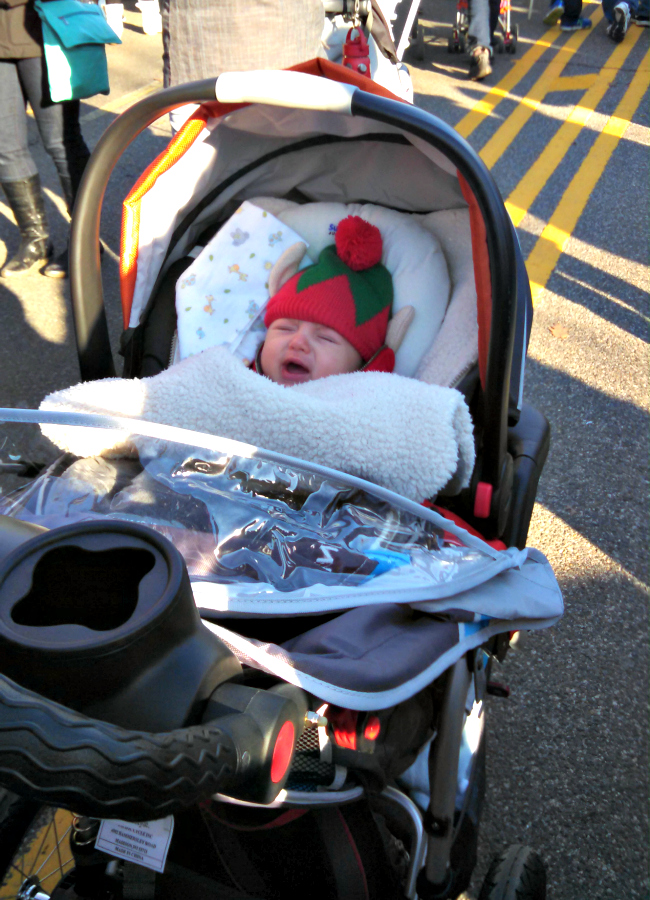 The littlest marcher. One of many, many babies parents brought with them to celebrate life.

Many Catholic colleges and universities showed their presence at the March. In particular, the University of Notre Dame. The university had its largest contingent yet as more than 700 students and faculty, along with president Father John Jenkins, marched to the Supreme Court building.
"We're here on behalf of the university to witness to the culture of life, and defend every life from conception to natural death," said senior Erin Stoyell-Mulholland (right).
"We're really excited to have such a strong presence and it speaks to the culture of life that we seek to promote at Notre Dame and throughout the world."
Sister Louis Marie Zogg, (center) an Ann Arbor Dominican Sister and one of the earliest Notre Dame grads to go the March for the first time with the university, when there were more than 120 students attending.
"This is our ninth year being here, 700 students later, and our hope is to have this exponential growth continue each year going forward," Brett Perkins, assistant director for Notre Dame's office campus ministry.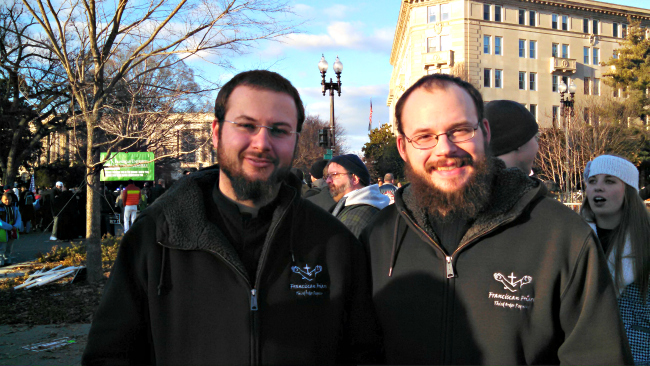 The March featured a great gathering of youthful religious orders with sisters, brothers, and priests of all habits, shapes, and sizes.
"I'm a believer in the beauty of human life, and I think it's one of the great crimes of our country that innocent life is so disrespected," Brother Daniel Maria, (left) a Third Order Regular Franciscan out of Loretto, Pa.
"I've been coming for the last 15 years, on and off since my childhood, and I think it's important to make a tangible stand for human life, the gift we have, by standing up and being here," added Brother Stephen Mary (right).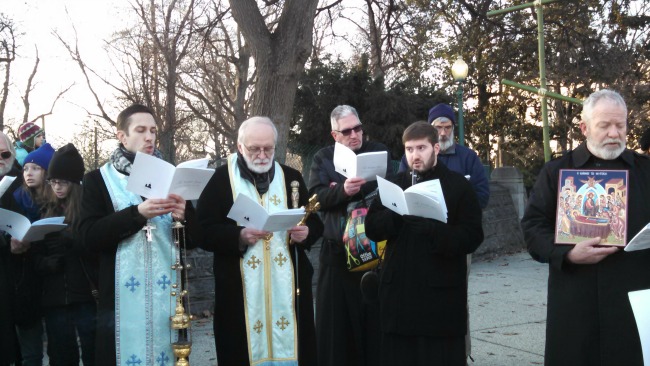 Right outside the U.S. Supreme Court building, Eastern Catholics of different rites — lay faithful, priests and religious sisters — gathered with Bishop John Kudrick of the Eparchy of Parma, to sing the beautiful Akathist hymn as incense wafted in the cold breeze.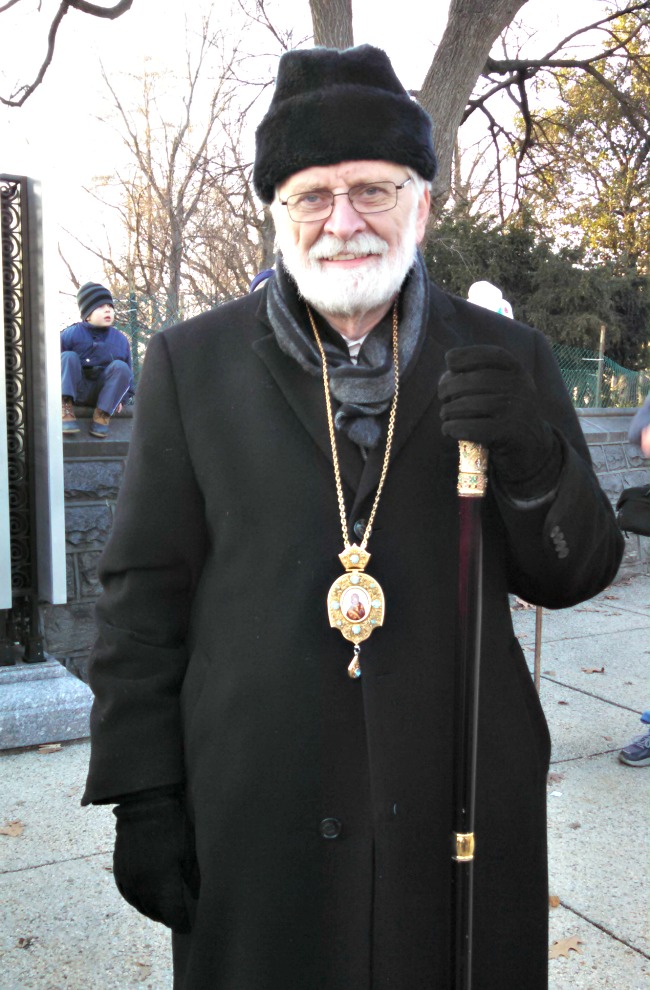 "It is so important for us as Eastern Catholics to show that we participate in the universal Church, and it's important for us and for the Church to be here," said Bishop Kudrick, "because it is clear that although there are natural reasons why abortion is horrible and horrific, the Church has a very special message that [Christ's] drawing us to himself begins at conception…that union with God comes through our humanity, and so we must proclaim our faith in that or else the rest of life is meaningless also if it is meaningless before birth."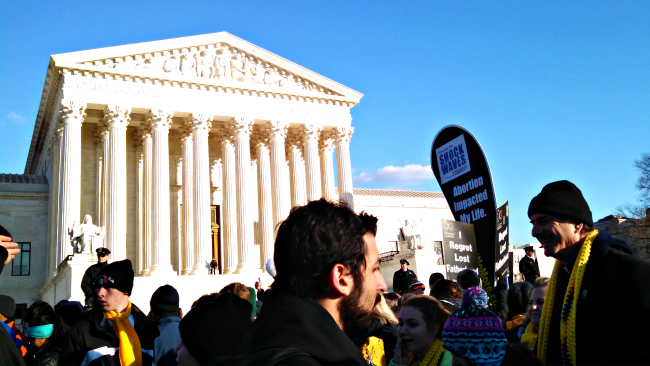 The March concluded where it all began 42 years ago: at the foot of the Supreme Court building where the infamous Roe v. Wade and Doe v. Bolton cases were handed down. A "Save the Storks" sign stood in front, and nearby on a platform, post-abortive mothers with Silent No More recounted their own stories of abortion, regret, and healing.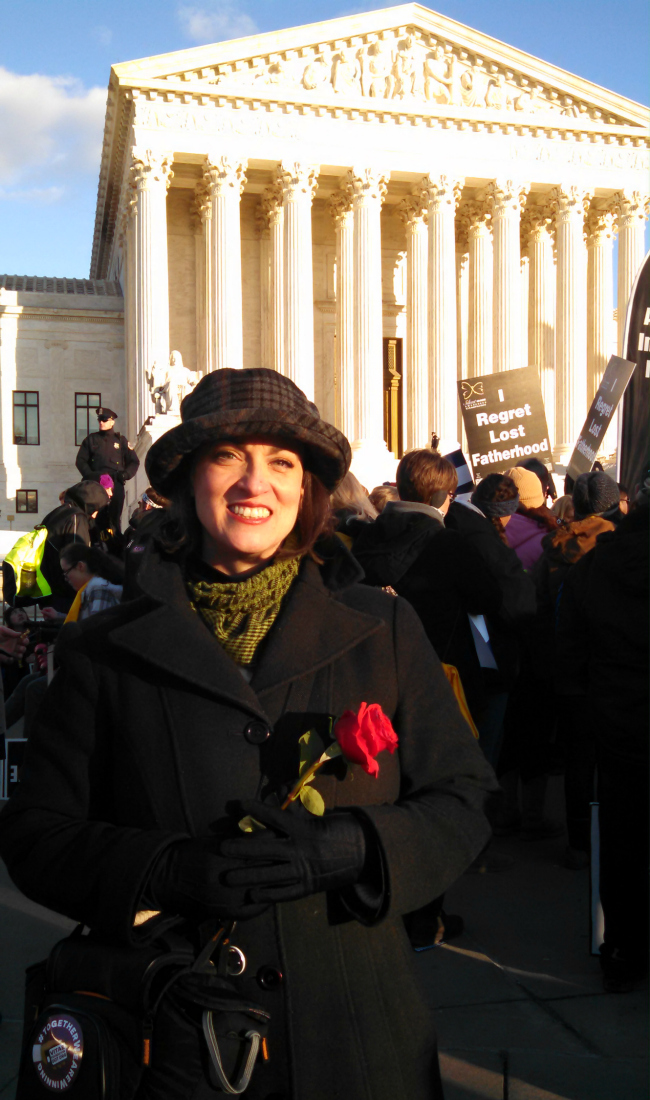 "We shall overcome," said Deirdre McQuade, assistant director of pro-life communications at the U.S. Conference of Catholic Bishops.
"I stand with the bishops, in solidarity with the bishops, in solidiarity with people of faith, in solidarity with people of no faith at all, who understand that this is the human rights issue of our age. And that if there isn't that fundamental right to life isn't respected, then what other rights will be respected?"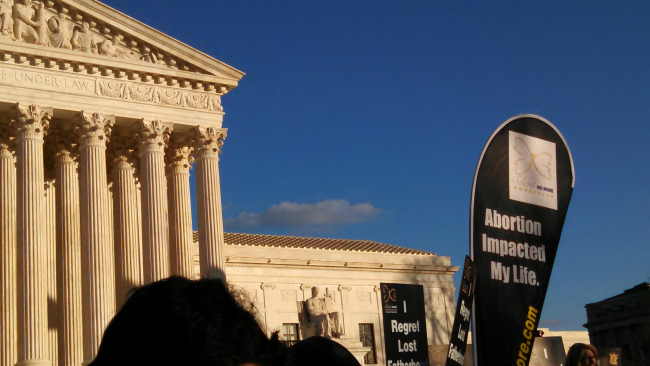 Peter Jesserer Smith is the Register's Washington correspondent. He reported at the March and took these photos. He can be reached on Twitter here.