Thousands of Pilgrims Pay Their Respects to Benedict XVI
By 7pm Monday, the Holy See Press Office had estimated that some 65,000 people had visited Benedict's mortal remains, and the line tailed back all the way around St. Peter's Square.
VATICAN CITY — Shortly before sunrise, as crowds of faithful began to gather outside St. Peter's Basilica to pay their final respects to the late pope emeritus, Benedict XVI's mortal remains were transported from his Mater Ecclesia Monastery residence in the Vatican Gardens to the basilica.
Accompanied by his long-serving personal secretary Archbishop Georg Gänswein and other close aides on the brief 15-minute journey to St. Peter's, Benedict's body was carried by 10 pallbearers and placed on a simple dais at the front of Altar of the Confession, where it will remain for three days for the faithful to pray and bid farewell to the late pontiff.
Before allowing the general public and the media to enter, the archpriest of the basilica, Cardinal Mauro Gambetti, led a short, private translation ceremony lasting about half an hour.
Dignitaries and those closest to Benedict then had a few moments to pay their respects without the glare of the world's media.
Archbishop Gänswein kissed the late Pope's hands, adorned with a rosary, and embraced some visitors who offered their condolences. Italy's President Sergio Mattarella and Prime Minister Giorgia Meloni also said their final farewells in seating placed on either side of Benedict's mortal remains.
His body, vested in traditional red liturgical garments with a miter, was without the pallium, which is normal for a retired prelate, as it is symbolic of a bishop's jurisdiction. Also missing were the papal insignia, the papal crosier and red shoes normally worn by popes, thereby conveying that Benedict was no longer pope when he died.
At 9am, the doors of the basilica were opened to allow thousands of pilgrims from all over the world to pay their respects. Many stopped to pray, bow or genuflect, and photographs were allowed.
Cardinals, prelates, priests and religious visited the body of Benedict lying in state, praying silently next to his mortal remains. They included U.S. Cardinal James Harvey, who managed the papal household first for John Paul II and then for Benedict XVI; Cardinal Angelo Comastri, the archpriest emeritus of St. Peter's Basilica; and Cardinal Tarcisio Bertone, who served as Benedict's secretary of state.
By 7pm, the Holy See Press Office had estimated that some 65,000 people had visited Benedict's mortal remains, and the line tailed back all the way around St. Peter's Square. As expected, the numbers did not match those when Pope St. John Paul II lay in state, when the line extended all the way to the banks of the Tiber, but the number of mourners is likely to increase over the next day or two.
The Vatican has said the exposition of the body will be open to the public to pay their respects from 7am to 7pm on Tuesday and Wednesday.
Details of Thursday's funeral in St. Peter's Square have yet to be published, but Holy See Press Office Director Matteo Bruni has said Benedict will be buried, in accordance with his wishes, in the same part of the crypts of St. Peter's Basilica as Pope St. John Paul II.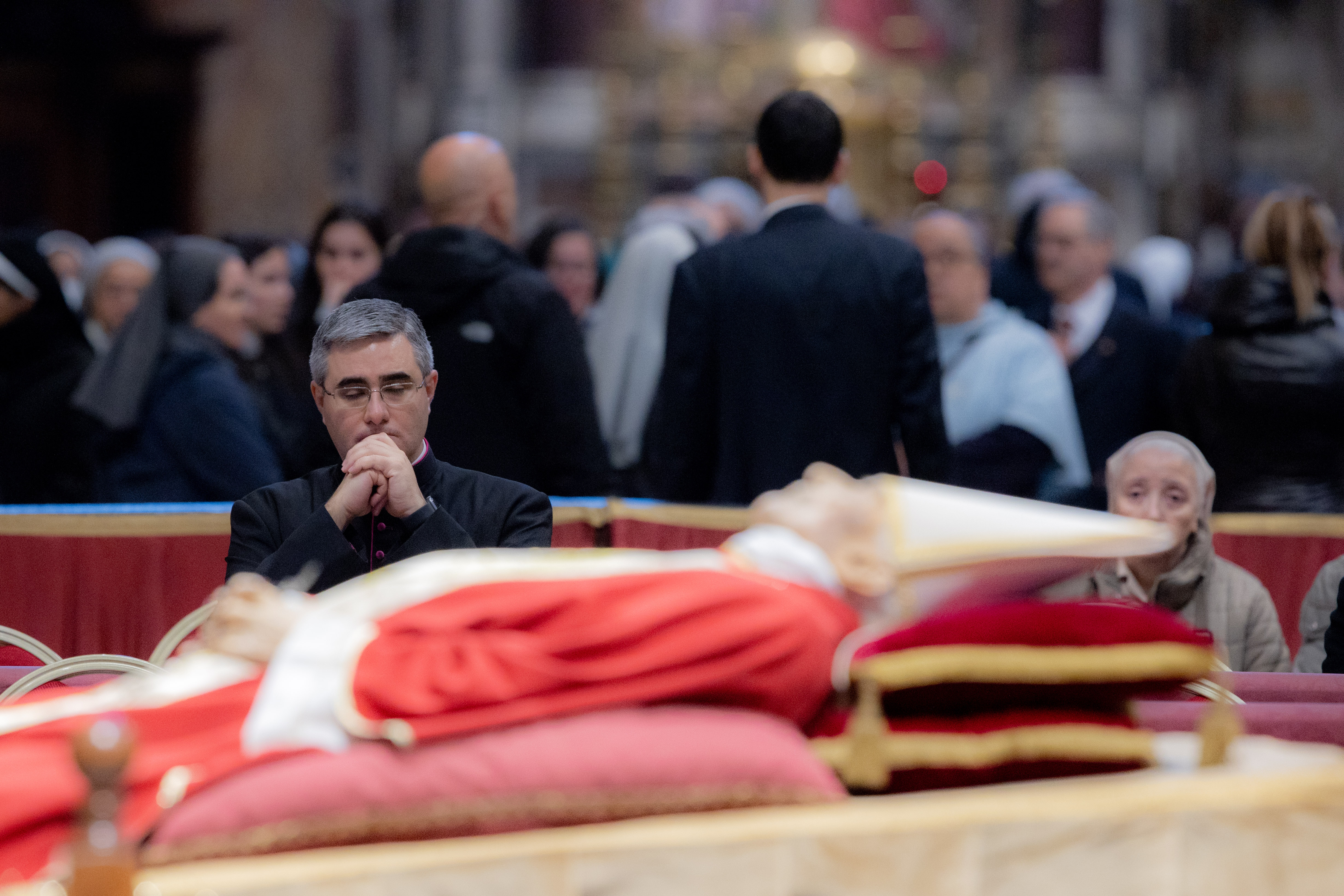 The Polish pontiff, whom Cardinal Joseph Ratzinger worked so closely with as prefect of the Congregation for the Doctrine of the Faith, was initially interred there before his remains were translated to a tomb in one of the basilica's side chapels when he was beatified in 2011. A number of other former popes are also buried in the basilica crypts, including Blessed Pope John Paul I and Pope St. Paul VI.
Benedict was not a reigning pontiff and so will not be given a state funeral, the Vatican announced, adding that only Italy and France will be sending an official delegation.
But other heads of state can also attend in personal capacities. Queen Sofia of Spain has since said she will be attending, as have President Marcelo Nuno Rebelo de Sousa of Portugal and Lithuanian President Gitanas Nausėda. It is not yet clear which prominent U.S. state figures will come to Rome for the funeral, but other heads of state or senior state representatives are expected to announce their attendance in the coming days.