St. Gianna Molla's Daughter Thanks God for Her Saintly Parents
Near the end of his life, St. Gianna's husband said that he could not thank God enough for the graces he had received — especially the grace to see his heroic wife elevated to sainthood within his lifetime.
As Dr. Gianna Emanuela Molla cradled a baby, 10 other girls clustered around her. Some, like the infant, were baptized "Gianna" in honor of Dr. Molla's mother, St. Gianna Beretta Molla. Others had chosen the Italian pediatrician, wife and mother as their confirmation saint. Born just one week before her mother's death, Dr. Molla, too, is the saint's namesake.
The touching group photo was snapped at the end of Dr. Molla's Nov. 10 presentation in Immaculate Heart of Mary Church in Cuyahoga Falls, Ohio.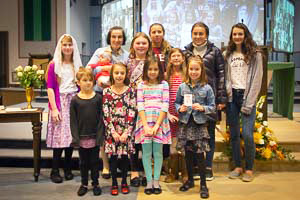 "How many Giannas I meet every time I visit the United States," Dr. Molla exclaimed in delight earlier that evening. "They have taken my mother as their patron saint."
Through the efforts of Jennifer Ricard, a parishioner of St. Mary Church in Hudson, Ohio, and a pastoral associate at Immaculate Heart of Mary in Cuyahoga Falls, the two parishes partnered to bring Molla to the Cleveland Diocese. It was her 15th presentation within a two-week period, but the petite, exuberant woman told her audience that addressing them was a gift from God.
Gratitude is a recurring theme in Molla's talks.
"I would not be here with you this evening if I had not been loved so much," she said.  "I am so happy to be alive."
She gives thanks every day to "the Lord, the Virgin Mary, Mom and Dad for the gift of life."
Molla's birth figured in the eventual canonization of her mother. At the end of the second month of pregnancy, St. Gianna learned that her womb contained a huge benign tumor. Doctors recommended a hysterectomy, which would have killed her unborn baby. She rejected this option and the second, to eliminate both the fetus and the fibroid tumor. Instead, St. Gianna chose the third and riskiest alternative, surgery that would remove the tumor but spare her baby.
St. Gianna recovered from this operation and returned to her medical practice and to the duties she cherished within her happy family life.
Suspecting complications, however, St. Gianna directed her husband to choose the baby's life over her own, if confronted with this painful decision during childbirth.
"For Mom, I had the same right to live as my brother and sisters already born," Dr. Molla said.
Meanwhile, St. Gianna attended daily Mass and prayed for her own good health as well as the infant's.
On Holy Saturday 1962, doctors delivered a baby girl by Cesarean section. Soon after, St. Gianna's condition rapidly declined, as she battled a high fever. Her body did not respond to medical treatment, and she succumbed to septic peritonitis (inflammation of the inner abdominal walls) on April 28, 1962, at the age of 39. Her last words were, "Jesus, I love you."
In addition to her newborn daughter, St. Gianna left behind a devoted husband and three other little children.
Dr. Molla said her mother's determination to protect her is understandable, in light of the saint's great faith.
"Of course, Mom could not choose a different way, if we consider in which way she lived until that moment," she said.
Faith imbued St. Gianna's everyday life. As a single woman, she prayed to meet her future husband. As a wife, she continued her daily devotions after suffering the heartbreak of two miscarriages. She viewed medicine as part of her vocation, and her dedication to her patients did not flag during her final pregnancy.
"It is not possible to become a saint in a moment," her daughter told the Ohio audience. "Mom has been proclaimed 'Blessed,' and then as a saint, firstly because of the way she lived, before considering how she died.  ...  She lived her daily life in an exemplary way."
Dr. Molla, her father and her siblings witnessed the canonization of St. Gianna on May 16, 2004, by Pope John Paul II. In the years since, couples struggling with infertility and miscarriage often seek St. Gianna's intercession. She is a patron saint of mothers, doctors and unborn children.
A physician like her mother, Dr. Molla specialized in geriatrics. She eventually relinquished her medical practice to care for her father in his final years. (Pietro Molla died on Holy Saturday 2010, when he was almost 98 years old.)
Dr. Molla has come to realize that God blessed her with two saintly parents.
"Both of them suffered a lot in their lives, but both of them also had great joy," she said.
Her father had respected his wife's decisions about her final pregnancy, and early on, he taught Dr. Molla to thank God for every breath. To this day, her first prayer in the morning is thanksgiving for the gift of life.
Her father's faith did not falter when he experienced the devastating loss of 6-year-old daughter Mariolina, two years after St. Gianna's death.
Near the end of his life, her dad told Dr. Molla that he could not thank God enough for the graces he had received, especially living to see his wife elevated to sainthood. Believing the faithful can best learn about a saint from a living relative, he asked his youngest daughter to tell others about her mother's life.  She has embraced this unexpected mission.
"I am happy to share my mom with all the other people in the world who pray to her."
St. Gianna, pray for us!