Prayer Vigils Across Europe Planned for Charlie Gard
Pope Francis and President Trump also come to the aid of the infant after U.K. and European courts ruled to end his life support.
Italian faithful last night took part in Eucharistic Adoration for Charlie Gard, the 10-month old English baby whose parents were denied permission by courts to take him to the U.S. for experimental treatment that could save or prolong his life.
The holy hour, at Santa Maria in Ara Coeli in Rome, came after protests at the British embassy in Rome on Saturday, as well as a prayer vigil and recitation of the Rosary in St. Peter's Square. They were the first of a number of prayer vigils planned across the continent.
On Sunday, Pope Francis came to the parents' defense. In a short statement, Vatican spokesman Greg Burke said the Holy Father was following "with affection and emotion the case of little Charlie Gard and expresses his own closeness to his parents."
He added that the Pope "prays for them, hoping that their desire to accompany and care for their own child to the end is not ignored."
A day earlier the Pope tweeted his support for the baby boy:
To defend human life, above all when it is wounded by illness, is a duty of love that God entrusts to all.

— Pope Francis (@Pontifex) June 30, 2017
President Trump also weighed in today, tweeting a message of help to "our friends in the U.K. and the Pope":
If we can help little #CharlieGard, as per our friends in the U.K. and the Pope, we would be delighted to do so.

— Donald J. Trump (@realDonaldTrump) July 3, 2017
Charlie's Case
Charlie Gard is suffering from mitochondrial disease which depletes muscle and brain tissue and is typically fatal in infancy and early childhood. There are just 16 cases in the world, and some have survived to their teenage years with variants of the disease. Charlie currently cannot breathe unaided.
His parents, Chris Gard and Connie Yates, have campaigned to keep their son alive while doctors have said it would cause him significant harm to subject him to further treatment.
This led to a legal dispute between Charlie's parents and Great Ormond Street Hospital for Children where their son is being cared for.
His parents, who have so far raised £1.3m ($1.68m) via an online 'Go Fund Me' campaign, planned to take their son to the United States for treatment. But last week they lost their appeal to the European court of human rights, meaning the hospital could withdraw his life support and allow him to die.
Matters deteriorated further when the hospital told Chris Gard and Connie Yates they would not be allowed to take their son home to die.
The Pope's intervention on Sunday contrasted with a statement issued Friday by Archbishop Vincenzo Paglia, president of the Pontifical Academy for Life, who said the patient's interests are paramount, but added that the limits of medicine should be accepted.
"We should never act with the deliberate intention to end a human life, including the removal of nutrition and hydration," he said. "We do, sometimes, however, have to recognise the limitations of what can be done, while always acting humanely in the service of the sick person until the time of natural death occurs."
The clearer position of the Pope in favour of the parents came after demonstrators had also gathered outside Buckingham Palace to protest against the courts' decision.
Protests, Prayers, and Assistance
Even though the hospital granted the couple more time with their son on Friday, hundreds of protesters still came to the London event, organised on Facebook to support the couple.
The Vatican-run Bambino Gesu hospital in Rome has also offered to welcome Charlie and his parents, with its president, Mariella Enoc, saying it recognizes the case is "hopeless and that, apparently, there are no effective treatments."
"We are close to the parents in prayer and, if this is their wish, we are willing to accept their child to be with us, for as long as there is the will to live." She added that the Pope's tweet summed up their mission.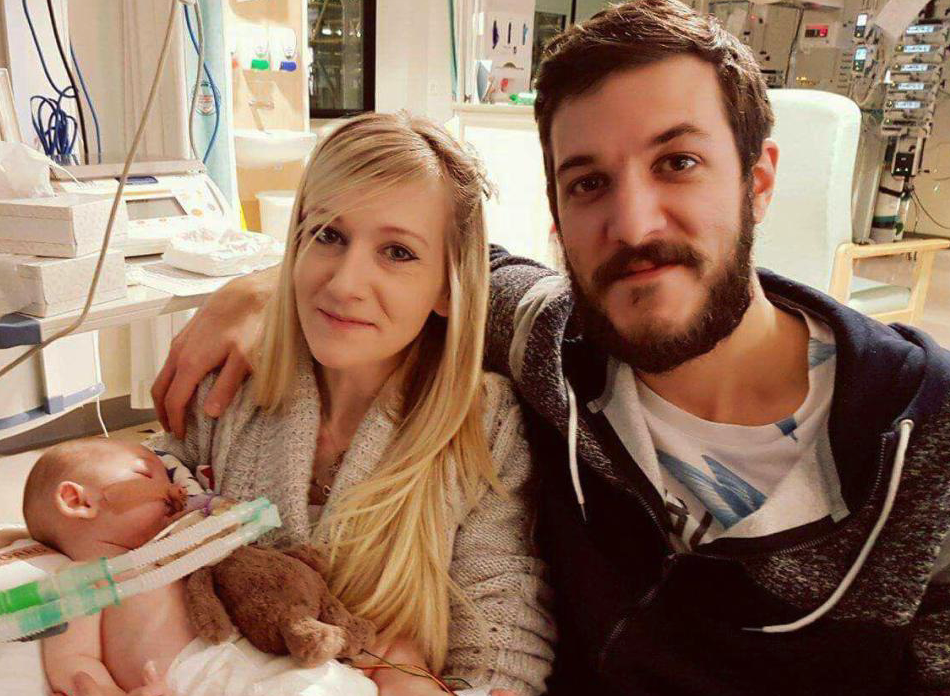 Yates said on Friday she was "really grateful for all the support from the public at this extremely difficult time," and that they were "making precious memories that we can treasure forever with very heavy hearts."
Although some are blaming socialized healthcare for the court ruling, many are pointing instead to deeper problems such as a crisis of ethics that fails to uphold human dignity, and a "throw-away culture" often decried by the Holy Father.
Meanwhile, prayer vigils across Europe are planned for the coming days. The "Fight4Charlie" campaign has published a calendar and map and invited others to propose the organization of new ones.
The campaign stresses that three courts, including the Supreme Court of England, have decided to "detach Charlie from the vital life support."
Charlie's case, they explain, is "incredible" as it is "seriously threatening to pave the way to the obligation of abortion, infanticide and euthanasia for people considered outside the standard of quality of life."
"For these reasons," they add, "we are organizing a Europe-wide network of prayer vigils for Charlie."
Photo: Charlie Gard with parents Chris Gard and Connie Yates (The Sun)