Pope Francis: Faithful Called to a Love That Knows No Boundaries
The faithful are called to a radical commitment to mercy, and to witness to a love that goes beyond justice and knows no boundaries, Pope Francis said yesterday.
Speaking off-the-cuff during his homily at Mass in the basilica of St. John Lateran, the Holy Father said it is "time to rediscover the presence of God and his fatherly tenderness" and that "God does not love rigidity."
"He is Father; He is tender; everything done with the tenderness of the Father," the Pope said, adding that whereas John the Baptist demanded what was "reflected in the law", the baptized are "asked to be instruments of mercy" and "prompted toward a more radical commitment."
Francis had just opened the Holy Door of the basilica, which is known as the "Pope's cathedral" or the "mother of all churches", to mark the Jubilee of Mercy which officially began on Dec. 8, the Feast of the Immaculate Conception, and runs until Nov. 20, the Feast of Christ the King. Bishops around the world also opened Holy Doors in their cathedrals.
"Before the Holy Door we are called to cross, we are asked to be instruments of mercy, knowing that we will be judged on this," the Pope stressed. "He who is baptized knows he has a greater commitment."
He called on the faithful "to be merciful, like the Father", adding that "the joy of crossing" through Holy Door is accompanied by a "commitment to welcome and witness to a love that goes beyond justice, a love that knows no boundaries."
"We pray for us and for all who pass through the Door of Mercy, that we may understand and welcome the infinite love of our Heavenly Father, recreates, transforms and reforms life," the Pope said.
Earlier in his homily, alluding to the fact that it was Gaudete Sunday, he said the coming of the Lord at Christmas "must fill our hearts with joy". As Christians we "cannot let ourselves be taken in by weariness," he said. "Sadness in any form is not allowed," despite having reasons to be sad due to "many concerns" and "many forms of violence which hurt our humanity".
"God protects his people", the Pope said, and He "will reign" over them, never leaving them "at the mercy of the arrogance of their leaders" and freeing them from anxiety. "Today, we are asked not to let our 'hands grow weak' because of doubt, impatience or suffering," the Pope concluded.
Angelus Address
In his Angelus address yesterday, the Holy Father stressed that "no group of people is excluded from the path of conversion for salvation".
"God does not exclude anyone from the chance to save themselves," he said. "He is - as it were - anxious to show mercy, to use it all, and welcome everyone into the tender embrace of reconciliation and forgiveness."
He also recalled John the Baptist's teaching on conversion, in which he exhorted the crowd to share basic necessities with others, not to accept bribes, and not to "extort anyone for anything" but "be content with your pay."
These three answers are "an identical path of conversion, which is manifested in concrete commitments to justice and solidarity," the Pope said.
Since that time, "things have not changed much," the Pope said. John showed "that is necessary to repent, we must change direction and take the path of justice, solidarity, sobriety: these are the essential values ​​of a life fully human and genuinely Christian. Repent!"  This, he said, "sums up the message of John the Baptist."  
He added that it "takes courage to speak of joy" today "which, above all, requires faith!"  But the Christian is a "joyful person", not in a superficial or ephemeral way, "because it is a gift from God that fills life. Our joy comes from knowing that 'the Lord is near'," he said, "is close with His tenderness, His mercy, His forgiveness and His love."
Climate Change Deal
After the Angelus, the Pope also noted that the 'COP21' climate change conference in Paris reached what "many" are calling an "historic" agreement. "Its implementation will require a concerted commitment and generous dedication by all," he said. The Church hopes it will give "special attention to the most vulnerable populations" and increase solidarity worldwide, he added.
The UN deal reached by nearly 200 countries in Paris aims to keep global temperature increase "well below" 2C (3.6F) and to pursue efforts to limit it to 1.5C. The agreement - which is partly legally binding and partly voluntary - will come into being in 2020.
Jubilee Underway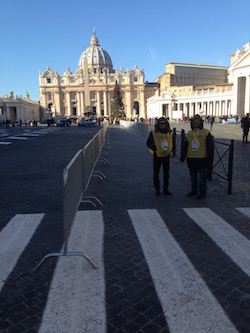 The Jubilee of Mercy is well underway here in Rome with more than 180,000 pilgrims having already passed through the Holy Door of St. Peter's basilica since it was opened on Dec. 8.
Pilgrims wishing to pass through the basilica's Holy Door can obtain free tickets from the Jubilee office at Via della Conciliazione 7 and then pass through a special walkway and security barriers aimed at speeding up entrance to the basilica.
Cardinal James Harvey also opened a Holy Door at the basilica of St. Paul's Outside the Walls yesterday, one of thousands opened in cathedrals around the world. The Vatican doesn't know the precise figure, but says that some of the world's 2,989 dioceses have opened "three, others nine" Holy Doors, amounting to possibly as many as 10,000 in total.