Pope Francis: Brexit Showed 'Will of the People'
Pope Francis has said the result of the U.K.'s referendum to leave the European Union reflects the "will of the people" and that there is now a "great responsibility" to ensure the well being of people in the U.K. and peaceful coexistence on continental Europe.
Addressing reporters on the papal plane to Armenia in a sombre mood, the Holy Father said he had only read basic information in Il Messaggero newspaper about the result of the vote just before leaving Rome, but said he felt it was "the will of the people".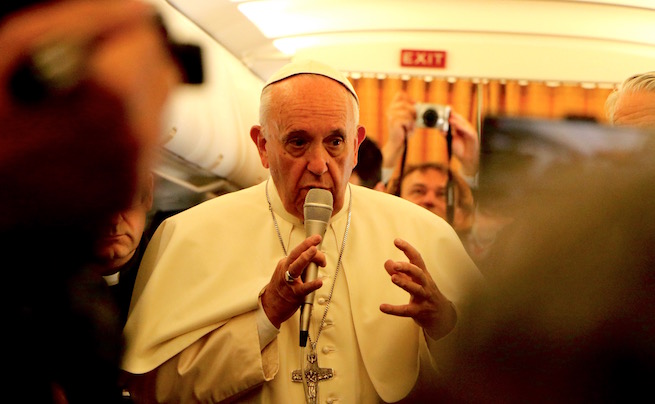 "It demands great responsibility on our part," he said, "to ensure the well being of the people in the United Kingdom, and the coexistence of the people on the European continent. As I expect."
The U.K. voted yesterday in a referendum to leave the European Union after 43 years as a member of the economic-political bloc.
Before addressing the "Brexit" vote, the Pope also shared his reaction to the news yesterday of the signing of a ceasefire by the Colombian government and the Farc rebel movement, ending decades of civil war.
"I am happy about this news that came to me yesterday, after more than 50 years of war, of conflict, and much bloodshed," he said. "I hope that the countries that work for peace keep it." He wished the country well on its "next step."
The Pope arrived at 2.50 p.m. local time at Yerevan's international airport after a four hour flight from Rome. Immediately after arrival, the Holy Father was driven to the Apostolic Cathedral in Etchmiadzin where he was due to deliver the first discourse of his 14th apostolic voyage outside Italy.
Check my blog for further updates as I travel with Pope Francis on his visit to Armenia, reporting for NCRegister.com and CNA.