How Pope Francis Touched Hearts in Philly
I met other ticket holders excited for the chance to catch a glimpse and a good photo of the pontiff, as well as vendors and many living on the streets who watched the passersby.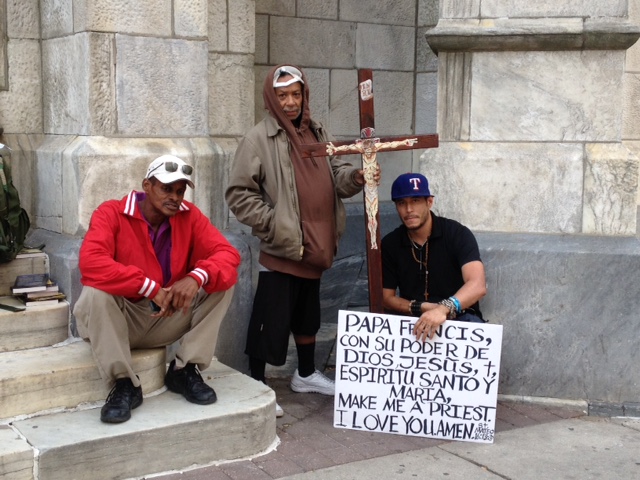 Entering the secured area in central Philadelphia where the Holy Father met pilgrims during his visit last Saturday and Sunday was, for many, a logistical adventure.
Those fortunate enough to have tickets to the papal Mass and Festival of Families had to purchase special train tickets in advance to ride mass transit, navigate around blocked streets, contend with crowds and wait in long lines to pass through airport-like security.
My journey into the "red zone" — a ticket-only area on Benjamin Franklin Parkway on Saturday, where Pope Francis would speak that evening and say Mass on Sunday — proved to be nearly as interesting as my destination. I met other ticket holders excited for the chance to catch a glimpse and a good photo of the pontiff, as well as vendors and many living on the streets who watched the passersby.
On Saturday morning, Korah and Shobha Mani and their son, Michael, shared a seat on a regional train in a suburb not far from their home in Bryn Mawr, Pa. The family, who are Eastern Orthodox and originally from Kerala, India, expressed excitement about seeing the Holy Father.
"I am looking forward to seeing this Pope," said Shobha, who said she admired the Holy Father's demeanor and humility. "We are so, so impressed with him, and we are looking forward to this; and we are hoping for a very blessed day today. "
The Mani family had tickets to the Pope's afternoon address at Independence Hall. Besides that, Shobha said, they planned to walk around the City Center section and hoped to see the Holy Father pass by in the popemobile.
I also came across Gregory Flint, who stood near the Philadelphia Convention Center holding a sign seeking donations. A disabled Navy veteran, he explained that the Department of Veteran's Affairs was helping him get an apartment but that he needed more help, after being homeless for a period of time.
Though not Catholic, he said he loves Pope Francis and was blessed to see on TV how he had his driver stop so he could hug children at the Philadelphia airport. "He's a real guy, he said. "He's a real man of God; he loves people — and for that I love him."
Wearing matching neon pink T-shirts so they wouldn't lose each other, Sally and Maegan McGaffney of Foxchase, Pa., walked toward the security checkpoint excited about attending the Festival of Families.
Maegen said the Pope was a kind gentleman who was bringing people together, and that kindness seemed to be bringing out the best in others: "Holding the door coming out of the [subway], that doesn't happen very often."
Near the security checkpoint, Edwin Blacke of North Philadelphia stood near the grocery shopping cart he used to hold the Pope-related T-shirts and other merchandise he was selling to passing pilgrims. He said he was glad the event was taking place but not about the long walk he had to make with his items because of road closures. "To be honest with you, it's an inconvenience, as far as day-to-day city activities, because they literally shut the whole city down or the main part of the city."
Mauro Avila came from Uvalde, Texas, for the Pope's visit but had no event tickets. Sitting on the steps of a downtown church where he had slept for two nights with several homeless people, he held a large hand-painted crucifix and a sign in Spanish and English asking Pope Francis to make him a priest.
Avila said he has been discerning a call to the priesthood and was hoping for an affirmation of his call. Pope Francis is a very special pope, with a special message sharing the love of Jesus, he said, adding that the homeless are where we find Jesus.
Sitting outside of a subway entrance eating hamburgers, Ty and Vince talked about life on the street and how they had been affected by the papal visit. Vince, who is partially blind, said he was unable to receive dialysis treatment because out-of-town visitors took all of the spots. He has been on dialysis since 2012 because of kidney failure.
Ty said he didn't know much about the Pope and was thinking about life after the events were over. "Everybody's going to go home, and I'm still going to be here taking care of him."
Hopefully, the love, joy and peace Pope Francis extended during his papal visit extends for longer than the immediate aftermath, showing that, indeed, God is in the city.