From Harvard to the Convent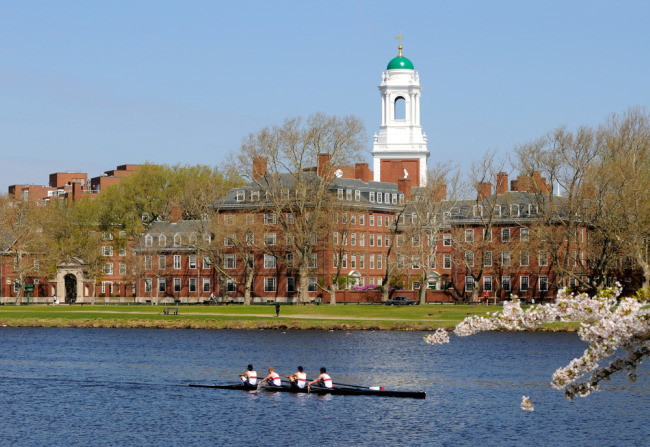 Who knew Harvard University was a vocation encourager?
Mary Anne Marks graduated summa cum laude this last semester from Harvard and will be entering the Dominican Sisters of Mary, Mother of the Eucharist, in Ann Arbor, Mich.
But she's not the only one going from Harvard to religious life, as Marks shared with Kathryn Jean Lopez in an interview this week: "A couple of years ago, a young man who finished Harvard in three years entered the seminary in St. Louis. A little further back, a young woman who attended Harvard and lived in the same women's residence that I did joined the Franciscan Sisters of the Renewal. One of my friends, whom I met while she was pursuing a degree at Harvard's Kennedy School of Government, joined the Religious Sisters of Mercy two years ago. This July 25, two young men from Harvard joined the Eastern Province of the Dominicans."
The article has many inspiring questions and answers, like these:
LOPEZ: Were you able — even encouraged, by elements on campus — to pursue a spiritual life as much as an intellectual one?

MARKS: The pace of life at Harvard is fast. Tackling challenging course work and myriad extracurricular activities, and surrounded by others doing the same, even those students who desire a spiritual life are often impeded from developing one. Only the grace of a religious vocation gave me the insight and willpower to carve out a part of each day for prayer. That said, those seeking spiritual resources at Harvard will not find them lacking. A strong Knights of Columbus group complements the very active Catholic Student Association, two parish churches are within walking distance of campus, and the men's and women's Opus Dei houses nearby are sources of superb spiritual direction and enriching weekly and monthly events.
LOPEZ: What are some of the most notable or revealing things that adults — maybe especially faculty — have said to you once they became aware of your vocational plans?

MARKS: Two of my professors told me they had siblings who had entered religious life. Another, a kind but thoroughly unsentimental professor who had been very encouraging of my intention to apply to graduate school, ended our discussion of my change of plans by opening her arms and declaring quietly, "I am going to give you a hug, because this is a big decision, and I admire you for it." When I remarked to yet another professor on the many positive responses from faculty, he replied that he wasn't surprised that academics could appreciate the appeal of a life of contemplation and of single-minded pursuit of a spiritual goal.
LOPEZ: What did your classmates say? And did their reactions, in one way or another, explain anything to you?

MARKS: Most were happy that I had found a path to which I could unreservedly commit both mind and heart, and they respected my willingness to do so. One classmate, after hearing my vocation story, felt emboldened to tell me about her upcoming marriage, and I had the chance to explain the Church's teachings on human sexuality. Another conversation turned toward my friend's a-religious upbringing and her current unbelief. That my plans could open up discussion on such a personal level was beautiful but also startling and slightly disconcerting, and I realized that I was already experiencing one of the great graces and great challenges of the religious life and priesthood: the legitimate expectation of others that those in a habit or collar are equipped and willing to discuss profound or painful subjects ... anywhere: in the airport as much as in the classroom or the rectory.
God bless Mary Anne in her future vocation — and the Harvard alumni and future alums who will follow in her footsteps to serve the Church in the priesthood, religious life and as faithful laypeople.
Same goes for all young adult grads, whether they graduate from the Ivy League, a state college or Catholic college. The Church needs you!