Anglicans Narrowly Beat Vatican in Historic Cricket Match
Played to Support Charity Combating Human Trafficking
History was made in Canterbury, England, last night when the Vatican's newly formed cricket team played its first ever match against the Church of England.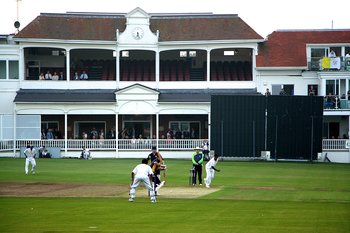 The Vatican narrowly lost the 150 minute game in a nail-biting finish: the Vatican scored 106 runs to which the Anglican XI replied with 108 runs with just five balls - closest equivalent to baseball pitches - left in the game.
The archbishop of Canterbury, Justin Welby, congratulated both sides and presented the trophy to winning captain Stephen Gray, an Anglican college chaplain. "It was a very good match that could have gone either way," archbishop Welby said. "I seriously hope we do it again – it's been hugely enjoyable."
The match was played to support the Global Freedom Network, a faith-based charity begun in April this year that aims to bring people of all faiths together to combat human slavery and trafficking.
The idea for the charity came from a conversation the Anglican leader had with Pope Francis last year. The Holy Father has frequently drawn attention to the extent of human trafficking in the world today, calling it a "grave crime against humanity" which is estimated to affect some 30 million people.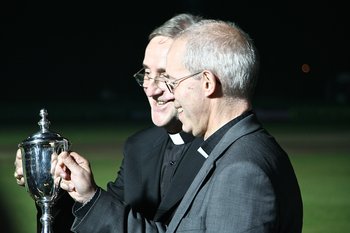 The Vatican XI, officially known as the St. Peter's Cricket Club, was formed earlier this year through the Pontifical Council for Culture. Last night's match was the last fixture of a week long "Light of Faith Tour" of the UK, which included matches against the Queen's guard at Windsor Castle and Catholic chaplains of the British Armed Forces. The Vatican XI won two matches and lost three.
Made up of seminarians mostly from the Indian sub-continent and captained by English Vatican official Father Tony Currer, the St. Peter's Cricket Club was the idea of Australia's ambassador to the Holy See and keen cricket enthusiast, John McCarthy.
Yesterday's match was well attended by laity, cricket aficionados, and ecclesial leaders. "I was very delighted to be here," said the papal nuncio to Britain, Archbishop Antonio Mennini. "I don't understand the game and the rules but the event has been a real, true and concrete example of friendship between our churches," he told the Register.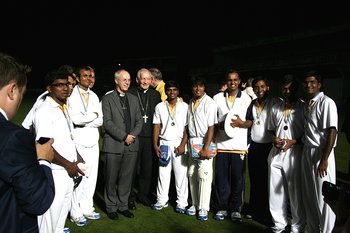 "It's shown how friendship can help both churches to continue the path of mutual understanding and so deal with the great challenges we have in front of us," he added.
Britain's ambassador to the Holy See, Nigel Baker, said it was a "fantastic game, played in the right spirit, and there's been a wonderful crowd, all in a really good cause."
Speaking before the game, Father Currer, an experienced cricketer who just so happens to head the Anglican desk of the Pontifical Council for Promoting Christian Unity, called the match "the biggest game of my life". "If one of the boys gets hit in the face by a ball, it could set back ecumenical relations by decades!," he joked to the Canterbury Times.
Antonia Stampalija, chief executive officer of the Global Freedom Network, said the match was the first fundraising event for the charity. Quoting research from the International Labor Organisation, she said profits from human slavery and trafficking amount to $150 billion per year, of which $99 billion comes from sexual exploitation. By uniting faiths to combat the scourge, Stampalija said this can be an issue that "won't draw us apart but draw us together."