World Cup Host City Natal Has Unique Catholic, American Influences
The town named after Christmas played a part in World War II and later welcomed St. John Paul II.
NATAL, Brazil — Located on Brazil's northeast coast, the city of Natal is known for its picturesque beaches, sand dunes and, in 2014, for hosting four games during the FIFA World Cup.
But a week spent in the state capital of Rio Grande do Norte reveals a unique Catholic legacy and a connection with the United States that goes far beyond soccer.
The Portuguese translation for Christmas, Natal was founded on Dec. 25, 1599. With nearly 900,000 residents, Natal's population is roughly equal to that of Austin, Texas, and it is Brazil's 15th most-populated city.
Papal Visit
In 1989, the National Conference of Bishops of Brazil announced that Pope John Paul II would be making his third trip to Brazil two years later, in October 1991. Stopping first in Natal as part of a nine-day apostolic journey covering 12 Brazilian cities, the Holy Father was scheduled to close the country's 12th National Eucharistic Congress during his visit.
Msgr. Lucas Batista Neto, then-pastor at Natal's Igreja Santa Teresinha (St. Teresa Church), was selected to lead the Pastoral Commission of Brazil's 12th National Eucharistic Congress. A popular Catholic TV and radio presence in Rio Grande do Norte, Msgr. Batista held one of the Congress' most demanding responsibilities: preparing Natal's 600,000 residents for the papal visit.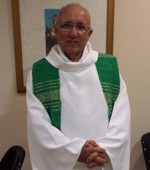 "There was a lot of work to do in our neighborhoods," Msgr. Batista told the Register in Portuguese. "We found that many Catholics here really didn't know much about the faith. People didn't know how to pray at all, not even the Our Father or the Hail Mary. They were uneducated because they never participated in the programs we had in our churches."
During the two years before Pope John Paul II's visit, Msgr. Batista and the Pastoral Commission's 13 subcommittees expanded the Catholic Church's citywide presence. With the help of more than 3,000 visiting missionaries, churches across the Archdiocese of Natal began encouraging baptized Catholic residents to receive first Communion, take part in confession and participate in the sacrament of confirmation. The archdiocese also wrote and distributed letters explaining Catholic Church beliefs and how to properly receive the Holy Father to each of the city's 178,000 residences.
When Pope John Paul II arrived on Oct. 12, 1991, he spoke to several thousand spectators at Natal's airport, greeted others at the city's Praça da Concórdia (Concordia Square) and settled into humble lodgings at the Archdiocese of Natal's Casa de Treinamento (Training Center) in Ponta Negra.
While lodging at the Training Center, Pope John Paul II drew attention from attending clergy for his charisma and humility.
"He wasn't demanding at all, and he ate everything we served him," said Msgr. Pedro Ferreira da Costa, 79, who served as one of the clerical hosts at the Training Center. "He was very simple."
The next day, Oct. 13, Pope John Paul II officially concluded the 12th National Eucharistic Congress with more than 15,000 residents from Natal, Rio Grande do Norte and all of Brazil in a center square that would later be named Espaço de Joao Paulo II (John Paul II's Space). The 10am Mass was his largest event with the public during his two days in the city.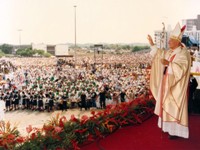 That afternoon, the Holy Father spoke to Brazilian bishops at the city's convention center and inaugurated, with a blessing, the opening of a chapel under Natal's cathedral, Nossa Senhora da Apresentação (Our Lady of Presentation).
Though nearly 23 years have passed since Pope John Paul II's apostolic journey to Natal, Msgr. Batista says the presence of the Holy Father is a vivid memory for Natalenses fortunate enough to have witnessed him.
"People here were left with a strong impression and raving about his visit," the monsignor said. "Everyone was analyzing his words, saying they saw the pope and were blessed by him. He brought new life to Catholics here."
American Roots
As the South-American city closest to Africa, Natal became one of several Central-American and South-American cities targeted for U.S.-affiliated airport construction before World War II. Searching for routes to supply the British, who, by 1939, were fighting in North Africa, U.S. Air Force Lt. Gen. Delos Emmons was attracted by Natal's close proximity to the middle continent.
Operating secretly, the U.S. government funded Pan American Airways, the country's largest airline company at the time, to begin construction of Parnamirim Air Field in Natal, in what would become the largest U.S. base on foreign land during World War II.
Though the U.S. wasn't yet at war when airport construction began in April 1941, American troops officially occupied Parnamirim just eight months later, following Japan's attack on Pearl Harbor.
From December 1941 to the end of World War II in 1945, nearly 5,000 American soldiers from the Navy, Army and Air Force occupied Parnamirim on a given day, and as many as 7,000 to 8,000 soldiers were stationed on days where inclement weather prevented troops from flying out from the base. Joining the Americans were nearly 1,000 Brazilian soldiers, who united with allied forces after cutting diplom
atic ties with Italy and Germany in January 1942.
"Without a base here in Natal, there would have been no stepping point to Africa," Fred Nicolau, a Natal historian and curator of Parnamirim's Rampa Museum, told the Register. "Having this base helped to make the war end much quicker."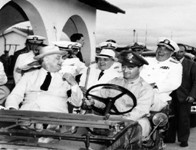 The base also served as a meeting place for President Franklin Roosevelt and Brazilian President Getúlio Vargas in January 1943. As a result of the meeting, nearly 25,000 Brazilian soldiers were sent to assist the Allied ground efforts in Italy from September 1944 to May 1945.
"Politically, it was very important for two presidents to meet in Natal, instead of Rio de Janeiro," said Nicolau. "It was a statement confirming Natal's importance in the war."
The U.S. military's presence in Natal brought new jobs, prosperity and a unique appreciation for North-American culture to the city's residents. As construction of Parnamirim field continued throughout the war, several thousand Natal residents were employed to contribute to its constant expansion. From 1942 to1945 alone, Natal's population rose from 40,000 to 60,000, as Brazilians flocked to Rio Grande do Norte's capital city in hopes of finding employment.
"It was a very rich moment for the people here," Nicolau explained. "All of a sudden, people had jobs, they had money to spend, and they began to buy land and to build houses. Their lives began to develop when the Americans were here."
Natal was also the first Brazilian city introduced to Coca-Cola, Ray Ban sunglasses, denim jeans, chewing gum, hamburgers and French fries, among other traditional American foods. Though these American cultural staples are now found throughout Brazil, Nicolau says Uncle Sam's impact remains especially strong in Natal, even 70 years later.
"What you can see even today is the large number of people who have English names," he said. "I think the impression the United States' soldiers left in people's minds was very positive. People here wanted to remember those names because they loved interacting with Americans living in Natal."
WYD and Pope Francis
More than 1,000 youth from the Archdiocese of Natal attended World Youth Day in Rio de Janeiro last summer, including 200 volunteers.
Daniely Barbosa, 30, was one of Natal's WYD pilgrims. A lifelong Natalense, she is the Archdiocese of Natal's secretary of youth ministry and also worked as the coordinator of Brazilian volunteers for WYD 2011 in Madrid. Barbosa says WYD 2013 participants from Natal have become more involved in both the archdiocese and their home parishes.
"At WYD, we lived a new encounter. Just about everybody was attending for their first time," she said. "And we returned here more inspired for our walk [of faith], ready to give strength to other people from our church groups."
Asked about Pope Francis' impact on Catholicism in Natal, both Barbosa and Msgr. Batista testify to the Holy Father's impact in bringing both youth and adults back to the Church.
"He's open and welcoming," Barbosa said. "Pastorally, he's helping people feel more at home."
"He's very courageous," added Msgr. Batista. "I've personally heard many testimonies from people who were distant [from the Church], but who now are returning because of Pope Francis."
Chris Kudialis is a Register correspondent. He currently writes from Brazil,
where he's covering the FIFA World Cup.