USAID Representative Details New Approach to Help Iraq's Christians
'What's really critical to understand here is that our approach has really changed in the last two to three months,' Max Primorac told the Register.
A few months ago, Max Primorac began serving as the newly created special representative for minority assistance in Iraq with the U.S. Agency for International Development (USAID). Based in Erbil, Iraq, he is responsible for ensuring that U.S. financial aid meets the needs of Christians and other religious minorities in Iraq who are targeted for genocide by ISIS even as they attempt to rebuild their lives in the region.
He spoke to the Register this month about the ways the U.S. government has pooled its resources to improve "the calculus of return" for the communities that were victims of genocide.
Primorac has been working out of Erbil since mid-September, and the USAID staff there has tripled as a part of the agency's increased efforts to ensure U.S. funds are going where they're most needed.
"We're all engaged in meeting all the requirements that the minorities have from the humanitarian perspective," he explained, "from the stabilization perspective, meeting justice, livelihoods, the entire spectrum of needs. What's really critical to understand here is that our approach has really changed in the last two to three months."
Primorac said that the change was prompted in part by USAID Administrator Mark Green's July visit to these minority communities in the region.
"There was a recognition that this aspect of genocide was something special and evil, and it required a much more fine-tuned approach in order to address it," he emphasized.
Before that visit, he said, the agency was "spending money, but we were not being as effective as we needed to be."
The population of Iraq's Christians shrank from 1.5 million in 2003 to just 200,000 following the onslaught of ISIS, and it is estimated that between 2,000 to 5,500 Yazidis were killed by ISIS and more than 7,000 kidnapped.
Primorac said that the agency is working specifically to meet both immediate and long-term needs of Iraq's remaining Christians and Yazidis.
"What I've heard from them — and it's a common theme — is to build their confidence that they have a future in Iraq," he said. "We don't want to only give them a sense of having a hope in a future of Iraq, but also [a sense that they're] shaping the future, their own future."
Aid efforts, Primorac said, are focused on these communities returning to their homes, but "there's the next wave of assistance that's going to focus on sustainable returns, and that addresses issues of justice, that addresses issues of livelihoods and issues of how to reconcile with their neighbors."
Road to Batnaya
One example of a triumph for U.S. aid efforts in the region was the reopening of the road to Batnaya. a Christian town in the neighborhood of Mosul that had been ethnically cleansed and destroyed by ISIS. "There were no minorities there, and for them to be able to break that road and go home was a major event for them," he said.
Primorac said that many on the ground called the reopening of the Batnaya road "a game changer" because until that point there had been a "certain inertia of returns."
Displaced minorities had been largely unable to return home due to the inaccessibility of the roads to their villages and towns following the destruction of ISIS.
"It was the communities that pointed out to us the importance of all these roads," he said. "As a result, two of those roads — one very important to the Chaldeans, another one very important to Yazidis — have been opened, and the third one for the Yazidis back to Sinjar could be opened at any moment."
He added that USAID was there on the ground to greet Christians returning to Batnaya with projects to rehabilitate schools, provide power and complete a small public-health facility.
Primorac credited a whole-of-government approach in which diplomats, aid experts and the military all worked with Iraqi leadership in "finding a synchronized way in which to open that road and support the movement of folks who had not been home for a very long time."
"I think the case of Batnaya demonstrates just how much this issue is a priority of the United States," he concluded. "When I first came, I remember Father Salar asking me, 'Please speak to this community; give them hope about their future in Iraq.' I think that, a few months, two or three months later, what we can say is: It's not only hope; it's a reality."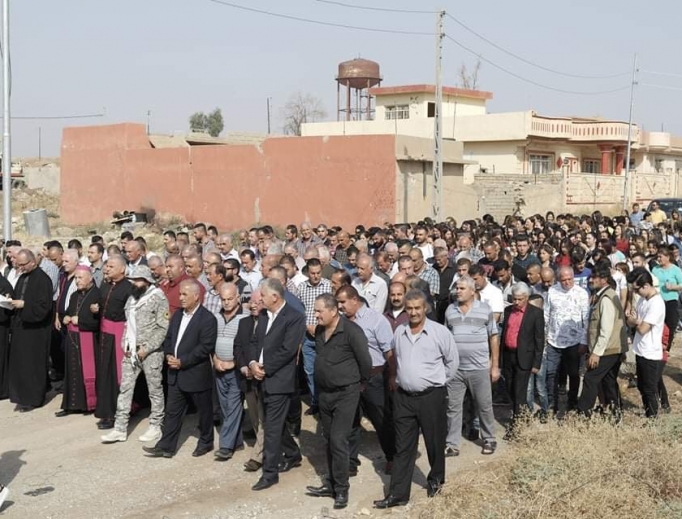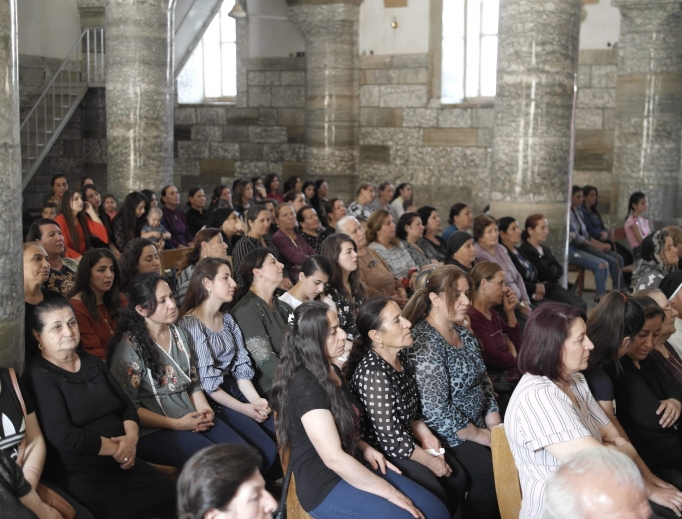 Working in the Communities
Because Primorac directly oversees funding in the region, he can quickly address problems with USAID-sponsored projects.
As a recent example, he pointed to the Christian town of Teleskof, where USAID had built a power substation. A local leader told him that despite the new substation, the town remained without power. Primorac visited the substation and discovered that the area was mined, preventing needed repairs to lines connecting the substation to the community.
That same day Primorac and the second in command at the embassy arranged for their contractor to clear the mines from the area, allowing the substation soon after to begin working.
Local groups are able to submit proposals directly to USAID for funding, which, Primorac said, is an important way to provide direct support to the communities. The agency has already dispersed "well over $2 million and approaching $3 million of grants in a very short time to these local organizations."
"The Chaldean Church, for instance, gave us a proposal for equipment to remove rubble," he added. "It was a problem … that they identified; it was their program design, and we funded it."
Primorac also praised faith-based international organizations such as the Knights of Columbus and Samaritan's Purse that are working with USAID in the region.
"We recognize that these organizations have been in the field for many years and had worked very closely with these communities when the international community really didn't step up to the plate to help them," he said, "and so they represent an extraordinary reservoir of knowledge."
A Glimpse of the Future
Looking to long-term sustainability of USAID's efforts, Primorac emphasized that helping religious minorities to remain in their communities is a priority the U.S. government shares with the Iraqi government.
"This is something that has been raised with the new president of Iraq, Barham Salih, with the prime minister, Adil Abd al-Mahdi, and with the speaker of parliament, Mohammed al-Halbousi," he said.
Primorac recounted that when al-Halbousi learned of the plight of these minority communities, he traveled to the Christian city of Qaraqosh a few days after being nominated as speaker.
"He went there; he took the minister of interior with him," Primorac said. "He spoke to the people on the ground. He saw the destruction that had been done, and then he learned from the communities about the importance of local policing, for instance."
Primorac said that over the next year the U.S. will work closely with the Baghdad government to make sure that "we rebuild their capacity for delivering these services and that the delivery of these services is done in an inclusive way where the minorities are not left out."
He said USAID will continue its direct focus on helping religious minorities in the months ahead.
"They're a part of Iraq," Primorac said. "They're a constituent component of Iraq, and their presence is what makes Iraq, in terms of its pluralistic diversity. We're trying to help them return and stay in their homes."
Register correspondent Lauretta Brown writes from Washington, D.C.