St. Faustina's Shrine Sends a New Spark of Divine Mercy to America
In lead-up to World Youth Day, Archbishop of Denver ordains seminarian to diaconate in the 'Capital of Divine Mercy.'
KRAKOW, Poland — In the days leading up to Pope Francis' first trip to the homeland of Pope St. John Paul II for World Youth Day, a young man from Poland was ordained a deacon to serve in the United States.
On Saturday at noon, in the Italian chapel of the Divine Mercy Shrine, dedicated to St. Faustina, Boguslaw Rebacz was ordained to the diaconate by Archbishop Samuel Aquila of Denver.
Deacon Rebacz shared with the Register what this special day meant to him.
"It is a special privilege for me to be ordained here, in the Divine Mercy Sanctuary, where there is the center of Divine Mercy — made even more special that it's within the Jubilee Year of Mercy," he said.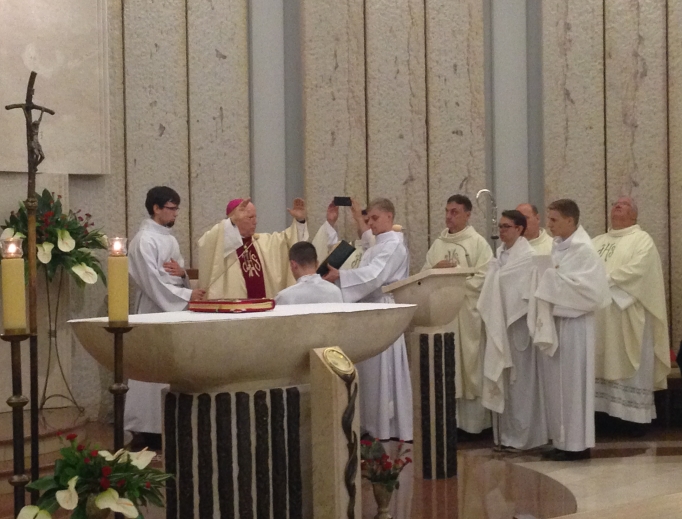 "In my future service as deacon and, hopefully, God willing, as priest, I look forward to conveying this message because people need it," he continued.
The Register was present at the intimate ceremony, which welcomed not only those involved in the future priest's formation, but also his parents, relatives and even little ones — one of whose shoes fell off while being carried in the Communion line.
Deacon Rebacz has studied at Sts. Cyril and Methodius Seminary in Orchard Lake, Mich., which also has a location in Krakow. The seminary specifically trains Polish young men who wish to become priests serving the United States.
During their first year in the United States, the seminarians visit four U.S. dioceses and then state in which one they would like to serve. Rebacz expressed his desire to Archbishop Aquila to serve in Denver.
Deacon Rebacz has already been assigned to serve as a deacon at Holy Name parish in Steamboat Springs, Colo.
In his homily during the ordination, Archbishop Aquila focused on what it means to follow Jesus' example and follow his word when serving the Church.
He also reminded the new deacon to always ask for Mary's intercession, as mother, sister and follower of Jesus, who is always there to help. He also reminded him how servants of the Church are to always remember that there is only one word, namely God's, and to not be afraid. Archbishop Aquila said that, with eyes fixed on the Lord, even the most daunting and difficult moments can be overcome.
Recalling the Gospel reading, in which Jesus speaks of tending to his flock, the Denver archbishop reminded the new deacon that, like Jesus, one must be strong in action, gentle in ministry and effective in prayer. Denver's shepherd also lauded the deacon's courage to work as a missionary priest, to leave Poland behind and to serve in the United States.
Archbishop Aquila explained to the Register how this young man visited the Archdiocese of Denver: "Boguslaw visited, got to know the people and really liked what he saw."
The archbishop said Denver has a large Polish community, and it is not the first time seminarians from Sts. Cyril and Methodius Seminary have chosen to serve in Colorado's capital.
He also explained that the timing of the ordination was planned around World Youth Day because "I was going to be here for the occasion, which welcomes some 800 young people from our archdiocese." Though Deacon Rebacz's parents will travel to Denver next year for his ordination to the priesthood, the American archbishop noted that the new deacon was ordained in Krakow for the benefit of his family, who live in Poland.
Deacon Rebacz is "very prayerful, and those who know him realize that, despite seeming a bit shy, he's very engaging and is an excellent teacher and has worked well with young people," Archbishop Aquila told the Register.
"I am sure he will be a blessing" to his new parish, he said.
Msgr. Thomas Machalski, rector of Sts. Cyril and Methodius Seminary, also spoke to the Register at the ordination.
"Anytime you gather for an ordination," he said, "it's always very emotional. It's emotional for us who are priests and deacons already, because it's a chance to think back and relive in our own lives. And it's very emotional for the Church as a whole to see another young person committing his life to Christ and the mission of his Church."
"I guess, maybe a little selfishly, as one of the formators in helping him get this far, I also feel a little bit of pride," the monsignor added, beaming.
Regarding what the new Polish deacon will bring the Church in the United States, he noted, "He is an extremely holy young man. There are laypeople who are my employees on campus who say to me, 'Monsignor, that young man is a holy man.' For laypeople to see that in him," he said, "speaks volume."
Applauding his intelligence, dedication, gentleness and humility, the rector noted, "He is going to be an absolutely awesome minister of the Gospel and will be a magnificent instrument of God's mercy in the lives of the people he will serve."
When asked about how he views serving the Church in the United States, the new deacon noted, "It is a young country, where people come to church and appreciate faith and religious [observance]. I find this very refreshing. Also, the Church in the United States is full of people of different backgrounds, so we can all enrich each other with culture."
Deborah Castellano Lubov is a Vatican correspondent
based in Rome but reporting this week from Krakow.