NFL Lineman Tackles Cancer and Witnesses the Power of Prayer
Houston Texans' David Quessenberry endures grueling treatment to regain health, bolstered by his faith.
After making the 2013 Houston Texans' active roster, David Quessenberry was prepared to do the same the following year. Everything was going according to plan in the spring of 2014 — until he started feeling tired on a regular basis and couldn't rid himself of a nagging cough.
This baffled the Encinitas, Calif., native, who prided himself on being in great shape. What would alarm him was the diagnosis: non-Hodgkin lymphoma, a form of blood cancer. Quessenberry did not understand how a young, fit, professional athlete could be subjected to a disease often thought to be for older, less healthy people.
The 6-foot-5, 300-pound offensive tackle's fatigue and cough were followed by nausea and hair loss, due to chemotherapy. What inspired Quessenberry through these trials was God's promise in the Psalms to strengthen those who trust in him.
David Quessenberry, a 2012 first-team All-Western Athletic Conference selection at San Jose State, spoke with Register correspondent Trent Beattie leading up to the Texans' game against the Indianapolis Colts on Dec. 20.
What do you think of the Texans' season so far?
We started out at 1-4, so things weren't looking good. Then we regrouped and took things, not even one game at a time, but one-half or even one play at a time, and were able to slowly build on that. Now, we're 6-7 and have a real shot at the playoffs, if we can win our three remaining games. That's a testament to the incredible organization the Texans are. Bad things happened, but we kept moving forward.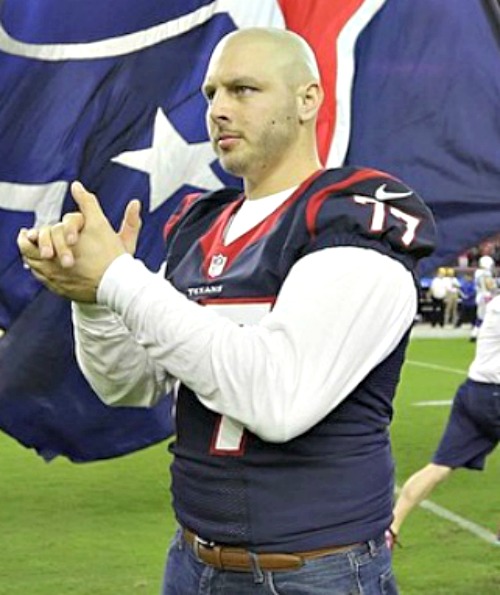 You encountered your own bad time in June of 2014, when you were diagnosed with lymphoma. Were you surprised at the diagnosis?
I was very surprised, even to the point of not believing what I was hearing. I was a 23-year-old professional athlete who ate very well, worked out intensely, didn't smoke or do drugs and drank only rarely. Despite being in phenomenal shape, this diagnosis was thrown at me. Cancer doesn't care who you are, how old you are or what you do. It can strike anyone at any time, and its effects can be devastating.
The whole situation was very tough to take, considering my age and how well I had taken care of myself physically. I was scared, angry and confused, wondering why I had gotten such an awful return on my athletic investment. So much effort was put in, but something really horrible was coming in return.
The diagnosis and the treatment were trying, emotional times. Chemotherapy is supposed to get rid of the cancer, but it basically poisons you, so the treatment itself makes you even more ill, in an attempt to make you better in the long run. This is a grueling process that takes almost everything you have out of you.
Are you able to look back and see that you've grown spiritually, despite the painful process?
I've grown a little bit, but I can't give cancer any credit. There's nothing good about cancer. However, anyone diagnosed with it, or with any other disease, still chooses his own mindset. That's the one thing we do control — how we see what is happening to us. Our choice here determines how we respond to the situation.
Some people don't get any better spiritually during cancer, and they may not have a strong spiritual background to begin with. Others decide to pray more and rely primarily on God, but also on family and friends. That's what I did. There is so much down time during treatment, which I often used in order to talk to God and ask why this was happening and what he wanted me to do with it.
I know my own prayers were answered, and I also witnessed the power of the prayers of other people firsthand.  I could literally feel the prayers from family, friends, teammates, coaches and complete strangers. It was like no other feeling I could relate to, and that feeling is something I will never forget.
Also, the compassion that was shown to me and my family during my treatment is a testament to the communities we live in and how beautiful the human spirit is. When we see someone who is struggling, we also see people go to extreme lengths and make sacrifices to assist him. That's still one of the things I look back on in awe — the way people came to action in my times of need. I've been very fortunate to be part of special communities and have been blessed by powerful relationships with people everywhere I have been.
If I were not stricken with cancer, I would not have the understanding of other people that I now have. As a healthy person, it's easy to forget about sick people, or, even if you do think about them and even visit them, not to really get what they're going through. It's a very different mindset to a) think of yourself as doing something good for someone else or b) think of that other person's sufferings as your own. The person in the hospital bed is not a random "sickness"; the person in the hospital bed is a soul created by God, just like you.
How were you able to form bonds with other cancer patients?
Being part of an athletic team can help you form bonds because you're all going through the same challenges. That concept is intensified with cancer, because the challenge isn't just for a win or a trophy, but for your life. I was barely hanging on at some points, thinking about death far more frequently than I had before, and was given the anointing of the sick.
I formed friendships with other cancer patients and added lots of rosaries to my collection. I had a few given to me before the sickness, but during the sickness was when tons of them were sent from different people. The prayers of the Rosary are helpful, but also the physical rosary itself is helpful, since it gives us a tangible means of expressing our soul's desire for grace. Praying without objects is great, of course, but when those objects are there, it just makes it easier to concentrate on why you're doing what you're doing.
I didn't always see things that way, though. Growing up, I didn't get why we had to sit, stand and kneel at specific times during the Mass. The "Catholic calisthenics" didn't make sense to me; it wasn't clear why we had to be so structured in what we did.
That changed once I came to see that Jesus was the one who started the Mass. He was there with his apostles and said to do this in remembrance of him. The Mass is not something we make up; it's something we accept as a sacramental gift and something we participate in, not only as a religious duty, but as a major means of drawing us into the life of the Trinity.
The Mass is unique to any religion, because it's the only place you can receive not only the gifts our Savior gave us, but our Savior himself, in the Eucharist. Jesus gave his apostles the power to change the bread and wine into his Body and Blood, so that makes the Eucharist unequaled by any other gift we could receive.
Do you have a favorite Bible verse?
I like Psalm 144, which basically says, "Blessed be the Lord, my rock, who trains my hands for battle, my fingers for war; my refuge and my fortress, my stronghold, my deliverer, my shield in whom I trust." That blessing was something that helped me to fight cancer head-on. I knew I had the power of God to take refuge in, which made the fight bearable.
I also like the beginning of the second chapter of Ecclesiasticus, or Sirach, which says very similar things, like "My son, when you come to serve the Lord, prepare yourself for trials," and "Accept whatever befalls you; in crushing misfortune, be patient; for gold is tested in fire and worthy men in the crucible of humiliation. Trust God, and he will help you."
You're on the Texans' injured-reserve list now, but are you planning on making the active roster next season?
That's the goal. The cancer is in remission, and I feel great now. That is with a complicated protocol of certain medications, but I'm working out and preparing mentally for 2016 training camp, so I'm planning to be back on the active roster for the 2016 season.
I thought I was tough before lymphoma, but was humbled by it and learned that so many other people had gone through such awful suffering — not only from the disease, but from its treatment. That put my own "toughness" in perspective. Playing in the NFL, while still something I want to do, is nothing compared to enduring cancer. Hopefully, a return to the active roster next year can help to bring this truth to more people.
Register correspondent Trent Beattie writes from Seattle.
His book, Fit for Heaven (Beacon, 2015), is a collection
of his sports interviews, many of which appeared in the Register.