Maronite Catholic Convent Hosts Interfaith Meeting of Iraqi Youth
Young people gathered to forge a path of understanding.
BEIRUT, Lebanon — A group of Iraqi youth of different faiths aims to fight the fanaticism and divisions plaguing their country with an arsenal of peace-building tools acquired from a workshop in Lebanon.
The workshop, by Adyan ("religions" in Arabic), a Lebanese foundation for interreligious studies and spiritual solidarity, focused on how to live together in a diverse society, in step with Adyan's theme, "Diversity Builds Unity."
At a Maronite Catholic convent nestled in a mountain village overlooking Beirut, the 13 participants explored a range of topics, including "Theology of Pluralism," "Religion and Culture" and "Religious Diversity in Iraq" during the weeklong workshop in early July.
Nayla Tabbara, one of the Muslim co-founders of Adyan and director of the foundation's Institute of Citizenship and Diversity Management, explained to the Register that individuals were carefully selected from 115 applicants in order "to create a core group of volunteers, or ambassadors, who can bring our message to Iraq."
Collectively, the group mirrors the ethnic and religious mosaic of their homeland. They came from the north, central and the south of Iraq. There were different ethnicities, Arabs and Kurds, with representation from the following faiths: Sunni and Shiite Muslim; Baha'i; and Yazidi, Mandean and Kaka'i ethno-religious minorities. A Christian chosen to participate was not able to attend due to work commitments.
"What is beautiful is the diversity," Tabbara said, stressing that the group was religiously, geographically and ethnically diverse. "It was very important that they learn to appreciate the richness of the diversity they have in their country."
A Window to Christianity
As part of the workshop, Melkite Catholic Father Agapios Kfoury, Adyan's religions and public affairs course coordinator, presented an overview of Christianity.
That might seem like a daunting task to cover in a session of just a few hours. But Father Kfoury, who also serves as a parish priest in Beirut, told the Register that "if you know Islam very well, and you have been working with Muslims for a long time, then you know the critical topics which they need to know about and which they need to question."
So he focused on areas such as the Trinity, the Incarnation, the Crucifixion, the Resurrection and the Bible.
In presenting such a window into Christianity, Father Kfoury explained, it's not necessary "to go deep inside" the faith. Rather, his audience "just needed to be helped to understand, to accept, how I, a Christian, see my faith and live it."
 "I was just telling them about my faith, my point of view, how I see and understand Christ and God."
Shadyar Ali, from the Kaka'i religious minority, said that Father Kfoury's talk "opened a new world to me."
The 26-year-old, who works with refugees and the internally displaced in Sulaimanyah in the Kurdish region of northern Iraq, shared with the Register, "I had many questions to ask, such as: 'Who is this Son, the Father and the Spirit?' 'How many layers are there in this religion?'"
While it's easy to search online for answers, Ali pointed out, "it's great to get it from the main source, from someone from the Church."
Still brimming with enthusiasm hours after attending Father Kfoury's session, Ali added, "Now I have something to search about. I want to get more answers."
As a member of Kaka'I (also called Yarsani), a syncretic religion with a small number of adherents, Ali personally faces challenges. His religion is not recognized as an official religion by the state. In Iraq, only four religions are officially recognized: Islam, Christianity, Sabean and Yazidi. Kaka'is are designated as Muslim on their identity cards and legal documents. Consequently, Kaka'is are accustomed to covering up their religious identity and have faced persecution.
"Our society is very complicated," Ali says of Iraq. "The media doesn't portray the whole picture. They show only the view that they want to show, ignoring the problems that we face. That doesn't help us to rebuild our society," he added.
Now Iraqis are concerned about the future of their country, particularly in the aftermath of the reign of terror and destruction of the Islamic State.
Before the onslaught of the Islamic State, Sulaimanyah was a Kurdish area. Now the area is experiencing a rise in tensions between the internally displaced people and the host community, and also between the host community and Syrian refugees, Ali explained.
"These sessions will help me to conduct peace-building workshops, to find mutuality between religions and ethnicities," he said.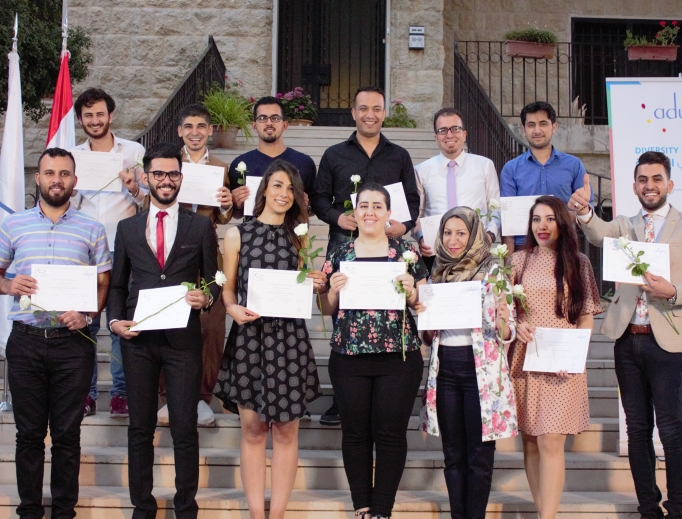 Determination for a Peaceful Iraq
Like her fellow workshop participants, Sarab Barakat, a 28-year-old Yazidi from Sinjar in the north near Kurdistan, is committed to building up her country.
"As a young Yazidi woman, Iraq is my homeland. I don't want to leave my country," she emphasized to the Register. "I want to tell others that, yes, there are differences, but this diversity is what makes Iraq's culture rich and valuable."
A lawyer, Barakat works in civil society, supporting Yazidi women and others affected by the atrocities of the Islamic State.
When the Islamic State militants swept into Sinjar in August 2014, thousands of Yazidis spent 11 days on a barren mountain in the blazing sun without food or water. Many of the elderly, pregnant women and children perished. The horrors continued to escalate: gruesome killings; abductions of women and young girls, who were sold or given as gifts to warriors as sex slaves; massacres of men; the slaughter of older women; and the seizure of children, who were sent to militant camps to be trained as warriors.
Barakat said that she and other Yazidi activists are pressing for the Yazidi case to be designated in international court as genocide.
"I also would like to help women and children in Iraq," Barakat said, pointing out that, in wars and conflicts, women and children are the most vulnerable.
"Just the fact that we are gathered here (for the Adyan workshop) is making a statement that Iraqi youth are determined to build a better and peaceful Iraq," Barakat said.
A Wave of Change
One of the workshop participants was Yaser Mekki, a 24-year-old dentist from Najaf, Iraq, a Shiite holy city in southern Iraq about 100 miles from Baghdad. Najaf is considered the Shia world's spiritual capital.
In 2013 he founded an organization in Najaf called "Moja" or "Wave of Change," comprised of university students, to fight what he calls the "social disease of hatred and extremism" in Iraq.
"Most of the people don't know much about the other religions and sects," Mekki told the Register. "Moja aims to break the ice and establish diversity and train minds to accept others."
Moja's activities include "Christmas in Najaf," a festival-like event in which Christmas trees are displayed in the main street of the city, a project Mekki said was initiated to make displaced Christian families from Mosul who settled in Najaf feel at home. Many of the people from Najaf who participated lit a candle and placed it under the tree. "The candle for them represents the Christian martyrs" killed by the Islamic State, Mekki explained.
Moja also runs a modest bookstore and a youth center. Noting that "books help to develop critical thinking," Mekki said that the organization previously organized a creative reading event — "I'm Iraqi, I Read" — involving the distribution of thousands of books. Now Moja is planning a community center for youth and public libraries.
Mekki noted that the Adyan workshop was "a great opportunity" to make connections and build friendships with other activists from different ethnicities and religions in Iraq. "We all have the same goal: to fight extremism. We want Iraq to be a land of coexistence."
He summed up his conviction: "I can have a good income as a dentist, and even become rich. But I can't sit passively as my country keeps sinking."
A Mission of Solidarity
It was fitting that the Iraqi youth met in Lebanon. Earlier in July, Christian and Muslim leaders meeting for a conference spearheaded by Lebanese Cardinal Bechara Rai, patriarch of Maronite Catholics, called for establishing Lebanon as an official center for international dialogue among religions, cultures and civilizations "to serve the Arab world and Christian-Muslim relations of the world."
At the end of a session with Adyan's Nayla Tabbara, the Iraqi workshop participants drew up a "tree of diversity in Iraq," illustrating the country's different communities.
Tabbara said she was amazed with the outcome of the exercise and how the youth from different religions interacted and genuinely tried to understand each other. "You could sense their pledge for solidarity," she said.
"They are saying, 'We want solidarity between the different groups so that all together we can ask for the rights of all religious groups.'"
Doreen Abi Raad writes from Beirut, Lebanon.